Film scholars talk about what are called The Great Years of cinema. This is a practice I don't particularly care for. So long as there are 10 films for my Top 10 and a decent list for Honorable Mention, then it as a good year.
Some talk about 1939 ("The Wizard of Oz," "Gone With The Wind," "Stagecoach," "Mr. Smith Goes To Washington") 1962 ("Lawrence of Arabia," "To Kill A Mockingbird," "Birdman of Alcatraz," "Long Day's Journey Into Night," "Manchurian Candidate," "The Music Man," "Lolita") and 1992 ("Unforgiven," "The Crying Game," "The Piano," "Reservoir Dogs," "Bob Roberts," "Bad Lieutenant"). I don't know where 1983 stands on the list of the great years of cinema, but it turned out to be an important year of cinema for me.
Thanks to the PBS series "Sneak Previews," the fall of 1979 was the first signs of change. Seeing Roger Ebert and Gene Siskel discussing films every Thursday night was a revelation. If they highly praised a film with two strong YES's (this was pre-thumb), I would check the paper to see if it would come to my hometown of Flint, Mich.. My father and I would road trip to the Detroit suburbs if the film didn't make it to Flint, which was often.
My father showed me films like "Casablanca," "The Godfather," "King of Hearts," the films of Woody Allen, the Marx Brothers and Monty Python in my single digits. By the time I was in junior high, I became a pain in the rear mini-film critic. I even had a review board in my eighth grade English class where folks would post index cards of reviews of films, music and television. Yes, an eighth grade edition of The Onion's A.V. Club.
In the summer of 1983, my film taste was also going through a major shift. Was this cinema puberty? I don't know, but tastes were changing and it became a blessing and a curse in my teen years. I would often be the lone vote in a group wanting to see an art film whenever there was a group of friends wanting to go to the multiplex. My teen years would also be filled with going to films alone and being the youngest one in the audience by a good 30 years ("Amadeus" and "The Last Emperor" being two great examples)
This year is also sandwiched between 1982, which had the big "E.T." vs. "Ghandi" Oscar battle (plus "Tootsie" being a comedic powerhouse) and the blockbuster buffets plus the birth of PG-13 in 1984 ("Ghostbusters," "Beverly Hills Cop," "Gremlins," "Temple of Doom," "Karate Kid"). The biggest money making film of 1983 was "Return of the Jedi." That year's Best Picture winner was "Terms of Endearment." There were two James Bond films (The official "Octopussy" and the unofficial "Never Say Never Again"), three Stephen King novels ("Cujo," "The Dead Zone" and "Christine") and two films from John Sayles ("Baby It's You" and "Lianna"). There was also a brief resurgence of 3-D, none of the films noteworthy ("Jaws 3-D," "Spacehunter: Adventures in the Forbidden Zone," "Treasure of the Four Crowns," "Metalstorm" and "The Man Who Wasn't There," the Steve Guttenberg gets invisible film and not the superior 2001 Coen Brothers film)
There were also films released by directors who I learned in the early '80s to start looking for, most notably my favorite director Martin Scorsese and his more relevant than ever film "The King of Comedy." Other directors include Woody Allen ("Zelig"), Sidney Lumet ("Daniel"), Mike Nichols ("Silkwood"), Bob Fosse (his final film, the gut punch that was "Star 80"), Phillip Kaufman ("The Right Stuff") and Brian DePalma ("Scarface"). I also experienced my first Ingmar Bergman film, "Fanny and Alexander."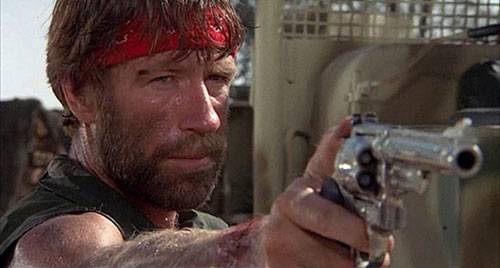 Other noted good films I witnessed in 1983 include "The Dresser" (still one of my favorite backstage tales) "Trading Places," "War Games" (one of two 1983 films directed by John Badham who also directed "Blue Thunder"), "Mr. Mom," "Risky Business," "Never Cry Wolf," "Silkwood," "The Year of Living Dangerously," "Cross Creek," "Get Crazy" (still waiting for the DVD release of this one), "Heart Like A Wheel," "Lone Wolf McQuade" (the second best Chuck Norris film behind "Code of Silence"), "Losin' It," "Max Dugan Returns," Monty Python's "The Meaning Of Life," "Merry Christmas Mr. Lawrence" and "To Be Or Not To Be."
That's right, "A Christmas Story" is not on this list. Deal with it.
Because I've been thinking back 30 years as the first seeds that would eventually spawn "Film Soceyology," I want to share some of the films that made me the film person that I am today. The following films will be profiled, one a week, and what kind of impact these films had on me.
Nov. 29 – "Local Hero"
Dec. 6 – "Tender Mercies"
Dec. 13 –"Educating Rita"
Dec. 20 – "The Outsiders/Rumble Fish"
Dec. 27 – "The Big Chill"
These films have been in and out of my life for years, which you can read about soon. I don't ever, ever want to re-live my teen years, but at least these films have never aged. I can't wait to share my thoughts with you about these and hopefully you can see or revisit them yourself.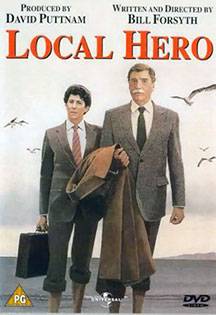 Local Hero
As far back as my early teens, I am used to riding and then driving an hour for arts events. Growing up in Flint, Mich. I took many trips to Detroit for plays, films and concerts. Attending The Ball State University, I would drive to Indianapolis for the same. Living in the western suburbs of Chicago in my mid-to-late 20s…you get the idea.
I grew up watching "Sneak Previews" on PBS and taking notes on the films Gene Siskel and Roger Ebert highly praised. My father and I were used to driving to the Maple Art Theatre in Bloomfield Hills. This was the theatre where I witnessed "Diner," "Das Boot," "Montenegro," "My Dinner With Andre" and "Tender Mercies," which will be covered next.
Therefore, it was a big deal when an art film arrived in my hometown of Flint, Mich. I remember being surprised that Akira Kurasowa's "Kagemusha" arrived at the Bella Vista Cinemas in Grand Blanc. Then there was the Genesee Valley Cinemas in Flint when they booked "Local Hero."
The boss of Knox Oil (Burt Lancaster) is sending one of his underlings, Macintyre (Peter Riegert) to purchase a small Scottish fishing town which has oil buried underneath. Mac owns a Porsche 930, has a semi-swanky Houston apartment and is trying to climb the corporate ladder. He brags that he could seal the deal with one afternoon on the phone instead of travelling to the actual location. He meets with Boss Lancaster, a man obsessed with the stars and abuse therapy. Mac enters his boss' office and literally takes steps upstairs to his office about his next job.
The more time Mac spends in the town of, the more he falls in love with the town and the lifestyle. It was not a film of The Town vs. Outsider. The City Slicker vs. The Locals. This would be the first of several films I would encounter of a small, charming, eclectic European town where everyone is interesting and darn near lovable. Other titles to check out include "The Englishman Who Went Up A Hill And Came Down A Mountain," "Waking Ned Devine" and "Calendar Girls."
As a kid, travelling with my family to a vacation spot that had no television, video games or even pinball made me weary. Going to Guadalupe for a week or weekends in Roscommon, Mich. at first seemed like vacation wastelands. Once on location, I had to learn to make the most of the situation and location. "Local Hero" helped me. Every travelling experience can help shape a person's life span. I used to think that if a party didn't play the music I listened to, I didn't want to attend. The village party sequence in this film made me want to go and never leave.
One of the reasons why I want an ultra special edition of this film released was to see how much filtering was done to capture the shots of the sky. One of the film's highlights includes Mac witnessing on separate nights a meteor shower and The Northern Lights, all the while accompanied by a beautiful simple soundtrack by Mark Knoffler. This would be the Dire Straits front man's soundtrack debut. Other noted film scores include "The Princess Bride" and "Wag The Dog."
As a teenage knucklehead, this was my second viewing of Peter Riegert. At that point in my life any cast member of "Animal House" that wasn't John Belushi would pop, that would be a note. Riegert can be considered a That Guy to the average filmgoer, although he's currently on the tele in the sitcom, Dads, a show my daughter likes. "Local Hero" was the film that the That Guy title was removed and his name became a part of my film brain. The other That Guy was Peter Capaldi, who was only his second as Danny Olsen, MacIntyre's contact when he arrives in Scotland.
Speaking of Capaldi, I remember the "Hey, it's Olsen!" when seeing the actor in "Dangerous Liasons" playing one of John Malkovich's lackeys and in the Ken Russell bizarro-fest "The Liar of the White Worm" (also featuring a young Hugh Grant). I finally put Capaldi's name to memory with his foul-mouthed brilliant turn as Malcolm Tucker in the series "The Thick Of It," which spawned the hilarious film "In The Loop." Now, he's Dr. Who, although I will be saddened that he won't tell anyone to "f@#$ off" or try to woo potential mermaids like in "Local Hero."

The 1980s started strong for Burt Lancaster with his Academy Award nominated performance in Louis Malle's "Atlantic City" (one of my favorite crime dramas). He followed that film up with "Cattle Annie & Little Brtiches," the Italian thriller "La pelle" and then this film. Lancaster, no matter the size of the role, brought depth and strength. The other 1983 film Lancaster appeared in was the sad swan song of one of my favorite directors Sam Peckinpah and his muddled "The Osterman Weekend."
The film is at the top of the film achievements for Scottish director Bill Forsyth, who prior to "Local Hero" made a noted splash with "That Sinking Feeling" and "Gregory's Girl." His follow-up films were "Comfort and Joy," "Housekeeping," "Breaking In" (underrated Burt Reynolds film and written by the brilliant John Sayles) "Bring Human" (with Robin Williams) and the "Gregory's Girl" sequel "Gregory's Two Girls" in 1999. Yes, it's been 14 years since the last Bill Forsyth film.
This film also made me more than aware about title dropping other films in your ad campaign. "Local Hero" is billed as "From the producer of 'Chariots of Fire,'" which won the 1981 Best Picture Academy Award. Warner Brothers, who released both films, figured the "Chariots of Fire" crowd would embrace this film, which they did. However, I never told anyone, "Wow, it's the same people who financed 'Chariots of Fire!'"
My friend and fellow film critic Ed Johnson-Ott of NUVO calls "Local Hero" his favorite film of all time. I'm not a pop-culture list compiler because I'm married, have a child and have other things to do. I'm not saying Ed is a list freak, either. However, I keep a list of films that really need a Criterion-esque multi-disc treatment with a slew of commentaries and features. "Local Hero" stays near the top of that list.

Tender Mercies
Before I get into "Tender Mercies," I just have to say how much I love the work of writer Horton Foote.
"Tender Mercies" was my introduction to the work of Foote. After "Tender Mercies" came the film version of "The Trip To Bountiful," released in 1985. The film never came to Flint, but I remember the night of the Academy Awards. F. Murray Abraham (who won Best Actor the year prior for "Amadeus"), opened the Best Actress envelope, saw the name, visually reacted and said "I consider this woman to be the finest actress in the history of the English language. The winner is Geraldine Page for 'The Trip To Bountiful.'" What an endorsement on a global level. Plus when her named was announced, she had her shoes off. The first camera shot of Page after winning was her reaching down to grab her shoes. Once the film arrived at my local video store, I rented it and Page's performance moved me. The whole film did.
My junior year of high school, our English teacher showed us the film version of "To Kill A Mockingbird." When Foote's screenplay credit came up, I blurted "Hey, the "Tender Mercies" guy!" Yes, as a teen movie fan I had a favorite film editor (Thelma Schoonmaker) and a composer (Ennio Morricone).
Last year, I was able to direct the play version of "The Trip to Bountiful" on two separate occasions. At the same time, there was the Broadway revival of the play which would earn Cicely Tyson a Tony. I am so happy that Foote's work has been shared to a new generation of audiences. OK, now on to "Tender Mercies."
Former country singer Mac Slade wakes up on a motel room floor after a long bender. He makes a deal with the widow-with-child motel owner (the lovely Tess Harper) to work off his debt. While he works the motel and the field to pay off his debt, Mac and Rosa Lee grow fond of each other. Two lonely people who have feelings for each other.
The challenges come for Max when he is trying to move forward and his past comes back into his life. In order to try and see his daughter, he must see his country singing ex-wife (Betty Buckley) at a concert hall in Austin, sees her manager (Wilford Brimley) and hands him a song that he wrote to see if she would record it.
Their daughter is now 18 and his ex still doesn't want him to see her. "She just remembers you as a mean drunk trying to beat her mama." She assumes he has returned because he's jealous of her fame, something he once had.
When he returns home, Rosa Lee (who isn't nagging) asks why he went to see her, partly because she's jealous. Mac loves his new life and life out of music, but he visits her with a song he's written anyway.
"Tender Mercies" was my introduction to the idea of "less is more," which should be required by every teenager. It happened with a scene between Mac and his daughter, who he hasn't seen in years. She remembers her father singing a song about a dove to her when she was little. He says he doesn't recall ever doing such a thing. When she leaves the house, Max quietly sings that song about a dove. When I asked my father why he didn't admit to remembering the song, Pop told me he didn't want her to recall his drunken past. A 13 year-old mind was blown.
The film is a hair over 90 minutes, but for a quiet film, it paces really well. We meet the main players within the first half hour. There's no physical affection between Mac and Rosa Lee until half way through the film (and it really works).
The film was directed by Australian director Bruce Beresford, who was an Australian film staple since the late 1950s. His 1980 drama "Breaker Morant" was my first experience with his work.
Beresford would later direct "Crimes of the Heart," "Driving Miss Daisy" and "Black Robe."
This film was also the first time I witnessed an adult get baptized. She sings in the church choir. The scene starts with Sonny getting baptized. The curtains closed and reopen with Mac in his baptism robe. I'll always remember the whole audience laughing at the surprise.
There are certain moments when watching the Academy Awards where one can say "This is a no-brainer. It's going to be___." The year of "Titanic" and "Lord of the Rings: Return of the King" (even though I didn't agree) would win Best Picture. I remember watching the Academy Awards for 1983 and saying to my father "Duvall's got this." Conspiracy theorists can point out that since Dolly Parton presented the Best Actor award that year (the previous year's Best Actress winner, Meryl Streep, was obviously busy). A country singer presenting an award to an actor playing a country singer. Hmmm…
The other Academy Award went to Horton Foote for his original screenplay. He already won a Best Adapted Screenplay Oscar for his work on "To Kill A Mockingbird." Foote, Francis Ford Coppola and William Goldman are the only writers to win both Original and Adapted screenplays Oscars.
The song "Over You" (sung by Buckley) was also nominated but lost out to "Flashdance (What A Feeling)." I just shrug my shoulders over this. It was also nominated for Best Picture and Best Director, both losing out to "Terms of Endearment" and its director James L. Brooks.
I got to meet Foote at the Heartland Film Festival in 1997, when he was here to promote his film "Alone," which he wrote. Film Festival President and CEO Jeffrey Sparks asked me if I wanted to meet him. I said yes before he could put the question mark to his question.
I got an "A" in my Advanced Shmooze class at The Ball State University. In my career, I've been able to chat with many actors, musicians and other artists. When I got to meet Foote and he extended his hand, I shook his hand and the only thing to come out of my mouth was "I love your work."
Later that night, I regretted not being able to talk with him more. As time went on, I realized that like "Tender Mercies" and the rest of his work, it was just enough.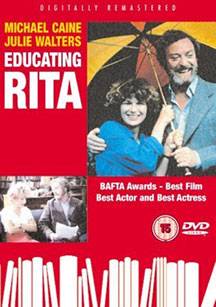 Educating Rita
It was the Christmas shopping season 1983 and my mother, a friend of the family and myself went to one of the mega suburban malls. While the two ladies went out shopping in full force, I browsed and eventually wound up at the multiplex. Looking to see if there was a film not showing in Flint (my hometown), I found "Educating Rita."
Frank (Michael Caine) is a burnt-out drunk of a Literature professor. Coasting through his classes and the relationship with his cheating girlfriend, everything is a haze until Rita (Julie Walters), a twenty-something hairdresser. Rita wants a little more out of life than just becoming another pregnant housewife. This was also my first film experience of teacher and pupil learning from each other. In this film, there is no romance between teacher and student.
The film moved me at age 13 because it was my introduction to the idea of being able to attend school after one reaches adulthood. Prior to this, I had seen sitcoms where an episode would involve an older person going back to school.
Seven months after graduating from college, I got my first job in the field of my study, journalism. I was a reporter for The Fountain County Neighbor in Attica, Ind. There were almost zero single people in my age range, and I lived in a farming community (Covington) with less than 5,000 people. I grew up in Flint, Mich., a then-decaying factory town now a skeleton of a decaying factory town. I knew my share of people who woke up, went to the factory or the office, came home and that was it. This scared me.
When I moved into my Covington apartment, one of the first films I watched was my VHS copy of "Educating Rita." The film reminded me that there was no retirement age for learning. I had plenty of time to read, write stage and screen scripts and watch films in my spare time. I kept a box of books I purchased from used book shops and the library sales. The box is long gone but there are to this day books on top of one of my bookshelves that I haven't touched yet.
The film received three Academy Award nominations, one for the screenplay by Willy Russell (based on his play) and acting nods for Cain and Walters. The chemistry between Caine and Walters plus the Pygmalion-type story really took a shine to me.
The late '70s/early '80s was a time when Caine was getting paycheck for not so challenging work. "Silver Bears," "The Swarm," "Ashanti," "Beyond The Poseidon Adventure," "The Island," "Dressed to Kill" and "The Hand." Talk about a rough stretch. However, these check cashing films were followed up by "Victory" (unintentionally hilarious World War II football film with Sly Stallone, Max Von Sydow and Pele), "Deathtrap" and this film. This was my and the U.S.'s introduction to Julie Walters, now known as Mrs. Weasley (thanks, Harry Potter). She would later follow up this film with "Prick Up Your Ears," "Buster" (with Phil Collins), "Billy Elliot," "Calendar Girls" and of course the "Harry Potter" series.
One minor thing that has been discussed in my home is the early '80s synth score. Thanks to the success of the "Chariots of Fire" score by Vangelis, more films featured an electric keyboard filling in for a live orchestra. Mrs. Socey also refers to this era as "The Fame Music." One of the students in the 1980 Alan Parker film wants to be an electronic musician at a traditional arts school. Even though it doesn't bother me nearly as much as my wife, I would like to hear an acoustic version of the score someday out of curiosity.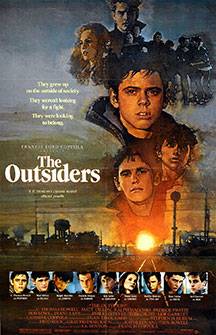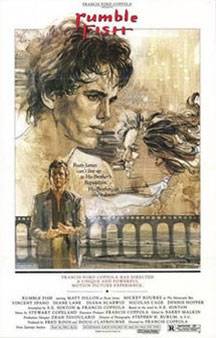 The Outsiders and Rumble Fish
I think the films of John Hughes are overrated.
I know I was the target audience for Hughes films in the 1980s. I know many of my peers swoon over these films. They can relate, they can wish. Blah blah blah.
This is not saying he's a bad filmmaker, but folks react as if I called him the worst in cinema. Far from it. The same thing happens when I call "A Christmas Story" overrated. It's not a bad film and it's not even close to the being one of the worst Christmas films ("Surviving Christmas" wins that title), but folks think I set fire to the American flag and the women's leg lamp.
OK, back to John Hughes…
I was already living the suburban '80s teen angst existence 24-7 and I didn't need to spend more time with it at the multiplex. The other reason was one year before Hughes' directorial debut "Sixteen Candles" was released, I saw two films based on novels by S.E. Hinton and both filmed in Tulsa, Oklahoma back-to-back and directed by Francis Ford Coppola, "The Outsiders" and "Rumble Fish."

Thanks to my father, I was able to witness Coppola films like "The Godfather" and "Apocalypse Now" at a young age. He explained them to me as best as a dad could to a young kid, but I never forgot the time he took to try and break these films and others down for me. When I learned he had made two films about teenagers, I was intrigued. This was a film that didn't look down on its subject. Kids-oriented cinema can have that problem. It also helped that the year before, I enjoyed the film version S.E. Hinton's "Tex," also starring Matt Dillon.
In the early 1960s Tulsa, tension was tight between The Greasers (rich kids on the north side) and The Socs (poor kids from the south side). The focus is on Pony Boy Curtis (C. Thomas Howell), a sensitive greaser who loves poetry and literature. Being raised by his oldest brother (Patrick Swayze) and the middle brother (Rob Lowe) stuck in the middle.
In my high school, you could not open up to either group. It was a sign of weakness. What struck me as a lad was seeing a group of guys like members of the greasers showing their emotions, almost always with each other. Pony Boy and Johnny breaking down and holding each other seemed more touching than the group therapy sessions of "The Breakfast Club."
Coppola has been known to be an operatic director and "The Outsiders" does have the size and emotional scope of an opera. Most notably with the rumble near the end, rescuing the kids from the burning building and the killing of Dallas (there's no spoiler alert for a 30 year-old film). It also helps that the film's original score was done by Coppola's dad Carmine. Warning: The Complete Novel version of the film, which does have extra footage (especially at the very start and very end) but sadly eliminated most of the original score and replaced with period rock music.
"The Outsiders" also featured one of the most impressive stable of young actors who have since gone onto bigger careers. At the time, Matt Dillon (thanks to "My Bodyguard" and "Over the Edge") was the big name in this film. The rest of the cast includes Leif Garrett. Ralph Macchio, Emilio Estevez, Tom Cruise and Diane Lane.
Coppola worked on the screenplay for this film while working on "The Outsiders." While "The Outsiders" had Coppola's operatic feel, "Rumble Fish" was his black and white art film.
Troublemaker Rusty James (Dillon, again) trying to live up the shadow of his older brother The Motorcycle Boy (Mickey Rourke at his most Brando-esque). Shot in black and white (because of the MB character is color blind) with lots of ceiling and floor level shots and sped-up second unit photography (And shadows! Lot of shadows!), Rusty James wishes he could be the leader of his gang like his brother. We're informed that heroin ruined the gang scene in town. RJ is followed by a few men played by Nicolas Cage, Chris Penn and Vincent Spano (playing my introduction to the idea of wearing glasses = nerd not matter how beautiful the person in real life really is). He wants to be a leader, but doesn't have the brains of his older brother. He's also gives the vibe of being the tough not needing anyone, not even his girlfriend (Diane Lane, salute!) but being afraid of being alone.
While RJ tries to live up to his brother's reputation, The Motorcycle Boy (returning home after a trip to California) wants to get out of his own shadow and a certain police officer off his back. He's tired of being thought of as The Pied Piper. "If you're gonna lead people, you have to have someplace to go."
Shot and black and white with locations and clothes that look like 1960 (great suit, Laurence Fishburne), there's a long sequence of Dillon, Rourke and Spano (drunk for the first time) who visit the other side of the town (aka the black section of Tulsa) where theirs is period funk music and video games playing in a bar). If you haven't figured out that "Rumble Fish" is messing around?? With style by then, the out of body experience Rusty James has after being mugged in an alley will.
Other familiar faces in the film include Chris Penn and Nicolas Cage (dropping his real last name Coppola, being Francis' nephew), Dennis Hopper (as their drunk dad "a lawyer on welfare") Tom Waits and Diana Scarwid.
Some members of the audience weren't expecting and/or didn't want a teen drama with elements of the French New Wave and German Expressionism. Both films rang more true to me than scene like the silly dance montage from "The Breakfast Club." An art house film nerd in a multiplex world.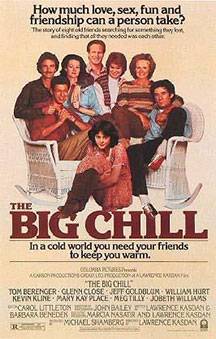 The Big Chill
As I finish writing this film series, it is my 44th birthday. Receiving and connecting with people on social media (especially those friends from college), I've been looking back more than usual. Between that and doing this series, I will look back at a film that was my introduction to seeing adults asking themselves "where are we?" and "what have we done?" Ladies and gentlemen, Laurence Kasdan's "The Big Chill."
A man dating a young woman kills himself in the guest cottage of an old college friend. The funeral of the man (an un-credited and mostly unseen Kevin Costner) brings a group of University of Michigan friends together for a long weekend of sorrow, joy, memories, drugs and drinking, football, old grudges and old and new crushes.
Like "The Outsiders" (one of the films I covered last week), The Big Chill featured a solid ensemble of actors whose careers would all take a major leap after this film. Glenn Close (earning her second Best Supporting Actress nomination in a row) Kevin Kline (following up Sophie's Choice and Pirates of Penzance) William Hurt, Jeff Goldblum, JoBeth Williams, Tom Berenger, Mary Kay Place and Meg Tilly. One of my favorite film ensembles. Their chemistry plus the screenplay by Kasdan and Barbara Benedek makes this one of the most quoted films among a small circle of friends in my life. Yes, there's even a group song/dance moment (to "Ain't Too Proud To Beg" by The Temptations) that doesn't make my eyes roll.
Speaking of music in film, "The Big Chill" has one of my favorite opening credit sequences, mastered by "I Heard It through the Grapevine" by Marvin Gaye. To this day, whenever I hear that song, I think of this film's title sequence. There are a handful of songs that have this effect and this was one of them. OK, there's one other moment. My doctor father would an a couple occasions call me from home right before going to perform surgery. He would ask me to put this record on the record player and play it loud with the phone up to the speaker. This was my first DJ job.
I've had one Big Chill moment (reunion with college friends under sad circumstances), but I was only 25. Living in west central Indiana and working at my first newspaper job, I returned to Ball State to attend the funeral of one of my college professors. When I got home from that weekend, I watched the film and it obviously had a bigger impact on me than when I first watched it at age 13. Watching it again in high school, I made a note of who I didn't want to turn out like. At 25, I could relate more to the characters, some more than others. "The Big Chill" should be viewed at least once every five years. You will have a different reaction every time.
I want to thank everyone who took time out to read this series. The year 1983 had a profound effect on me and may have been the first steps into "Film Soceyology." Good see a good movie, you deserve it.