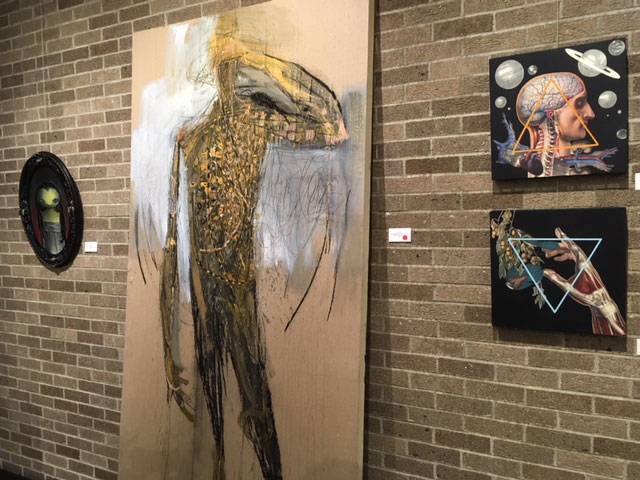 Art from Kyle Ragsdale and Kipp Normand is part of the MANmade exhibit at The Harrison Center. (Photo by Jill Ditmire)
A classic story gets a 21st century spin at the Harrison Center in downtown Indianapolis this month.
Indiana Humanities wants Hoosiers to further explore the mix of art and science in print by reading the book Frankenstein. A dozen artists at the Harrison Center did just that and then created work based on what they read.
Kipp Normand says most of them found more hope than horror in the story.
"Many of us focused on the emotion, the humanity of the monster and not his frightfulness," Normand says.
Quincy Owens says the installations that he and Luke Crawley created reflect the landscape showcased in the book.
"The Swiss mountains, and the people from Italy and then they travel through England and Scotland at one point in the book," Owens says."There's lots of night time and evening so you see we have one of the light pieces that's up and its designed to simulate dusk to dawn. Lots of heavy metal and wood and earthy things in the space as well."
The group show and Owens' and Crawley's exhibits are up thru the end of the month.