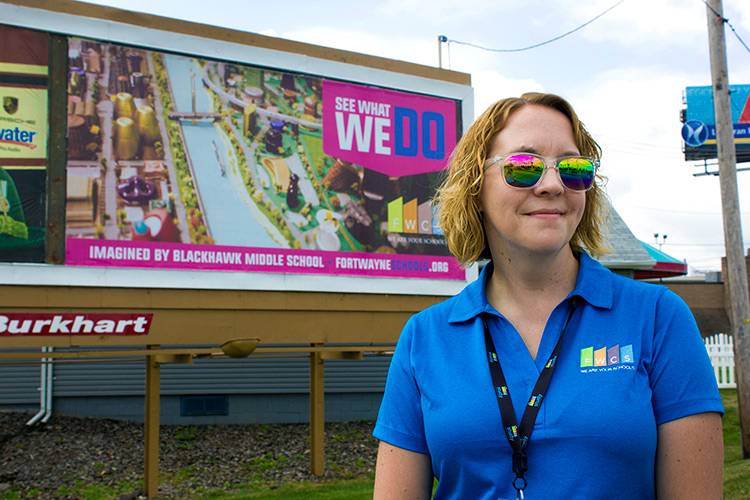 Fort Wayne Community Schools will spend about $10,000 on billboards this summer. District spokesperson Krista Stockman says state funding from a gain of two new students would pay for the billboards. Photo: Peter Balonon-Rosen/Indiana Public Broadcasting

Forget Don Draper. Forget Peggy Olson. The newest era of advertising may live within your public school district.
Schools will start soon, but where you live doesn't necessarily determine where you go to school anymore. Families can choose where to go to school — private, charter or public school. The aim behind providing this choice? Proponents say it will force all schools to better themselves.
Whether it has done that remains controversial. But it has given birth to a new reality for public schools: with education competition, comes the need for education marketing.
Schools Seek Community Connection
If Marnie Cooke had her way, you'd see school colors plastered throughout downtown Noblesville.
"I don't know when the city of Noblesville is planning on changing over street signs," said Cooke, Noblesville Schools communications director. "But I hope to put a bug in their ear that it might be cool to have some black and gold street signs."
Black and gold. The district's colors.
In Noblesville, voters recently agreed to bump up property taxes to help fund the district. Cooke wants everyone in the small central Indiana city to feel connected to the schools.
The district relies on the community for funding, internships and students. So the district hired Cooke because of her private-sector marketing background.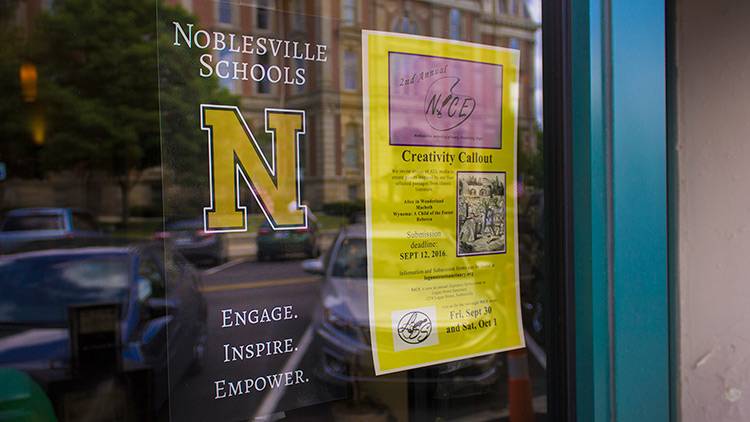 A poster for Noblesville Schools hangs in a coffee shop window of Noble Coffee and Tea Company. Photo: Peter Balonon-Rosen/Indiana Public Broadcasting

"When school starts you'll see Noblesville school banners hanging on those posts," Cooke said. "And we have a coffee shop over here that has a Noblesville Schools poster in the window."
Plus, there will be community events, fliers and social media advertising. It's deliberate marketing to keep schools on the community's mind.
Two hours south, that marketing gets even more direct.
A Multimedia Approach to Advertising
Clarksville Community Schools developed an advertising campaign with an express purpose: drive students to their district.
The southern Indiana district paid the ad agency Bandy Carroll Hellige over $160,000. The equivalent of four teachers' salaries.
"We've done billboards, we've done a lot of media and social media advertising," said Kimberly Knott, Clarksville Community Schools superintendent. "We've done movies and video clips. We actually did video clip advertisements at the cinema."

Knott credits that advertising campaign with bringing 87 students to the district and over $435,000 in tuition support from the state for the district.
Ten teacher's salaries.
"That's huge," Knott said. "That's huge for us."
As Money Follows Students, More School Options
It's a new place for public education. Gone are the days when a district's public relations person worked in a world of press releases. Now, it's largely marketing.
"It's kind of the nature of the beast in education," said Chad Lochmiller, assistant professor at Indiana University's School of Education. "There's really not an adequate level of funding to provide the level of educational services that all of our students need."
Recent changes to the state's school funding formula more closely tie school funding to district enrollment. Money follows students to school, based on head counts the state takes twice a year.
At the same time, students can more easily shop around. There are more charter schools. More students using state vouchers for private schools. And recent changes to state law allow students to more easily cross district borders.
But for some public districts, that means fewer students, and fewer dollars to keep their doors open.
Billboard, Outreach and Marketing to Survive
At Fort Wayne Community Schools, about 1,000 students have left the public district in recent years. They took $6 million dollars in state tuition with them.
As a result, the district closed schools and slashed bus routes. Now, they're marketing.
On a busy road flanked by a shopping mall, FWCS spokesperson Klara Stockman points out a billboard with a bright pink border.
A Fort Wayne Community Schools billboard. Photo: Peter Balonon-Rosen/Indiana Public Broadcasting

"This is the billboard. It says 'Imagined by Black Hawk Middle School'," Stockman said. "And then it's got our logo and it's got the 'See What We Do' which is our theme for this summer."
Fort Wayne has the highest state-funded private school voucher use in the state. Roughly 5,000 students living in district borders use a voucher to attend private school. Stockman said it's necessary for the public schools to market themselves.
"This is something that private and charter schools have been doing in all of their existence," Stockman said. "And they're doing it with taxpayer dollars now, as well."
The district will spend $10,000 this summer on 15 billboards to dot the city. State funding from a gain of just two new students would pay for the billboards.
District representatives also reach out to families directly. At public places, like the public library, representatives hand out registration information and cups, rulers and pencils emblazoned with district logos.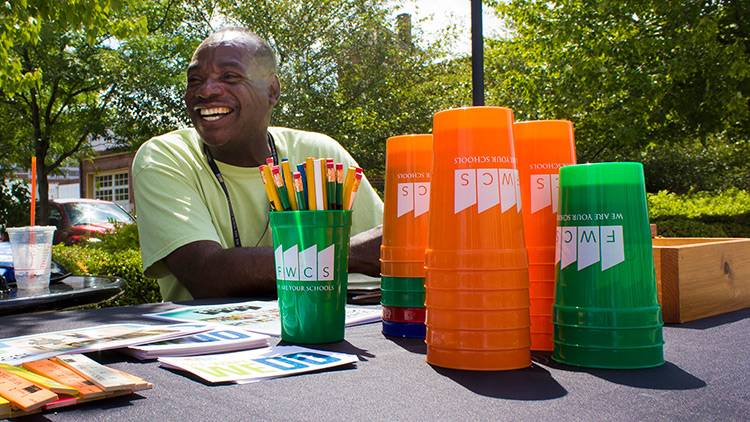 Carl Kelsaw hands out registration information and cups, rulers and pencils emblazoned with district logos outside the Allen County Public Library. Photo: Peter Balonon-Rosen/Indiana Public Broadcasting

FWCS representative Carl Kelsaw speaks with Richard Bailey, a FWCS bus driver with four school-aged boys.
"His kids are homeschooled right now so I'm trying to encourage them to come back to FWCS," Kelsaw said.
Bailey's driven buses in the district for 17 years, but never sent his kids. Bailey said he's seen more advertising recently.
"There's been billboards," Bailey said. "Occasionally I've seen stuff online you know or TV commercials."
He's seen advertisements for every type of school — private, charter and public.
"I've seen them all, but I've seen more of the private schools advertise over all than the public," Bailey said. "The public schools are starting to get into that game though, I think, more than they used to."
A FWCS billboard last year featured one of Bailey's fellow bus drivers. Still he says marketing is just that: marketing.
"I view all advertising as, you know, presenting things as the way they want you to see it," Bailey said. "I don't know if I'd say it's necessarily changed my opinion."