ELLA ABBOTT
Bluffton-Harrison Metropolitan School District in Wells County heard over an hour of public comment Tuesday evening in regards to a drafted policy to address classroom postings after parents learned a teacher had hung an LGBTQ Pride flag in their classroom.
In a letter to the community last week, the school district announced a special board meeting to address "controversial material" in classrooms.
Beverly Balash, the eighth grade science teacher who has the flag hung in her classroom, spoke at the meeting in defense of her choice to hang the flag. She says the flag is important to students who may be looking for an ally in their schools.
"We do have LGBTQ kids in our middle school. What message are you going to send to them if we are asked to take it down? Once again; They're not valued. That's what it says."
Balash says she's had the flag hanging in her room for several years. The room is shared with a high school teacher who comes over to teach an introduction to foreign languages and he hung flags from other countries on the wall. Seeing the flags, a student asked Balash if she would hang the rainbow flag as well.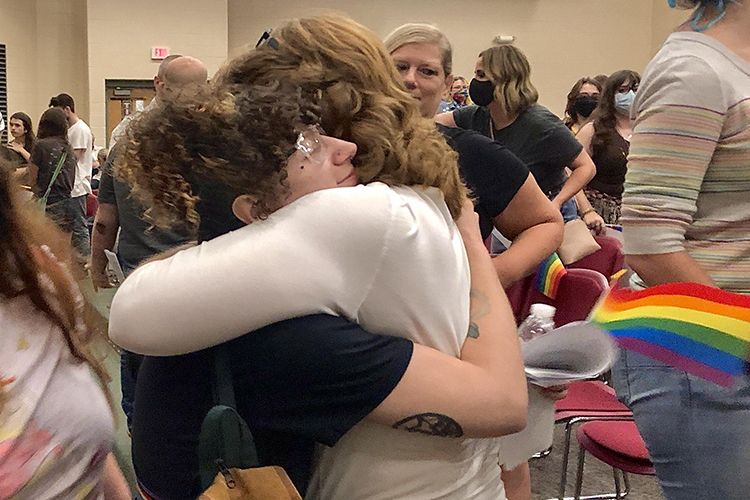 Balash says every year there are a few calls to the office about the flag, but typically her principal and superintendent support her and that's the end of the issue. This year, the issue escalated.
A mother at the school said her son was being bullied and that the flag prompted the bullying. When the superintendent didn't make Balash remove the flag, the mother reached out to GOP State Rep. Travis Holdman who then contacted the superintendent on her behalf.
The drafted policy, which was handed out to the public at the meeting, would ban classroom postings that "contain materials, such as political or religious material, that is unrelated to the curriculum and instruction goals of the courses of study."
At the board meeting, more than 30 people signed up for public comment. While several spoke in support of the policy and removal of the flag, most showed up in support of Balash and the LGBTQ community.
Many of those who spoke said the policy didn't address the root of the issue; bullying. The board passed the first reading of the drafted policy 3-2, but several board members commented on the need to revisit the language after the comments they'd heard over the evening and work with the teacher's association on a final version of the policy.
In September, the board will come back together to vote on a finalized version of the policy.