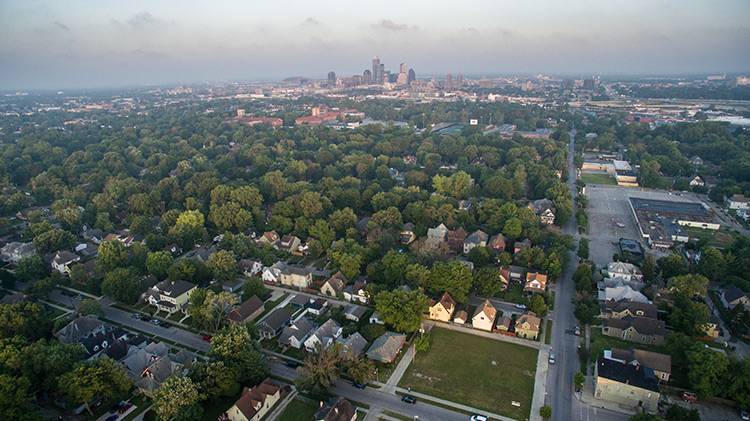 As part of a of a national public media initiative called Chasing the Dream, WFYI Public Media explores the factors that drive poverty — including health crisis, lack of education, housing instability, job insecurity and hunger — and examines what's really working to lift up poor households in Indianapolis.
The Chasing the Dream Series
June 27, 2016
Prescription for Hope was started in 2009, when doctors at Eskenazi Hospital noticed a problem: A lot of the victims of violent crimes being brought in to the emergency department were repeat customers. WFYI's Jake Harper has more on the program working to lift people out of poverty as a way to tackle violence.
---
June 28, 2016
Can a decades-long investment by the Glick Family stabilize one of the city's toughest neighborhoods by directing resources and supports to their Carriage House East apartments and the long struggling School 103? WFYI's Eric Weddle has more on the Far Eastside Success Initiative.
---
June 29, 2016
What does it take for a family to climb out of poverty? WFYI's Leigh DeNoon introduces us to Mike and Sylvia Lambert. With the help of the Center For Working Families at the Southeast Community Services Center, they're now on a path to fiscal stability for their family of five.
---
June 30, 2016
The Near Eastside of Indianapolis is being redeveloped after decades of decline — good news for a city trying to build its tax base and attract talent. Reporter Amy Gastelum explores how tax increment financing is changing the Near Eastside.
---
JULY 1, 2016
Many low-income children rely on these USDA food programs when school's not in session, but an estimated 80 percent of Indiana's children in need of the federal program may not be able to access it. Reporter Jill Sheridan takes a look at why are eligible Hoosier kids are missing out on free meals.