GREENCASTLE, Indiana -- You probably use between 80 and 100 gallons of water every day… but when you flush the toilet or turn on the faucet it's nothing you even think twice about. It's so simple for us as consumers but for the utilities and those working on the back end it's not always easy.
You can travel across the state and see the struggles local communities are facing to keep their water plants up to federal regulations.
The 2010 census showed Greencastle is growing. For the first time, the population topped 10,000 people. But the new number meant the city was also now subject to new regulations for a precious resource – water.
"I really don't know, if there's something to lose sleep over at night, that's it," Greencastle Mayor Sue Murray says.
Her last day as mayor became the deadline for the city to comply with state orders to upgrade its water treatment plant.
The Indiana Department of Environmental Management classified Greencastle as a large water producer under the influence of surface water in October of 2013. Greencastle Utility Superintendent Robert Lovell says the agency gave Greencastle a deadline of December 31st to comply with new regulations.
"They consider groundwater basically pre-filtered, so if your well is too close to that water source you can basically pull in that influence," Lovell says.
Greencastle's water wells are located along Big Walnut Creek. That's a concern to Indiana Department of Environmental Management Drinking Water Branch Chief Mary Hollingsworth since the wells could be pumping water from the creek making it susceptible to viruses and other contaminants.
"There's a new ground water rule that says you have to sample your wells directly and not through the distribution system like they normally do. When they sampled their wells directly, one of their wells got a positive for E. coli," Hollingsworth says.
The city had to raise water rates to pay for more than $2 and a half million in plant upgrades, including building a million gallon tank so they wouldn't have to staff the plant 24-hours a day. But, they can't run the plant without at least four certified operators.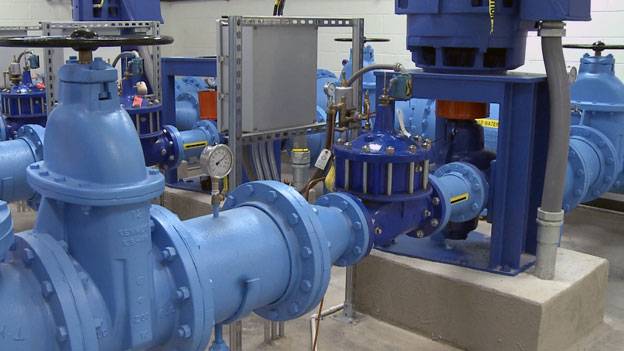 Greencastle's new addition to the water treatment plant. Photo: Joe Hren
"You have to be able to pass a pretty rigorous test that the state gives out and at this time, they only give it out twice per year," Lovell says.
If you don't pass the test Lovell describes as rigorous you don't get certified as an operator. Hollingsworth agrees the test is difficult.
"You don't want to make it easy because these people are in charge of people's drinking water," she says.
Lovell was one of the few who passed it the first time. After taking it once, twice, three times… many other staff members still hadn't passed it.
"Ten percent of the people who took the last test passed," Murray says. "I wrote to the commissioners and asked what are we going to do and he said well we're working on changing the test and maybe by the first of the year… and I said, that doesn't help me."
Murray says the city's utility conducted a national search for certified operators. The results were disappointing – no qualified applicants.
She was facing the realization that the city might have to sell its water facility.
It's happening in cities across the state.
Indiana American Water provides service to more than 50 communities in Indiana including Terre Haute and Kokomo to name a few. The company is able to absorb the costs and resources of operating a high level water plant easier than a smaller city would.
Kokomo Mayor Greg Goodnight says he's happy with the service Indiana American Water provides, but at times wishes the city had more control.
"If we ran the water company, there may be areas where we would extend lines to. We have some areas that are still on city wells."
Hollingsworth says there is a sense of pride lost when cities privatize a service.
"That's my town, those are my folks, those are my town people. But I know a lot of little towns that went with bigger corporations, Indiana American is one of the biggest ones, and they have a lot of small towns they take care of."
Privatization often means losing control of water rates, plant jobs and response time.
Lovell breathed a sigh of relief when, after four tries, the city's utility operators did pass the test. And the city met all of its deadlines to be able to continue to operate the plant.
"We're going to be able to maintain our own operators in house who are local individuals who've been working in the utility department for many, many years some of them up to 38 years who are engrained and have a big heart – they care about their community because they live here," Lovell says.
But still there could be a new problem on the horizon. Certified operators are in high demand.
"The problem with certified operators as with any place in a workforce is we're losing them," Hollingsworth says. "They're retiring. We don't have a lot of people that can pass those tests, but when we do they're picked up by bigger companies."
The state has commissioned Ivy Tech to revise the operator tests and Hollingsworth says beginning in February they'll administer them monthly.
"It's not like we're throwing them to the wolves, so even though we're a regulator we also help systems out."
Anderson and Carmel are other cities under review now for being under the influence of surface water.
City officials in Anderson approved a two-year 47 percent water rate increase last year and officials are applying for a $14 million state loan for plant upgrades.