Lorri McCall has lived in Nineveh, Indiana, her whole life. It's where she raised four children, including her daughter Sheyenne. 
McCall said Sheyenne struggled with heroin and meth for nine years, but in 2021, an unfamiliar drug called xylazine contributed to the overdose that took her life. 
"She was doing really well. She had a job, doing the right thing," McCall said. "She had a tragic inner life with a boyfriend, and she used again, and nobody knew she used. I woke up the next morning and found her in her room." 
That May, Sheyenne had been clean for ten months and was active in a recovery network. She was living with her mother, Lorri, and six-year-old son, Jordyn. 
Her mom said Sheyenne's boyfriend left her, and she snorted fentanyl one last time. 
"I shook her. And she wasn't moving. And I said, 'Hey, get up.' Didn't move. So I turned on the big light. I'm like, 'Hey, you need to get up,' and I noticed that like she wasn't moving. And so then I called 911. And her son was next to her on the bed."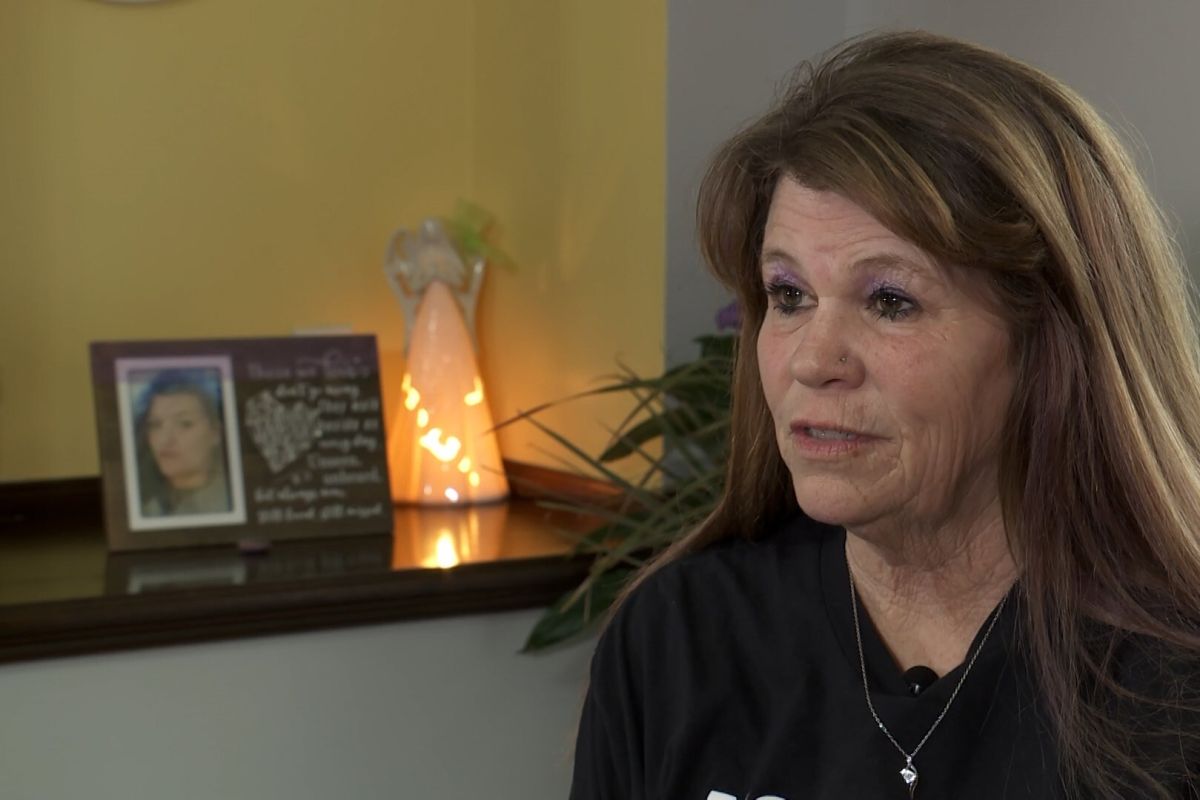 The coroner found six substances in Sheyenne's bloodstream. One of them was xylazine, an animal sedative that dealers mix with heroin and fentanyl, creating a cocktail called tranq dope. 
Like opiates, xylazine causes depressed breathing and a reduced heart rate.  
Forensic psychiatrist Dr. Jason Barrett said the way xylazine interacts with other drugs in tranq dope can make deadly substances even more dangerous. 
"I think there definitely is added risk. It's hard to give a number but definitely increases for sure," Barrett said. "Without a doubt." 
Xylazine isn't approved for human use. It's been mixed with other drugs for years but only recently garnered media attention. 
Its most dramatic side effect is the rotting flesh some users develop around injection sites. Barrett said doctors still aren't sure why that happens. 
"As cell death would happen, you'll get that necrosis meaning like blacking scar tissue or black in tissue in general. And then ultimately, there's no blood supply," Barrett said. "I've read reports where limbs it seems have to be amputated." 
Hospitals don't routinely check survivors for xylazine, so most information about its spread comes from coroners' reports.  
Data gathered by the DEA shows xylazine-positive overdose deaths in the Midwest rose from 57 in 2020 to 351 in 2021.  
By contrast, the prevalence of xylazine in drugs tested rose by only 7%. 


Because xylazine isn't a controlled substance, it falls outside the jurisdiction of the DEA. Special Agent Michael Gannon said his agency's focus remains on scheduled narcotics. 
"Xylazine is often mixed with other drugs, whether it's heroin, cocaine or fentanyl," he said. "So it's not like it's just coming up by itself." 
Users usually don't want drugs mixed with xylazine. It's added by dealers to extend the effects of fentanyl, which produces a short-lasting high. 
Gannon said even when the two substances are combined, fentanyl poses a far greater threat. 
"We got to get people educated and really let them know how dangerous this is. Because it's devastating talking to the parents that lose a loved one."
Vice President of Government and Public Relations for the Indiana Center for Recovery Chad Sabora wants to dispel misconceptions about xylazine that he says are harmful to users.  
"Conversations happen on social media about how naloxone has been ineffective against xylazine, and people in my position that have expertise are like, yeah, it's not an opioid." 
But Sabora said using the opioid reversal medicine naloxone can still save a victim's life. 
"The opioids have been displaced, the person is breathing at an amount that is not going to cause a fatality," he said. "However, they're not able to regain consciousness because of the xylazine." 
Sabora also said the portrayal of addicts by media tends to make the public afraid of people struggling with addiction rather than treat them with dignity. 
"They become so petrified by the media that they look at people who use drugs like almost like the lepers during this plague. And that's the farthest thing from the truth." 
Like Gannon, Sabora emphasized that xylazine is only the most recent element in a much larger crisis. 
"Xylazine is either going to stay or get phased out. But after that there's going to be something else for us to talk about in six months or a year, six months in a year from then they'll be something else," he said. "This will be never-ending. Like rinse and repeat until we do something different about the issue."
McCall doesn't know anyone other than her daughter who died from tranq dope, but she knows others in Bartholomew County who have lost family to fentanyl. 
She wants to be sure the dealer who sold the fatal dose to her daughter faces consequences so other families don't have to endure what she went through.
"I might not ever get justice. And that's something I have to live with," McCall said. "But I will fight to the end. Till I'm not afraid no more. I'll fight because I have to, because my grandson's growing up in the same environment. And I just got to keep him away from all the bad people."