Half way through the year, complaints about the weed killer dicamba are increasing. This could mean efforts to stop the chemical from drifting across property lines aren't working.
The Office of the Indiana State Chemist received almost 70 complaints about dicamba so far this year. That's up from roughly 40 complaints at the same time last year — which was already exceptionally high.
State Chemist Pesticide Administrator Dave Scott says in 2017 new dicamba products came on the market along with types of dicamba-resistant soybeans. He says farmers with tolerant soybeans were spraying dicamba that would drift and harm non-resistant soybeans.
As a result, the Environmental Protection Agency placed more label restrictions on the weed killer and made training sessions for new dicamba products mandatory.
"Our hope was that these numbers would be closer to zero or single digits, but we're ahead of last year's pace," says Scott.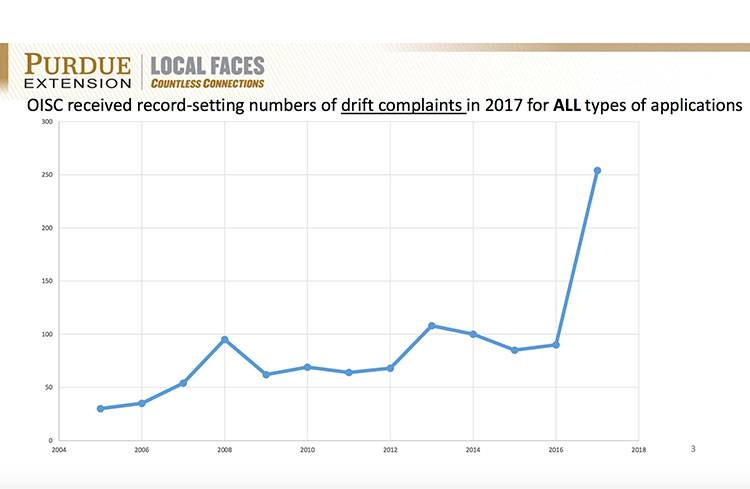 Scott says dicamba can harm unprotected soybeans in a number of ways — anything from stunting the growth of the plant to killing it. He says it's too early to tell exactly what's caused the increase. The OISC still needs to investigate many of this year's complaints.
"I can't tell you if the additional restrictions have failed, I can't tell you if these incidences are applicator negligence," he says.
READ MORE: Dicamba Poses Tough Questions, Few Answers For Farmers, Regulators
More than 90 percent of the complaint investigations found some dicamba violation. Scott says before dicamba products became an issue, there were some concerned about the possibility of drift because the chemical is so volatile.
"So the application, let's say, is made yesterday and it goes down and it hits the target. If the conditions are right and things heat up the right way, dicamba has a tendency to actually volatilize — sort of turn into a gas and actually move off target," says Scott.
This fall, the EPA will decide if dicamba can be used again next year.
Indiana Environmental reporting is supported by the Environmental Resilience Institute, an Indiana University Grand Challenge project developing Indiana-specific projections and informed responses to problems of environmental change.