He was ordained as a minister, but he found his calling as a mayor. William H. Hudnut III, "Mayor Bill," died Saturday. He was 84.
Hudnut's family announced his death with a journal entry written before his death and posted on his CaringBridge page.
"One cannot choose how one finishes the race, only how one runs it. I would not have chosen a long, slow slide into complete heart failure, but I tried to cope with it with 'gaiety, courage and a quiet mind,' to borrow from my mother who in turn was quoting Robert Louis Stevenson," Hudnut wrote.
A memorial service for Hudnut will be held in Indianapolis at 11 a.m. on Saturday, Jan. 7 at Second Presbyterian Church, 7700 North Meridian St. A public visitation will be held at the church from 3 p.m. to 8 p.m. on Friday, Jan. 6.
Memorial services will also be held in Washington, D.C. on Jan. 4, at St. Columba's Episcopal Church.
Hudnut had been in declining health for some time.
He was born in Cincinnati, grew up in New York and became a Presbyterian minister like his father and grandfather before him. The ministry brought him to Indianapolis in 1962. After nine years in the pulpit at Second Presbyterian Church, he served one term in the U.S. House of Representatives before being voted out. So he turned his passion for service to Indianapolis.
"I went up to see Dick Lugar, and I said, 'Are you going to run for mayor again?' And he said, 'No, I'm not going to,'" Hudnut recalled during a 2015 interview. "We just worked our tails off in that campaign. I went door-to-door with a bicycle and so forth; it was retail politics at the time."


From "India-No-Place" to "India-Show-Place"

Ridiculed as "India-No-place", home of the Indy 500, Hudnut focused on positive change. Soon Indianapolis was known as the Amateur Sports Capital of the World. Hudnut helped create the Indiana Sports Corporation, and in 1987 the city hosted the Pan American Games.
During the Hudnut years, more than $4 billion was committed to downtown Indianapolis, including the expansion of the Indiana Convention Center. Union Station and the downtown canal were redeveloped, and prior to a deal to lure the Colts to town, Hudnut convinced the city to build a domed stadium connected to the convention center.
Dave Frick served as deputy mayor under Hudnut, and worked with Hudnut to bring the Colts to Indianapolis. He says the deal wasn't an easy decision for the former mayor.
"He took a political risk," Frick says. "And the Colts' move to Indianapolis sure paid off. It changed the national perspective of Indianapolis when that happened."
Hudnut himself said the deal is likely to be, in the pages of history books, the highlight of his tenure.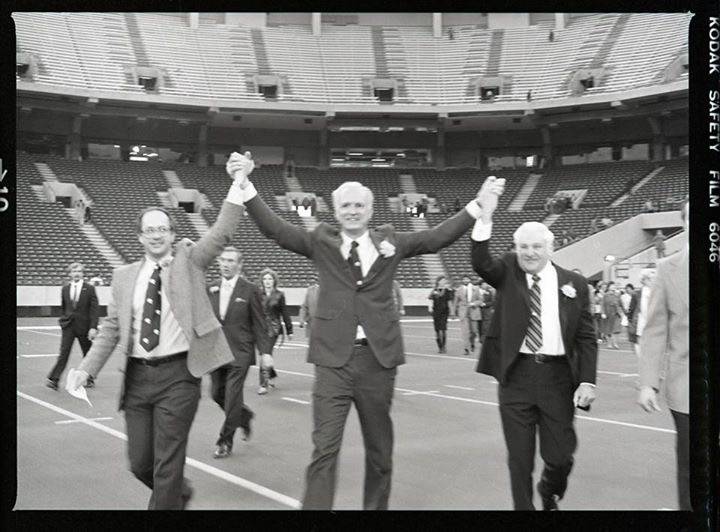 David Frick, Bill Hudnut and Robert Irsay, 1984. Photo courtesy University of Indianapolis Digital Mayoral Archives.

Hudnut was elected in 1976 and served four terms as mayor. In 2014, a larger-than-life-size statue of "Mayor Bill" was dedicated in his honor near the Convention Center.
Frick says Hudnut was, at his core, a people person, perhaps best illustrated by his participation one year in a St. Patrick's Day parade.
"He donned a leprechaun suit and marched in the parade. And I mean, that was just Bill Hudnut. He loved spending time with people and doing things that caused people to smile and laugh," Frick says.
The man who succeeded Hudnut, former prosecutor Steve Goldsmith, says Hudnut was a shining example.
"I would not have built a stadium without a football team," Goldsmith says. "Who would do that? The lesson I took from Bill Hudnut and his administration as mayor of Indianapolis was, 'Think Big!'"
In a statement issued Sunday, Goldsmith called Hudnut a "remarkable person and extraordinary mayor."
"Perhaps the most valuable part of his legacy was his life-long commitment to inclusivity and tolerance, which he continued to champion long after his elected life ended," Goldsmith says.
After a scolding by then-Urban League president Sam Jones about the lack of diversity on the Airport Authority board, Hudnut appointed an African American to that board and other high- level positions. He also imposed 25 percent quotas for minorities for every new recruit class for the Indianapolis police and fire departments. That affirmative action decision brought legal action from the U.S. Justice Department in 1985. The suit was dropped the following year.
Former Indianapolis Mayor Bart Peterson, who served from 2000 to 2008, says Hudnut led a cultural change in the city through his fierce leadership.
"He took a city that I think was always a good city, but didn't have a huge amount of confidence that it could play in the big leagues, and he made us believe in ourselves. Made us believe that we could be a big-league player," Peterson says.
Peterson says Hudnut was a positive person in both his personal life and his public persona. And he says he considered him a role model.
"A lot of the way he approached his job I wanted to emulate," Peterson says. "To be out in the public all the time, or as much as you possibly can. To listen to people. To talk the city up, both to our own people and to people on the outside. To believe in what we can achieve, and to try to achieve bold things."


"Little Things Make a Difference"

During an interview on WFYI in 2014, Hudnut said he wanted to be remembered "as the person who danced a jig with a woman downtown in the City- County Building" when she was awarded a house in a federally funded urban homesteading program.
"We would give (one) dollar houses and they would promise to put their sweat equity into it for three years, and there were so many people who wanted those houses that we had to have raffles," Hudnut said. "And this lady won a raffle and she came running down the aisle and threw her arms around me. 'Oh, thank you, Mayor. Thank you, Mayor!' You know, those little things make a difference."
And, from an interview at the end of his final term, Hudnut was overcome with emotion because he so dearly loved his time in office.
"I've enjoyed being mayor for 16 years, and I'm sorry it's over," he said.
On Sunday, Mayor Joe Hogsett called on county and state officials to fly flags at half-staff this week in Hudnut's honor.
Of Hudnut's passing, he said: "Today, our city mourns the loss of a visionary leader who cared so deeply for Indianapolis that he dedicated much of his career to its transformation.
"Mayor Hudnut was ahead of his time, helping to turn, as he often said, 'India-NO-place' into 'India-SHOW-place,' and paving the way for the world-class city that Indianapolis has become. He was a true public servant, with an energy and personality that captured the hearts and imaginations of countless residents."
Hudnut's leadership didn't go unnoticed outside Indiana. He was honored as the "Nation's Outstanding Mayor of 1988" by City and State magazine, named "Man of the Year" by The Indianapolis Star in 1979, and awarded Princeton University's highest alumni honor, The Woodrow Wilson Award for Public Service, in 1986. Hudnut was a past president of the National League of Cities and the Indiana Association of Cities and Towns. He was a graduate of Princeton University and Union Theological Seminary.
After leaving office, he moved to Chicago and then the Washington, D.C. area. He later was elected to the Town Council of the Town of Chevy Chase, Maryland and also served as Mayor of the town of Chevy Chase. Hudnut wrote five books on leadership and urban planning.
Most recently he was Senior Fellow Emeritus at the Washington-based Urban Land Institute, Advisor to the Senior Vice President and Chief Operating Officer at Georgetown University, and Senior Policy Advisory for Bose Public Affairs Group. Hudnut was also recognized with 13 honorary degrees in his lifetime.
Hudnut battled heart failure and throat cancer. He was preceded in death by his son Michael and daughter Laura. He is survived by his wife Beverly and four sons.
Memorial services are being planned for the Washington, D.C. area and Indianapolis.