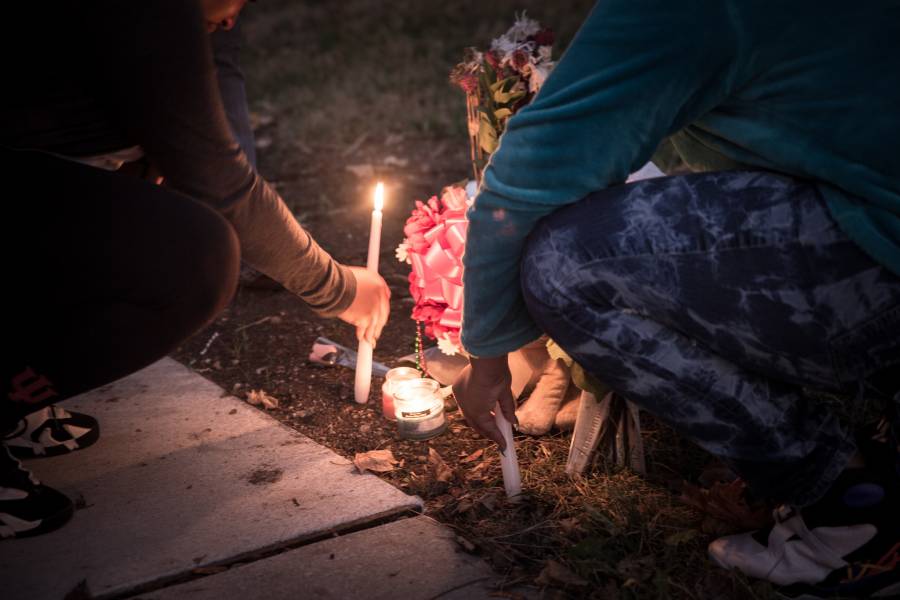 Friends and family members light candles during a vigil for a man slain in broad daylight in the Crown Hill neighborhood of Indianapolis last year. (Photo by Ryan Delaney/WFYI)
Last summer, WFYI News began an in-depth look at the root causes of violent crime in Indianapolis' most distressed neighborhoods, as identified by the city's public safety department. In our series Intersections, we've been examining the complicated relationships between poverty, race, law enforcement and economics, and whether a new approach to stopping violence can result in meaningful change.
Below are some of the highlights of that series so far. And be sure to subscribe to the Intersections podcast.
Eight square miles
Public safety officials in the city found that about a quarter of the shootings and homicides were happening within just eight square miles of the city of Indianapolis -- deeming them focus areas. Explore how those numbers were crunched and whether this holistic approach to reducing that violence can work.
Tireless voice for peace
After his own life was rocked by violence at an early age, Charles Harrison resisted its pull. Instead, he found God and became Indianapolis' most vocal crusader for peace. But not everything the long-time leader of an anti-violence coalition says is welcomed.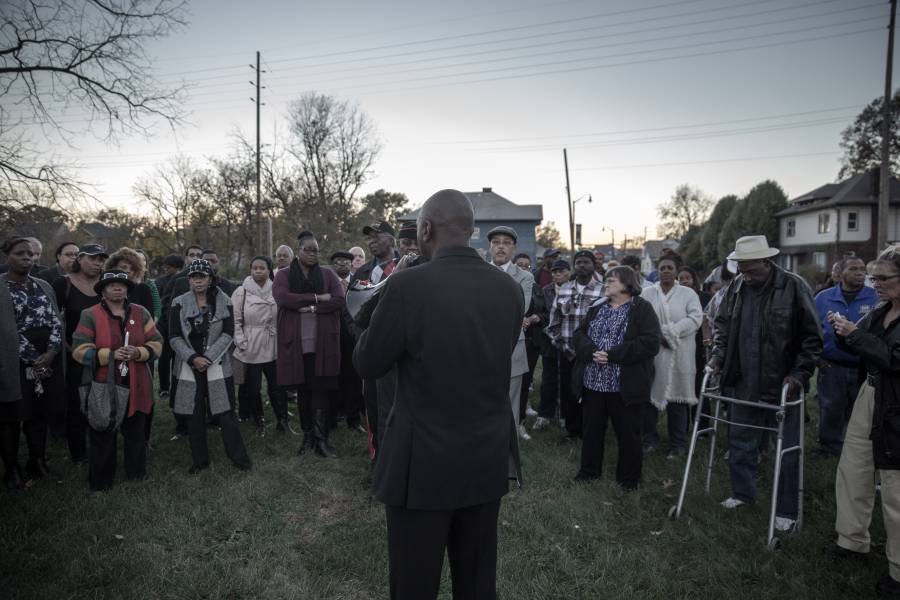 Rev. Charles Harrison, leader of the Indianapolis 10 Point Coalition, speaks during a homicide vigil last year. (Photo by Ryan Delaney/WFYI)
Handling a 10-96 call
Mental health issues and its side effects, like substance abuse, plague the city's focus areas at a higher rate, leading to more interactions with emergency services. Because those interactions can turn deadly, Indianapolis police are trying to change how they handle mental illness.
Not going back
Half of the convicted criminals released from prisons each year will re-offend and return to the justice system. Breaking that cycle is critical to saving taxpayer money and reducing crime. But it's extremely hard to do. Meet one one man struggling to stay out of away from a prison cell.
Mentors versus gangs
Twice as many children in Indy's high-crime neighborhoods are going up in single-parent households, a path toward those children turning to crime, community leaders say. It's an uphill battle for mentors to nurture kids before they get sucked into a gang, which on the surface can seem similar.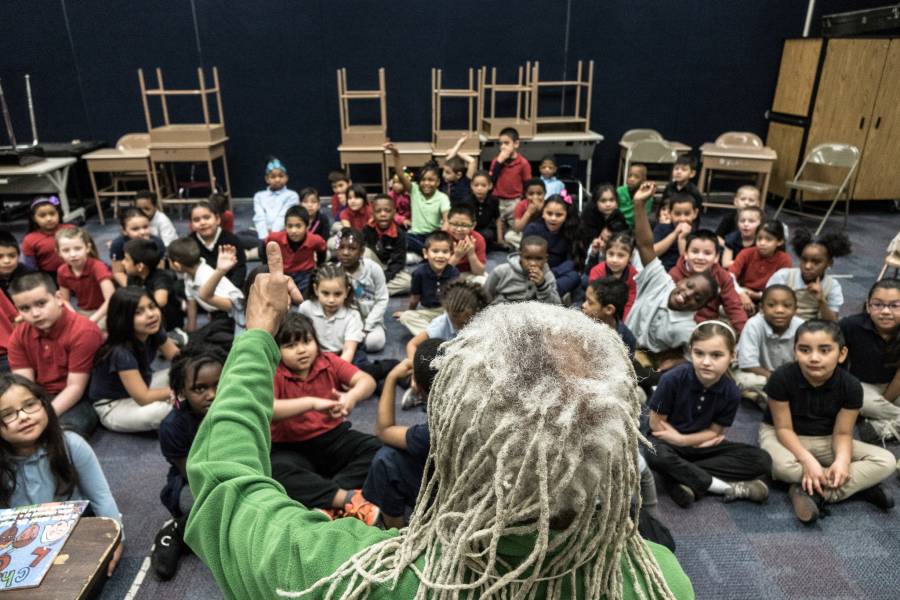 James Taylor is a mentor with the Peace Learning Center. Here, he speaks to a class at IPS School 15 on the Near Eastside, where Taylor has his own room and meets with the students several times a week. (Photo by Ryan Delaney/WFYI)
Listening to the neighbors
Does the perception of the city's focus areas match the reality of the residents living in them? We sent our Speak Up Phone on a listening tour through the neighborhoods to ask people to describe their community in one word. You can listen to the responses from each neighborhood in our interactive map. And here are the words we've heard:
You can find all the rest of the reporting from our Intersections series at the project site: wfyi.org/intersections. And tune into 90.1 FM on Thursday, April 28 at 1 p.m. as our program No Limits discusses the series and has a live conversation about the root causes of violence.