Mike and Sylvia Lambert were high school sweethearts at Arsenal Tech. But when Sylvia got pregnant at 16, Mike dropped out to get a job.
"At that point in time, I thought that was the right thing," he said.
That was nearly 20 years ago, and since then, Mike's faced the same limitations that confront thousands of other Hoosiers without a diploma: His family has been perpetually cash-strapped as Mike has been forced to work a series of dead-end jobs.
"A little bit of everything," Mike said. "Just basically laborer, minimum wage. Bare minimum stuff — warehouse work, restaurant work, done a little bit of construction in my life."
Nearly 25 percent of adults in Marion County's Center Township — where the Lamberts live — lack a high school diploma, and more than 40 percent of them live in poverty.
Dropping out has profound, long-term impacts on families and communities. Over their lifetimes, drop outs make an average of $400,000 less than their peers who finish high school.
According to the Bureau of Labor Statistics, adults without a high school diploma earned an average of just less than $500 a week in 2015 — less than half the average weekly earnings of a college graduate.
The Lamberts have three sons, 17-year-old Michael, 7-year-old Robert, and 2-year-old Alexander.
"With no money in your pocket, you gotta tell your kids 'No you can't,' you can't get them this or you can't give them money for a field trip and stuff like that. That hurts a father. You know, I might not show it but it really hurts," Mike said.
Scraping By
According to the Indiana Institute for Working Families, a family of five in Marion County needs an income of about $63,000 a year in order to live without any public or private assistance. That includes the costs of housing, childcare, transportation, food, health care, taxes and a little bit of savings for emergencies.
It's more than three times as much as the Lamberts made last year.
Even with the help of federal or state programs like SNAP, food stamps, the Earned Income Tax Credit and HIP 2.0 for health care, they still fall short.
"I've got a couple of friends show me how to do the extreme couponing. But I've learned how to budget on a very small income with three kids. It's not easy, but we've made it. We've made it this far paying what we do," Sylvia said.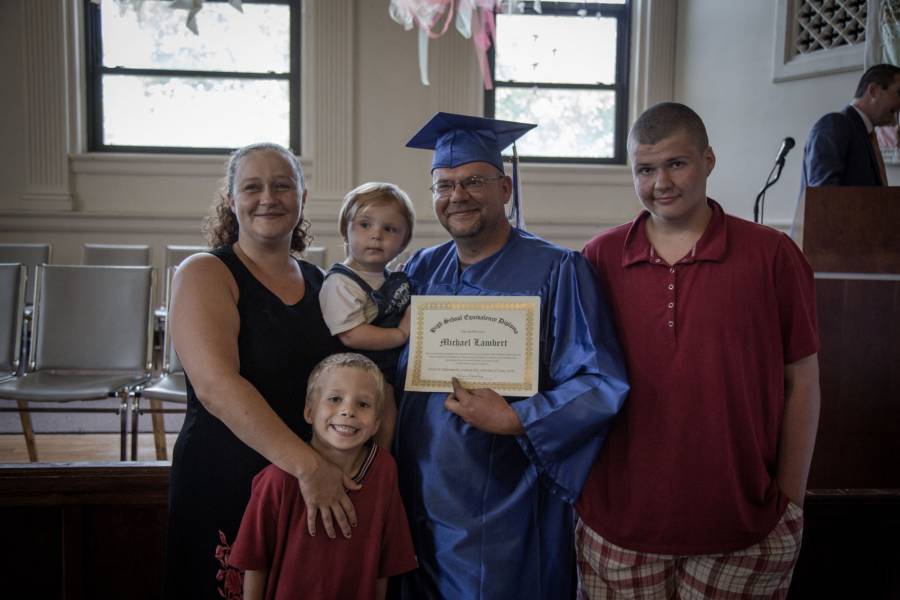 Mike and Sylvia Lambert pose with their sons Michael, Robert and Alexander following the Mike's graduation ceremony in June. (Photo by Brian Paul, WFYI)

Unlike her husband, Sylvia Lambert graduated from Arsenal Tech. But she's been stuck in low-wage jobs, too. Last year, she worked in a sports apparel factory, making $9 an hour, plus benefits, but she got laid off three times within the year.
Believing college would be their ticket out of poverty, Sylvia decided to pursue an associate's degree in accounting and enrolled in an online program through the University of Phoenix a few years ago. That didn't work out quite the way she planned.
"I have the computer experience. I have the software experience. I have all that experience, but I don't have the office setting experience, so I have not been able to get a job using my degree," she said. "I'm paying $70,000 for a degree I'm not using."
Because of their income status, Sylvia said, she's been able to defer her student loan payments until she goes back to work. She'd like to wait until Alexander, who's 2, starts kindergarten.
Terri Garcia, director of Southeast Community Services and the Center for Working Families in Fountain Square, said that the economy has put people like Mike and Sylvia Lambert in a very difficult place.
"The jobs that our folks were able to get prior to the Great Recession are not available to them anymore. Other people have gotten them. Or, they were eliminated. Those employers cut out that job. Because they had a lot of other people — educated people — who were looking for work, they didn't need to go entry level anymore," Garcia said.
Changing Direction
The Lamberts have lived in the Fountain Square neighborhood for decades — Mike grew up there — but until last fall, they didn't know about the Center For Working Families at the Southeast Community Services Center. It's one of eight such centers in Marion County, supported in part by the United Way of Central Indiana and other agencies. The centers offer employment and career help, financial literacy coaching and access to income supports.
A chance encounter last fall with education coach Christopher Nunn has completely changed the direction of the Lamberts' lives.
"In Michael's case, it was high school equivalency. He's a guy I met at his child's school on back-to-school night. And I was like, 'You need a job?' and he's like, 'Sure. I'm like, 'wWll, we have this thing if you want to come and work on your own education.' It turned out pretty remarkably in his case," Nunn said.
Mike signed up for high school equivalency classes and set a goal to get his commercial driver's license, or CDL, with help from the state's workforce development. Certifications and apprenticeships are stepping stones out of poverty — and there are more open jobs than qualified workers.
Within a few months, Mike had finished his GED and passed the exams for his commercial driver's license. In early May, he was hired to drive a truck for a local company making $15 an hour — more money than he'd ever made before.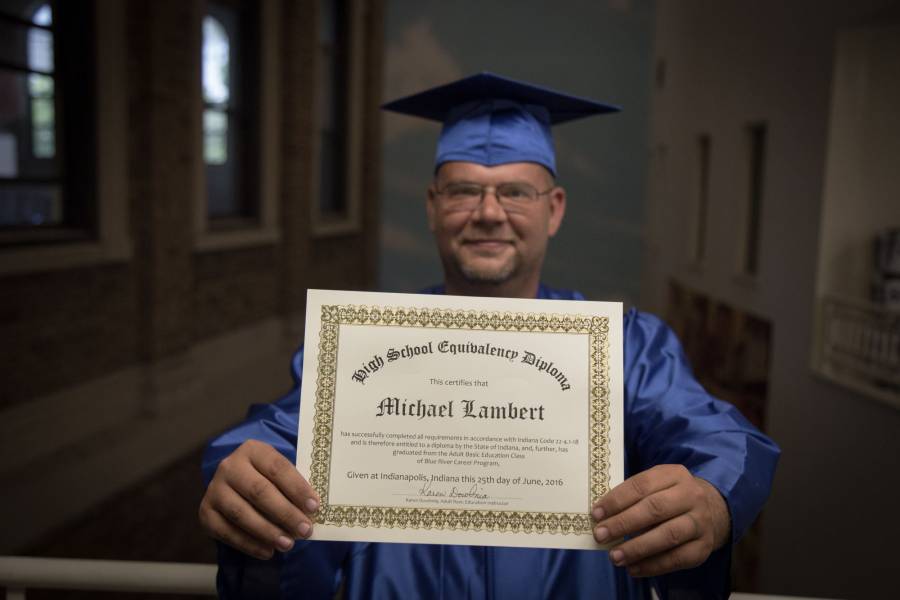 Mike Lambert, who lives in Fountain Square with his family, holds up his high school equivalency diploma. Michael dropped out of Arsenal Technical High School 18 years ago but earned his degree in June. (Photo by Brian Paul, WFYI)

Around that same time, the Lamberts learned they were being evicted because their landlord had died. They were told they would have to leave their home by June 1, leaving no time to save for a deposit on a new place. They worried they'd have to move in with friends. But their connection to the Center for Working Families came through again.
Within a couple of weeks, the Lamberts moved into a new home built by The Fuller Center of Central Indiana. The housing nonprofit has built or rebuilt a total of 22 homes in Fountain Square — half of them down the street from the Lamberts' old house.
Provided they put in 350 hours of "sweat equity" — work on the house — they'll be eligible to buy from Fuller after a year of living there.
Sylvia said it's the first time they've ever had a home that feels like their own.
The successes the Lamberts are seeing now are a long time coming.
On June 25, Mike donned a royal blue cap and gown for a graduation ceremony of people who had earned their GEDs.
As their boys enjoyed punch and cupcakes after the ceremony, Sylvia beamed. "I'm proud of him. I'm very proud of all the hard work he's done."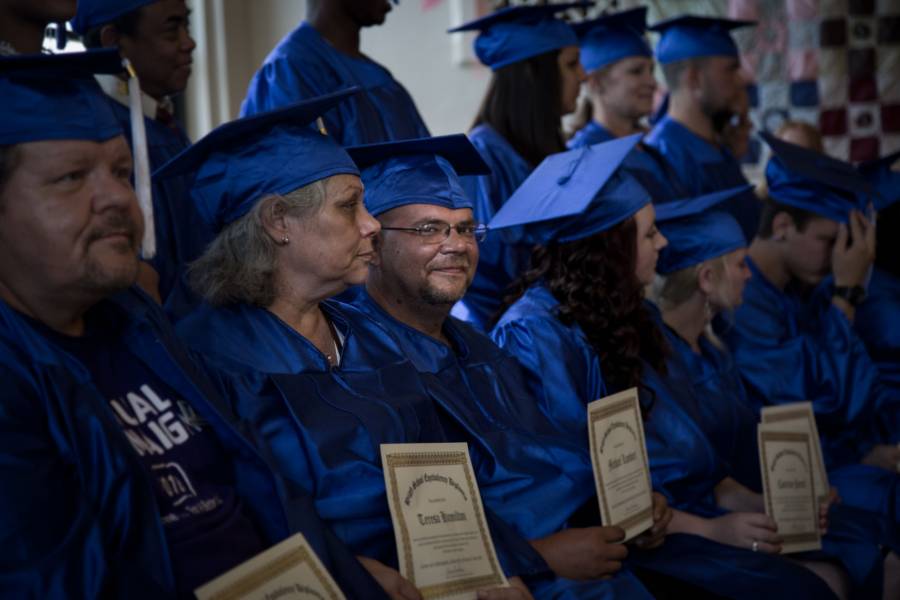 Mike Lambert smiles on his graduation day. The ceremony took place at Southeast Community Services in Fountain Square. (Photo by Brian Paul, WFYI)

Mike is grateful for the coaches at the Center for Working Families. Now, he says, he's focused on the future for 17-year old Michael.
"Try to get him to go to college. Raise the other two. Try to get them to go to college, where they don't have to work as hard as I did. And enjoy life."