WEST LAFAYETTE -- After nearly two years of increases and a historic spike last fall, grocery prices have started to drop in Indiana.
That's according to the Farm Bureau's latest spring survey, which has looked at the price of a basic basket of groceries in spring and fall for nearly 30 years.
The survey adds up the average cost of a "market basket" of 16 items, including milk, eggs, meat and produce. This spring, that basket totals $52.61.
It's twice as high as in the 1990s, but it marks a drop from September, when the cost was around $53.32. Farm Bureau spokeswoman Kathleen Dutro says that was mainly due to egg prices, after avian flu wiped out poultry flocks across the Midwest.
"Fewer hens means fewer eggs," Dutro says, "which causes a really major increase in the price of eggs."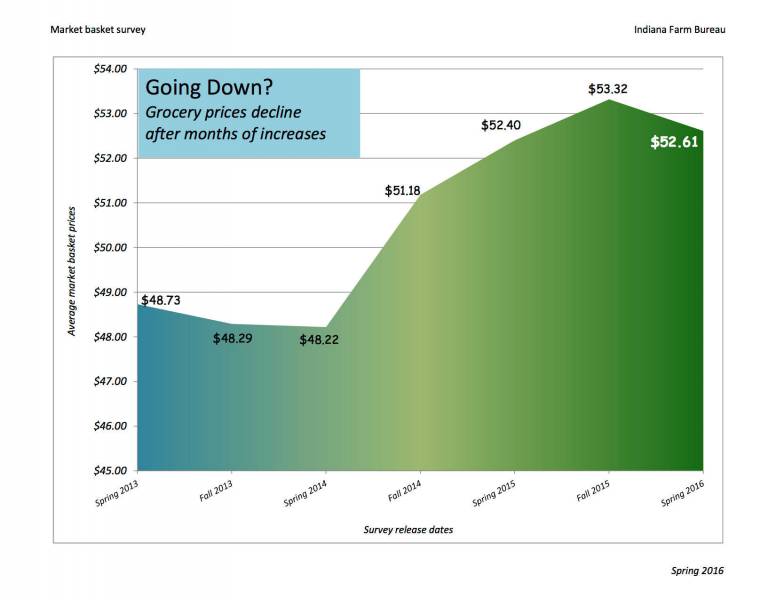 Grocery prices in Indiana appear to be falling after avian flu drove average costs to a record high in late 2015. -- Courtesy Indiana Farm Bureau

But she says the worst flu impacts are probably over. Indiana's spring survey shows an 82-cent drop in egg prices. Beef, potatoes and bagged salad were also cheaper. Items like bacon, milk and apples got a little more costly -- but Dutro says it's tough to say if all those trends will last.
"There's a lot more volatility in grocery prices than there used to be," she says, adding it's due in part to the rising demand for processed foods, from boneless meats to pre-cooked meals.