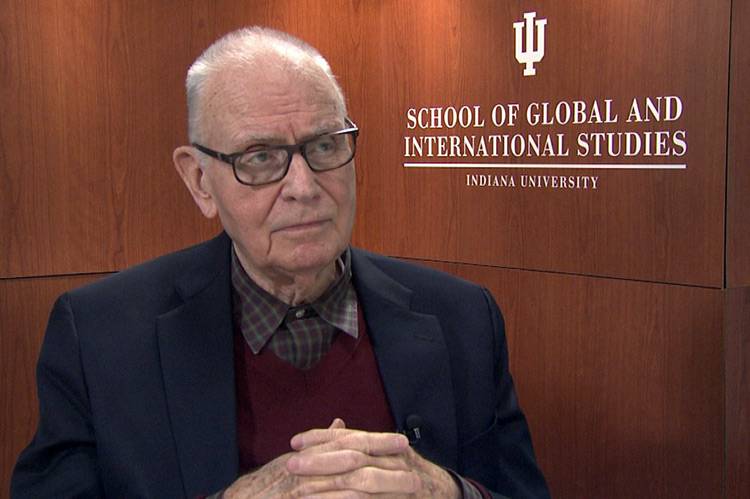 Lee Hamilton served as the vice chair of the 9/11 Commission. Photo: Barbara Brosher

Intelligence officials are milling over whether to release 28 pages of a classified report investigating the 9/11 attacks. Some say the papers point to Saudi support for the terrorist attacks.
Very few people have seen the contents of those pages. Barbara Brosher sat down with former congressman Lee Hamilton. He served as vice chairman of the 9/11 Commission that investigated the attacks. He was briefed on what's in those pages and says weighing whether to release their contents is a very difficult decision.
Q: Can you explain the general content of what these papers looked at?
A: These papers were produced by the FBI and they were looking into people that might have been associated, complicit in the 9/11 attacks. There are some names mentioned in these papers. This is a very grave matter. This crime, of course, was one of the worst crimes in the history of America. We had 3,000 people murdered on that day. Anyone accused of being complicit in that crime, that's a very serious matter, and a very grave matter, so you just don't want to float things out unnecessarily. I think all of us have, I certainly do, a bias if you would towards transparency and accountability. But I do not know whether these papers should be released or not.
Q: What do you say to those skeptics out there and those people who say, 'We need these released for transparency, for people to get closure about what happened?'
A: Well that's very understandable. And whenever you have papers that are being withheld, there's always the charge of cover up. What I'm trying to say here that this is really a difficult matter. You want to be very sure that you don't accuse somebody in the public press that is innocent of these grave crimes that were committed. You obviously do not want to release any information that may or may not be in the 28 pages with regard to the modalities of the American intelligence community that would release valuable information to our adversaries. I think we should leave it in the hands of the Director of Intelligence for the time being. And if they are released, and that may very well be the result, then we have to be very sure that the American people understand the nature and the context of the documents.
Q: Can you explain after you were briefed on the 9-11 commission about these specific 28 pages what the commission did?
A: Those papers were given to us, we went through, the staff went through them very, very carefully and pursued a lot of leads. For example, there is one Saudi citizen, government official whose name is in the report. It's been made public. Who was thought he might have some connection to the two extremists in Los Angeles, but we did not find any such connection. So, we pursued several leads as a result of our investigation of those papers.
Q: Why is this something's that's being considered right now and that's being considered whether to release these documents?
A: The families of the victims deserve to know everything we can possibly tell them about what happened. There are also very powerful financial interests here. If the information comes out, however it may come out, and if it's true — and I don't know that it is — that Saudi officials, the Saudi government was involved in some way in 9/11, then that would open up the possibility, not the assurance, but the possibility that the Saudi government could be sued. Now government immunity would have to be waived and there are a lot of legal problems involved there.