INDIANAPOLIS -- Kids on Nowland Avenue get to play outside a little longer tonight.
Along with Indianapolis Power and Light, Mayor Joe Hogsett announced the installation of the first of 100 new street lamps across the city as part of his "Operation Night Light" plan today.
The announcement lifted a ban on installing new street lights in Marion County – a ban that outlasted four mayors and spanned 35 years.
The moratorium dates back to Mayor Bill Hudnut's administration and was put in place as a money-saving measure for the city's transportation budget, which also includes roads and sidewalks.
Since then, street lights have been repaired and relocated to other areas as needed.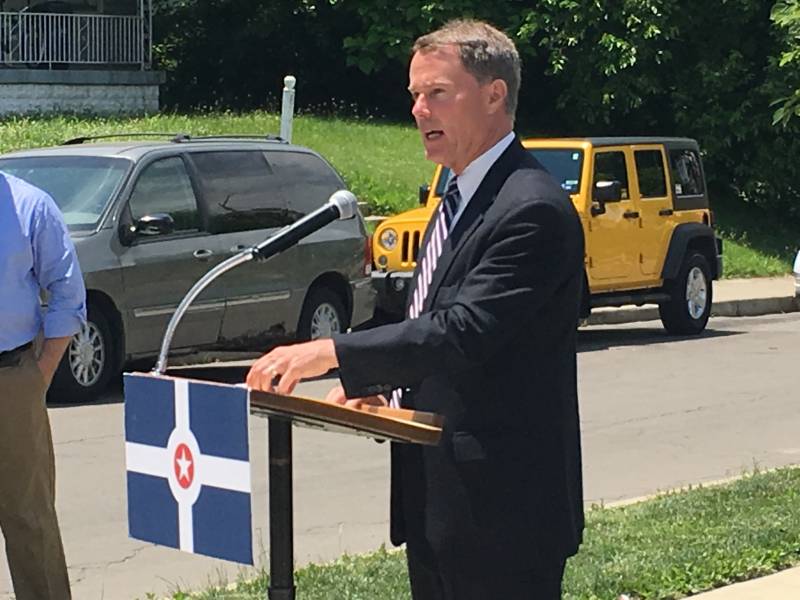 The first light went up on the near eastside, right in front of the Paramount School of Excellence, which enrolls kindergarten through eighth grade.
The location was picked for three reasons:
Proximity to the school
Neighborhood feedback through the mayor's "Neighborhood Advocate" program
Location within an Indianapolis Metropolitan Police Department focus area
The rest of phase one's 99 locations, Hogsett said, will be identified through a partner study by IPL.
"No longer will we allow criminals to lurk in the shadows of our great neighborhoods," Hogsett said. "No longer will we be afraid to walk down our streets at night. No longer will we fear the shadows and the darkness."
The new lights will cost no additional tax dollars, and there's no timeline for the remaining installations.
J. Miller, 32, lives in the house right across from where the new street light was installed.
Although he's only been living there a couple months, he said he immediately noticed the darkness on the block and has been concerned about his nieces and nephews playing outside.
"They like to ride their bikes around, and they like to play across the street sometimes," Miller said. "You would have to be concerned about them, as far as being able to see them and knowing where they're at."
Miller – who watched the installation from his porch – said he thinks the new light will make his street safer when it flips on tonight.
"It will go back to the old saying – when the light comes on, it's time to come in," he said.
Over the next month, residents noticing darkness in their area can call the Mayor's Action Center and request new streetlights to be installed at 317-327-4622.
Let there be light! (Once the sun goes down) @IPLPower pic.twitter.com/KBJjc76Abb

— Mayor Joe Hogsett (@IndyMayorJoe) June 9, 2016