A new report from the Purdue Climate Change Research Center shows that as Indiana warms, the state will demand more cool air and less heat. Leigh Raymond is the lead author of the report on how climate change will affect energy demand in Indiana.
Raymond says because commercial businesses need more air conditioning, their energy bills will likely go up while residents' bills will go down slightly.
"That's partially because people spend a lot more time in commercial buildings during the daytime which is when temperatures are higher," he says.
The hotter temperatures will also make coal and natural gas plants run less efficiently. Extreme heat can shorten the life of a plant and make the energy from those plants less reliable.
READ MORE: Heavy Rains More Common In Indiana Due To Climate Change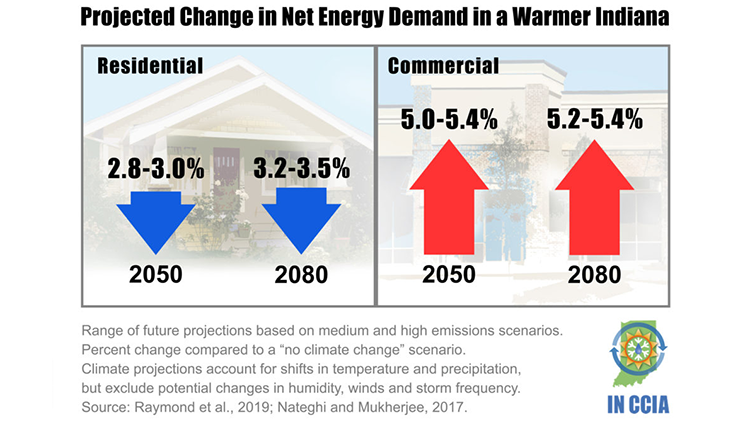 The report also talked about policy changes that could reduce carbon emissions in Indiana. Raymond says more than half of U.S. states provide incentives for renewable energy projects or a tax on carbon emissions. Indiana doesn't have one.
Raymond says a normal carbon tax would be set at about $100 per ton, but a tax of less than half that amount would reduce the state's emissions by 10 percent every year.
"So these actually relatively small adjustments in terms of policy interventions actually have pretty significant effects," he says.
Indiana Environmental reporting is supported by the Environmental Resilience Institute, an Indiana University Grand Challenge project developing Indiana-specific projections and informed responses to problems of environmental change.