Weaving between southern Indiana's rolling hills, State Road 46 passes through a rural but well-traveled part of the state.
Brown County is known for farming, shopping, historical sites and its state park. It's home to 15,000 people. However, rural parts of the state are also becoming known as the center of the growing opioid epidemic.
"It's like anything, if you want it you can find it," says resident Doug Payne. "I don't think that's any issue."
Payne was addicted to opioids for more than a decade. He spends his spare time talking to kids about his struggle with substance abuse. Payne says he's been clean for 11 years, but the temptation is always there.
"I'll always be an addict," Payne says. "You know, it's easier for me to go outside these doors right now and get high than it is to sit here and talk to you."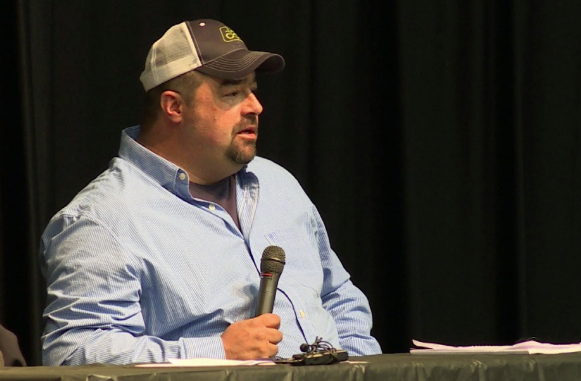 Doug Payne has been clean for 11 years after struggling for more than a decade with an opioid addictio. - Photo: Steve Burns

Last week, around 400 Hoosiers heard Payne speak at the Boone County Fairgrounds in Lebanon for a rural opioid addiction symposium.
"Kids are like cats. They're very curious," Payne says. "They want to know and how it makes them feel and what it does. You know, with telling them that you've also got to tell them the end results of what's going to happen."
He says just within the past six months, he's seen several students die from drugs.
"You just hate to see them go down that road because it's long road," he says. "And sometimes it's a short road especially with heroin and some of the things they're getting their hands on now."
But Indiana is making some progress.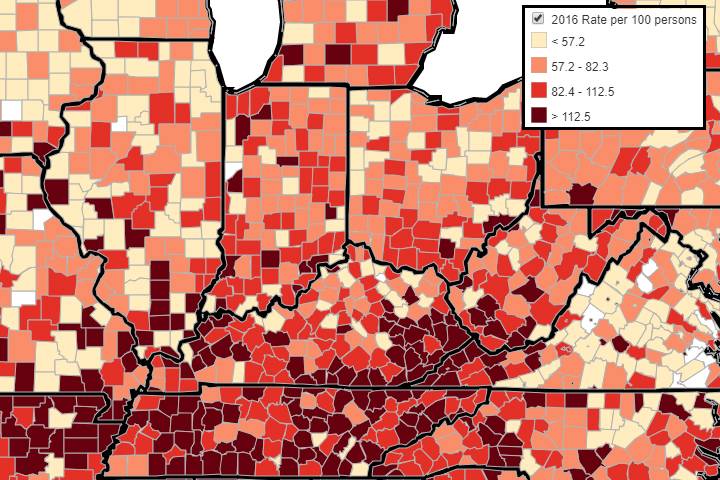 Indiana ranks 11th in the nation for the number of opioid prescriptions per 100 people, according to 2016 data from the Centers for Disease Control and Prevention. - Source: CDC

"Opioid prescription rates have come down in the state of Indiana. That's good news. They're actually down 25 percent over the last four years," says Jim McCllelland, the stat's executive director for drug prevention, treatment and enforcement. "The bad news is we still have the 11th highest opioid prescription rate in the country."
McClelland says the most effective long-term approach to preventing substance abuse is by first focusing on Indiana's youth.
"I heard in another county a few weeks ago of great grandparents who are raising the children because both the parents and the grandparents have substance abuse problems," he says.
McClelland says they plan to continue their fight against the crisis by having more opioid symposiums and creating mentoring programs for children impacted by their parent's addiction.
"Nobody can do it on their own," he says. "But no drug dealer nor cartel can stand against families, schools, churches and communities united together. In other words, by bringing the pieces together."