The big race on the November ballot in Indiana is for the U.S. Senate, where Republican Mike Braun, a former state representative, is running to unseat Democratic Sen. Joe Donnelly.
President Trump carried Indiana in 2016, and he visited Indiana last month to campaign for Braun. Both candidates are competing for the support of Trump voters, and in his campaign, Donnelly, who has served in the Senate since 2012, is highlighting his past cooperation with the president.
Donnelly (@SenDonnelly) tells Here & Now's Jeremy Hobson that he will "work with any president," but his primary responsibility is to the people of Indiana.
"When President Trump is right, I'm with him. I voted with him 62 percent of the time. When he is not, I try to let him know, 'Here's an alternate plan,' " Donnelly says. "What Hoosiers really want is not just a copy machine. Mike Braun has said, 'I will vote with the president every single time.' Well, I've learned over the years, if two people agree on everything, one of them is not needed."
Interview Highlights
On how he has worked with Trump so far
"I have worked together with him on things like the Right To Try legislation that we've had go forward. I've worked with him on the opioid scourge on trying to in every way, shape and form try to help my state and other states to get through this terrible challenge we have with opioids. And so I've worked with him on a number of issues, but on other issues I have suggested to him better ways to approach things, better ways to do things, such as last year with the health care situation that we had when we had the vote to try to end [coverage for] pre-existing conditions. I voted to stop that. We stopped it by one vote, and it was absolutely critical because the people of this country, the people of my state who are dealing with arthritis and diabetes and cancer, they should still be able to get coverage. Coverage shouldn't be designed that it works around the challenges they have."
On being one of the few anti-abortion Democrats in the Senate
"Well, I just try to do what I think is right. And you know, I happen to be of the Catholic faith, and there was a cardinal a long time ago, not too long ago actually I guess, Cardinal Bernardin from Chicago, who talked about the seamless garment. And what that is is you do everything you can to try to make sure that children have a chance, that a mom has a support system in place to help her as she's going through her pregnancy, that at every step — whether it is a nutrition program for children in school or that it is an effort to make sure they're well educated — that this seamless garment is from conception till natural death."
On if he thinks Roe v. Wade should be overturned
"Well, I think that it is settled law. It is precedent. That's where we are right now."
On his decision to vote against the Trump tax plan
"Oh, there's no question that I made the right vote in voting against the tax cuts. It created over $2 trillion in debt. It has set us on a course now, as we see in the next fiscal year, of over a trillion dollars in debt every year as far as the eye can see, that the health care individual requirements were ended, which destroyed health care pools across the country. And Paul Ryan gave away the game the day after the vote when he said, 'Well, we're now facing huge deficits. We have to cut Medicare and Social Security.' And so the bill was a terrible bill. It's a terrible law because it does so much destruction to our national financial situation. It's about as irresponsible as it gets. It is like throwing a party today and making our children pay the bills. It couldn't be more wrong."
On if he would vote to undo the tax cuts if given the chance
"Well, the first thing we're trying to do is to stabilize the situation financially to do the very best we can to get us back to deficit neutral and that's where my focus is."
On how tariffs are affecting Indiana's steel industry
"It's a very, very problematic situation. It is causing incredible heartache and incredible challenges in my state of Indiana. I have said for a long time that we needed to fix the situation in our steel industry because my state is the No. 1 steel producing state in the country, where China dumps steel in the country at below cost. And so that is a situation that is its own stovepipe that can be fixed that we've been working on. I've testified before the International Trade Court on numerous occasions on behalf of our steel companies and that issue can be fixed. We did not have to go into an overall trade war in order to do that. And the people who are struggling and suffering from this now are farmers who are seeing their soybean crops, corn crops, pork production crops, at below cost. And it makes it very very difficult to try to keep your head above water financially for our [agricultural] community. Additionally for our manufacturers — barbecue grill manufacturers, lawn sweeper companies, companies that have a lot of metal product in their line — it's very very difficult for them right now in terms of the increased costs. And so we need to find an off ramp for this, and we need to get it settled.
"[The trade war] should end tomorrow. We've had soybean prices go from $10.50 cents a bushel to about $8.25 with a break-even point of about $9.20 cents. And so for our farmers who have a record crop going this year in many cases, you are seeing them go from a position of significant profitability to being very very far underwater. It's not fair, it's not right, and it needs to be fixed."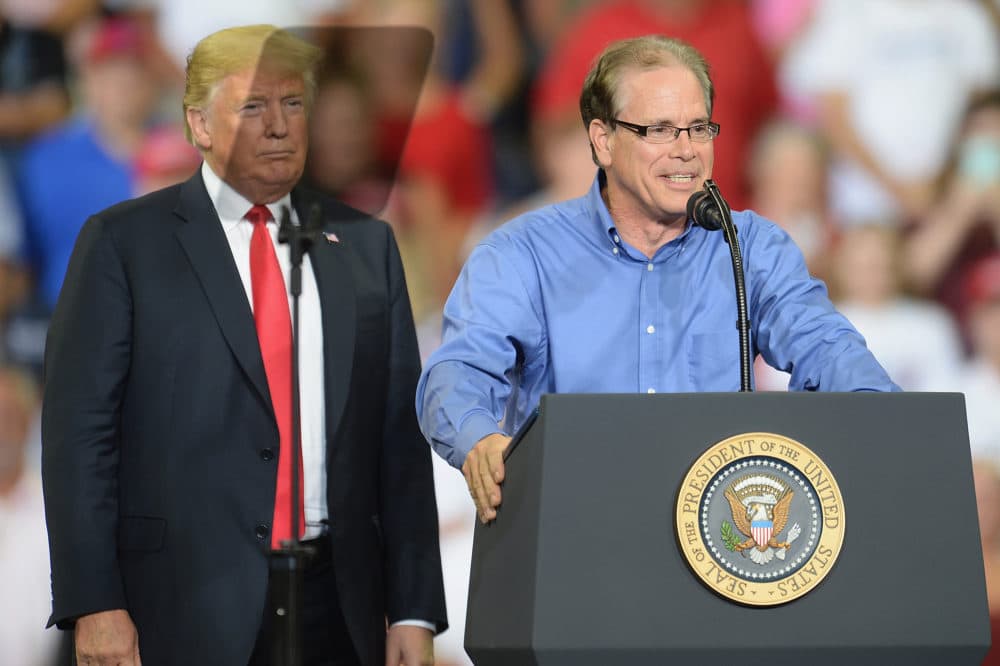 Republican Senate candidate Mike Braun speaks at rally attended by President Trump at the Ford Center on Aug. 30, 2018 in Evansville, Indiana. The president was in town to support Braun, who is facing Sen. Joe Donnelly (D-Ind.) in November. (Michael B. Thomas/Getty Images)
On how he is leading the charge to fight the opioid crisis
"One thing we did was a Comprehensive Addiction and Recovery Act that my efforts helped lead to changing prescribing practices so that the number of opioids that are out there are reduced. The 21st Century Cures Act also produced extra funds to the state to be used for the battle against opioids. We are working right now, [Republican Sen.] Lisa Murkowski and I, on what's called the Strengthening Addiction Treatment Workers Act so that if we can get more people into communities to be able to provide psychiatry assistance, psychology assistance, the assistance in drug addiction treatment, that for all of those folks who are helping with that effort in our rural communities and elsewhere that they will receive a reduction in their student loans that they might have. It can be up to $250,000 over six years in terms of loan reduction.
"In the farm bill that we're putting together right now, I helped put legislation forward in the farm bill that enables us to work together with the United States Department of Agriculture and their facilities to try to set up a telemedicine program so that you can be in the smallest town in a state in one of the most rural communities and through telemedicine be able to talk to for instance in my state, Methodist Hospital in [Indianapolis] with some of the addiction treatment assistance people there. One loss is one too many, and it's somebody's brother or sister or mom or dad or son or daughter, and we are doing everything we can to try to end this scourge."
On why the opioid crisis is getting worse and the root causes of it
"You know, I don't have all the answers, but I will tell you that what we want to do is make sure that everybody has hope and purpose and dignity and education. And what we find is that if somebody does go through high school, and when they finish that they're either going to college or they have a trade like carpentry or electrical work, that there is a goal for them to reach that if there's a path there, that helps significantly. This is touching everybody, and what we want to do is try and solve the problem."
On immigration policy and the border wall
"Well, I happen to be the grandson of immigrants, and I voted for funding for the wall on three different occasions. And the funding was tied together with DACA children being able to stay here and be able to become citizens over a 12-year period. In 2013, I voted for the comprehensive immigration bill, which provided more money for border agents, which provided technologies like UAVs [unmanned aerial vehicles] and other things to help provide a secure border. And so we want to have a secure border, and we want to have sensible immigration policy as well."
Copyright 2018 NPR. To see more, visit
NPR
.