The e-cigarette industry is pushing back against new regulations the Food and Drug Administration announced last week.
For the first time ever, the FDA will regulate e-cigarettes, cigars and hookah the same way it does traditional tobacco products. That includes rules overseeing the manufacturing, labeling, marketing and sale of the products.
The FDA says it's an important step to maintain public health, but the vaping industry says the rules will cripple their business.
Vaping Industry Says Rules Nearly Impossible For Small Businesses
When you walk into World of Vapor in Indianapolis, you're greeted by a sweet-smelling haze.
Owner Dave Cone is helping a first-time customer pick out a flavor. The man came in for the same reason most customers do – to kick his smoking habit.
"That's the only reason I'm here," Cone says. "Is really to help folks quit smoking."
Cone and his business partner opened their shop more than two years ago, after finding success with vaping themselves. It was the only tool that helped Cone quit smoking after 30 years.
Now Cone sees his business as a way to change people's lives. But he says new FDA regulations will put him out of business.
"We're going to be closed," Cone says. "We can't continue, under those guidelines you can't continue."
Vape shops across Indiana are already worried about the potential impact of regulations at the state level, which go into effect in July.
Those regulations require manufacturers of e-liquids to apply for permits through the Alcohol and Tobacco Commission and require them to adhere to a long list of rules about how the e-liquids are made.
Some Hoosier vape shops say those rules alone put their future in jeopardy. The trade organization Hoosier Vapers is actually suing the state on behalf of the vape shop owners.
"If we're successful with our lawsuit against the state they'll be able to stay open," says Hoosier Vapers Chairman Evan McMahon. "With the FDA regulations it really comes down to we don't know what our business is going to look like in two years when the FDA regulations are fully in effect."
The FDA regulations go much further than state law. They require manufacturers to have their products reviewed and authorized by the FDA before hitting the shelves. That rule applies to all products on the market after February 15, 2007 – which the vaping industry says includes nearly all products.
"The biggest thing of concern to most e-liquid manufacturers and device manufacturers is called the PMTA," McMahon says. "And that's where the manufacturer has to go through a pre-market evaluation. The problem with that is it costs anywhere from $1 to $5 million per product."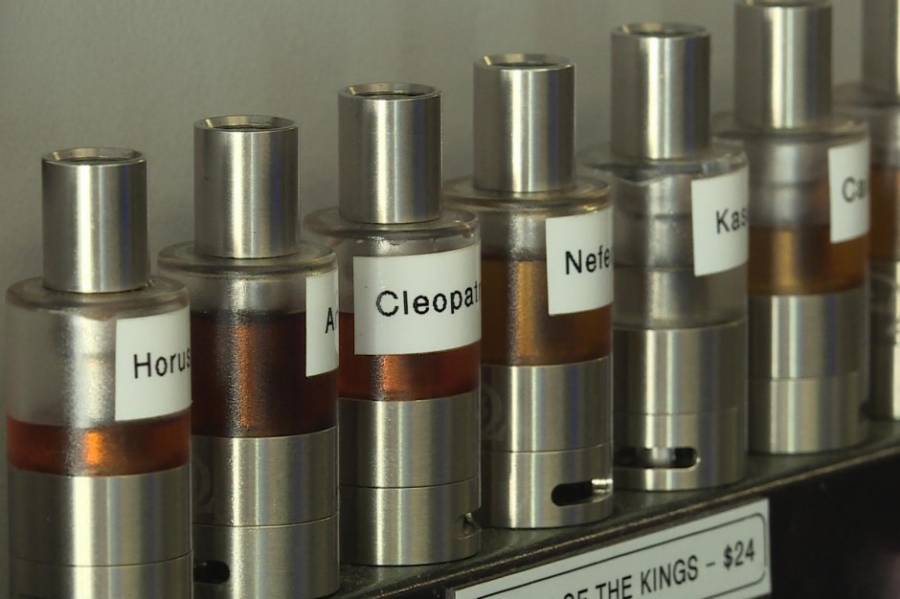 Indiana vape shops say they'll already be hurt by rules at the state level that going into effect in July. Photo: Barbara Brosher

Rules Aimed At Addressing Public Safety Concerns, Curbing Teen Use
The FDA says the cost for pre-market approval will be closer to hundreds of thousands of dollars.
The regulations also prohibit the sale of e-cigarettes to minors, something many states, including Indiana, already had on the books.
The FDA says teen use of the products increased more than 900 percent between 2011 and 2015.
So they want to make them harder for teens to get.
"As an industry we don't want minors to have access to our products," McMahon says. "We want to cater to adult smokers who want to make a healthy choice and make a healthy switch."
Many public health advocates say federal regulation of the industry is long overdue. Indiana's Attorney General Greg Zoeller has been fighting against e-cigs since they hit the market. He pushed for Indiana's laws.
He worries about the staggered implementation of the new federal rules. They go into effect in August, but the vaping industry can continue selling products as individual manufacturers go through the approval process.
"I've been calling on this for at least the last two years while the process has gone on," Zoeller says. "Frankly I'm a little disappointed that it wont' take effect for a while and there's going to be at least two to three years before there's ever any enforcement."
But vape shops across Indiana say they need more time to figure out what compliance with the new federal regulations will look like and whether they'll be able to stay in business.
They say the United States needs to take an approach more similar to the UK, where the Royal College of Physicians recently released a report saying e-cigarettes are beneficial to public health because they help people quit smoking.
Without a change in perception, they worry their businesses will go up in smoke.
"Now you have people making it in their homes, you have that whole prohibition style mentality," Cone says. "And that's not where I want to be."