INDIANAPOLIS — The Indianapolis Zoo is celebrating the arrival of its newest little one.
A female Sumatran orangutan was born at 5:07 p.m. Wednesday. It's the first orangutan birth for the Simon Skjodt International Orangutan Center. Mother, 23-year-old Sirih, and baby are both healthy.
Zookeepers say Sirih is doing everything an orangutan mom should do and her baby girl has a tight grip. The newborn let out a strong and healthy cry right after being born. While the baby's weight is not known, a normal newborn orangutan weight is around 3 to 4 pounds.
Sirih gave birth in a behind-the-scenes area and quickly, after the delivery, started cleaning and tending to her newborn. The other orangutans at the Center watched the entire birth very intently and were quiet and curious during and after the delivery.
Orangutan mothers spend seven to 10 years actively bringing up a baby. Sirih will model what life as an orangutan looks like for her baby, as the youngster learns to climb, build nests and interact with surroundings including the other apes, keepers and Zoo visitors.
Sirih and first-time father, 14-year-old Basan, were recommended as a breeding pair through the Association of Zoos and Aquariums' Species Survival Plan, a program ensuring a sustainable, genetically diverse and demographically varied AZA population.
Orangutans are found in the wild only on the islands of Borneo and Sumatra. The critically endangered great apes continue to face increasing threats, primarily habitat loss due to agricultural development for crops like palm oil. Zoo officials say this new arrival is an ambassador for the species, and will engage and empower visitors to play a role in conservation efforts.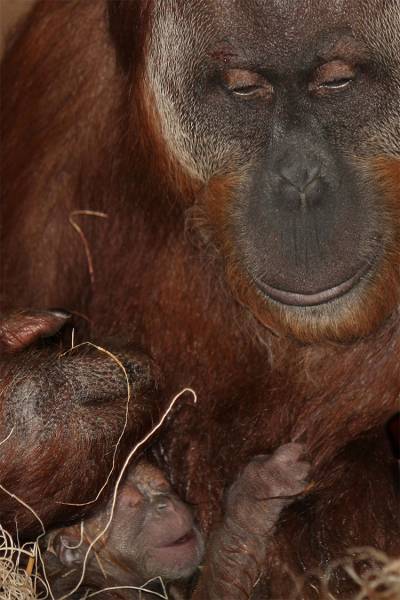 The Indianapolis Zoo's 23-year-old Sumatran orangutan, Sirih, delivered a healthy baby Wednesday.
-- Photo courtesy The Indianapolis Zoo.