A new study explores where Hoosier manufacturing workers go when they lose their jobs.
Its authors, at the Indiana Business Research Center, say it shows more investment in job training would go a long way.
Economic analysis director Tim Slaper says the study sought to answer a simple question about laid-off manufacturing workers:
"Where did these people go?" Slaper says. "They used to be working at the Ford plant — we don't have a Ford plant, right, but, I mean... where are they working now?"
His study looked at about 175,000 workers in the state's top two manufacturing sectors — primary metals and transportation equipment — starting in 2003. By 2014, he says, only a third of the workers were still employed in those fields.
Another 44 percent had dropped off the Indiana payroll altogether. Slaper says they may have retired, left the state, died or become self-employed. The rest, 23 percent, got jobs in other industries.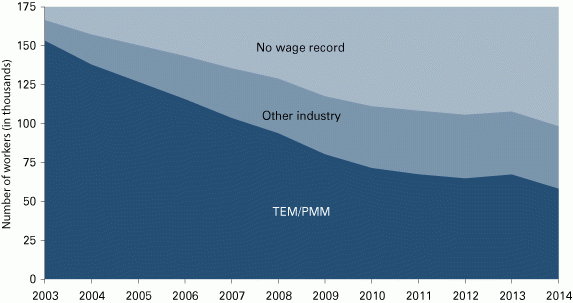 This IBRC graph charts the industry where 175,000 metal or transportation manufacturing workers were employed for the majority of each year from 2003 to 2014. CREDIT INDIANA BUSINESS RESEARCH CENTER / WITH DATA FROM IDWD

Slaper says the study also shows more job training would keep more workers employed in high-paying manufacturing jobs. He suggests that training should come from the private sector, as well as the Indiana Department of Workforce Development.
"The state doesn't necessarily know what a company needs that's in plastics manufacture," he says. "The plastics manufacturer knows."
A third of the study's sample group used state training programs. And more than half of them, 57 percent, returned to manufacturing when they were done.