Two individuals contend for the position of Marion County Prosecutor: Republican candidate Cyndi Carrasco and incumbent Democrat Ryan Mears.
Carrasco has worked in the legal field for almost 20 years. When she served as Indiana Inspector General, she investigated white-collar criminal activity and worked with prosecutors statewide. She currently works as an attorney at Riley Bennett Egloff LLP.
Mears has worked at the Marion County Prosecutor's Office since 2006. He was serving as deputy prosecutor when he was appointed Marion County Prosecutor, in 2019, after Terry Curry stepped down because of health problems.
WFYI sent each of the candidates five questions to help voters prepare for early voting and Election Day, Nov. 8. Their answers are presented in alphabetical order.
Editor's note: Candidate responses were edited for AP Style and grammar, and any numbers used were checked for accuracy. When a statement required more clarification or could not be independently verified, WFYI reached out to candidates before publication. Those instances, and those candidate responses, are noted throughout in editors' notes.
LEARN MORE: UNIGOV HANDBOOK - A CITIZEN'S GUIDE TO LOCAL GOVERNMENT

---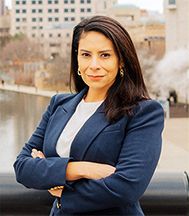 Cyndi Carrasco
What do you see as the most pressing issue in public safety, and what would you do about it?
I'm running for prosecutor because Marion County is facing a public safety crisis, and we deserve better. We're experiencing year after year of record homicides, non-fatal shootings, and other violent crimes throughout our communities, and what the current prosecutor is doing simply isn't working. He has had a three-year job interview, and crime has never been worse in the history of Indianapolis.**
Tackling the public safety crisis requires change. It requires reorganizing the office to ensure that every taxpayer dollar goes towards fighting crime. It requires ensuring we attract, train and retain experienced and the most qualified deputy prosecutors. We must reestablish and foster partnerships with public safety stakeholders from all walks of life, and we must utilize all tools at our disposal to prevent crime before it happens. And we must finally begin to hold criminals accountable.
This is not a one-size-fits all approach. For some, accountability may mean enrollment in drug treatment or other programs, and for some, accountability means incarceration, especially for violent and repeat offenders. Continuing to fail to hold criminals accountable creates a revolving door of injustice, making our streets unsafe. Tackling the public safety crisis is a multi-front approach, but I will work tirelessly to hold criminals accountable and advocate for victims.
**Editors' note: WFYI editors emailed Carrasco's campaign for these metrics. Mike Cross works for Carrasco's campaign and responded: "We've experienced two years of record homicides, surpassing 200 homicides per year for the first time in history, and we're on track to surpass it for a third consecutive year."
WFYI reported on those homicide rates. Total criminal and non-criminal rates are:
2020: 245
2021: 271
2022: 186 (year to date at time of publication, confirmed by IMPD)
What goals do you have, if any, in regard to diverting individuals away from the justice system?
Diverting individuals away from the criminal justice system begins with partnerships, one of the pillars of my campaign. Public safety is foundational to opportunity, and in order to achieve it, it's going to take many in our community working together. Whether it's law enforcement, faith-based organizations and nonprofits, or neighborhood associations, we all play a role and bear a responsibility in keeping our communities safe, and we must work together. Forming partnerships within our local communities – from educating our youth, to being vigilant for our neighbors, and yes, holding criminals accountable – we can make a difference and make Marion County safe and prosperous once again.
How will you work with the other law enforcement agencies across the county and/or state?
As the former Inspector General for the state of Indiana, I have experience leading a law enforcement agency and working in partnership with law enforcement at the local, state and federal level. While the prosecutor's office is ultimately independent from other law enforcement agencies, it's absolutely crucial that we work together. The prosecutor sets the tone for public safety, and must work alongside law enforcement, not against them, to begin reducing the violence in our city.
The Indianapolis Fraternal Order of Police recently voted "no confidence" in the prosecutor's office and courts. What is your response to those concerns?
The Indianapolis Fraternal Order of Police's vote of no confidence in Ryan Mears is another glaring example of what I see and hear as I travel this county, every day, and that is – people are fed up. The fact that nearly 100 percent of participating officers voted no confidence in Mears reaffirms that he is unwilling and unable to work with stakeholders to end the public safety crisis. This results in violent, repeat offenders continuing to terrorize our streets.
As your Marion County Prosecutor, I will prioritize partnerships with a diverse group of public safety stakeholders, and I've already begun to do so. We all have a shared goal of keeping our community safe. I will work with law enforcement throughout our county to hold criminals accountable, support victims, and make Marion County safe and prosperous.
How would the state's near-total abortion ban impact your role as prosecutor?
This is a real issue for me, because my husband Robert and I lost our first daughter, Sophia, who was born with a fatal birth defect, when she was just seven weeks old. I understand the deeply held beliefs and hard decisions faced by mothers and parents on this topic, and it's not for me to judge people who make a different decision than I would.
I hear the voices of women, and men, across Marion County who are concerned about crime, abortion, and the economy, and I want them to know that I will not prosecute women who seek an abortion. I am laser-focused on addressing our community's violent crime crisis, not pursuing abortion cases, and I resent that, even though my opponent knows this is predominantly a legislative matter, he's using this topic to try to distract from his abysmal record on preventing and reducing the violent crime that has plagued our communities by tapping into people's real emotions and fears on such a personal topic.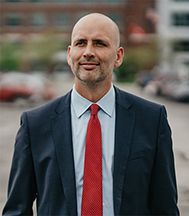 Ryan Mears
What do you see as the most pressing issue in public safety, and what would you do about it?
The most pressing issue facing public safety is the lack of trust our community has
in the criminal justice system. Seventy percent of individuals who are the victims of non-fatal shootings refuse to collaborate with law enforcement. This sets up a system of
retaliatory violence, because they don't trust law enforcement.
We've worked hard to reverse this cycle through several intentional efforts, including
proactively increasing staff members' presence in our community. Far too often, the
first interaction with someone from our office is inside a courtroom after a crisis has
occurred, and that is unacceptable. As public servants, we need to simply meet with
residents where they are to better understand their needs and expectations.
We've held several community conversations on topics such as gun violence and
hate crimes, expanded the office's Community Outreach Team, and dramatically
increased access and participation in our Second Chance Workshops and other
community-based initiatives. Trust must be earned, and we have been taking the
proper steps to build a foundation of trust that will positively impact public safety.
The prosecutor's office is already seeing this approach work. Since 2019, the office
continues to set record high conviction rates in murder prosecutions, and this can be
largely attributed to more community members trusting our office and having a
willingness to work with law enforcement.**
**Editors' note: WFYI emailed for these metrics. Ben Dube works for Mears' re-election campaign, and responded with this data from the prosecutor's office:
2019: 49 Murder cases tried to verdict with a 73% conviction rate
2020: nine murder cases tried to verdict with a 100% conviction rate
2021: 31 murder cases tried to verdict with an 84% conviction rate
Q1 of 2022: Ten murder cases tried to verdict with a 90% conviction rate
What goals do you have, if any, in regard to diverting individuals away from the justice system?
After 16 years at the prosecutor's office, the one thing I have learned is that justice takes many forms. We have a responsibility at MCPO to keep individuals from getting jammed up in the criminal justice system, due to the inability to pay excessive fines or fees, and we've started multiple programs to achieve that goal.
In 2019, we also began our Second Chance Workshops to assist individuals in having their driver's licenses reinstated and criminal record expungements. When people have reliable transportation and opportunities for housing it puts them on the path to getting better employment. And when people are working, we rarely see them in the criminal justice system. By helping remove these barriers we are helping set individuals up for success.
How will you work with the other law enforcement agencies across the county and/or state?
The prosecutor's office works with local and federal law enforcement agencies on a daily basis. Our partnership with law enforcement agencies goes beyond criminal investigations, task forces, and case work but extends into community events. We are always willing to assist law enforcement with investigations.
The Indianapolis Fraternal Order of Police recently voted "no confidence" in the prosecutor's office and courts. What is your response to those concerns?
Our office works with law enforcement agencies every day and more often than not, the first witness a prosecutor calls to testify is a police officer. One of the reasons the prosecutor's office has one of the highest conviction rates for homicides is due to the strong relationship between our office and law enforcement. At the same time, the community has made clear that they want an independent prosecutor who will administer justice fairly and hold everyone accountable, including law enforcement.
How would the state's near-total abortion ban impact your role as prosecutor?
Ever since the U.S. Supreme Court overturned Roe v. Wade, I have made my position clear. We will not waste any resources prosecuting doctors, nurses, or pregnant people. The priorities of this office should reflect that of the people we serve and that is why we will continue to devote our limited resources to what matters most – addressing violent crime. Most people are newly learning that Roe v. Wade began in a prosecutor's office.
---
How to vote in Marion County:
Early voting began Oct. 12 at the Indianapolis City-County Building, and additional early voting sites open Oct. 29. On Nov. 8, Marion County residents can vote at any of the county's vote centers.