Starting Thursday, the commercial areas in Fountain Square, Fletcher Place and North Square will be known collectively as the "Fountain Fletcher District."
In 2018, the Indianapolis City-County Council approved an economic improvement district (EID) for Fountain Fletcher.
Fountain Fletcher District Manager Laura Giffel said work has since been underway on a unified vision that encourages commercial growth yet honors the historic neighborhoods of southeast Indianapolis.
"I think there is a big excitement behind this energy that we know that we are reinvesting in this community and reinvesting in our businesses," Giffel said.
Giffel said the growth of downtown is bringing people to the area.
"We're seeing that urban revival of people wanting to come back to these downtown neighborhoods and areas and I think they're hungry for that and we are excited to provide that opportunity for people to reconnect to this part of the city," Giffel said.
The three neighborhoods that comprise the Fountain Fletcher District are, historically, working class neighborhoods. Fountain Square has been recognized as a commercial area since the 1870s. It's also one of Indianapolis' six designated cultural districts.
Fletcher Place is named after attorney and state senator Calvin Fletcher, who settled in the area in the 1850s. It's one of the city's oldest neighborhoods. In the 1970s, the construction of the interstate leveled parts of the area, displacing 18,000 people, and cutting off neighborhoods from one another.
The district also includes North Square, bordered by Fletcher Avenue to the north, Shelby Street to the east, Virginia Avenue to the south and Calvary Street to the west.
By rebranding the area "Fountain Fletcher," officials hope people start to view the area as a unified retail, entertainment and dining experience.
A new website, fountainfletcher.com, includes an interactive directory, events calendar, and dedicated membership page.
The Fountain Fletcher District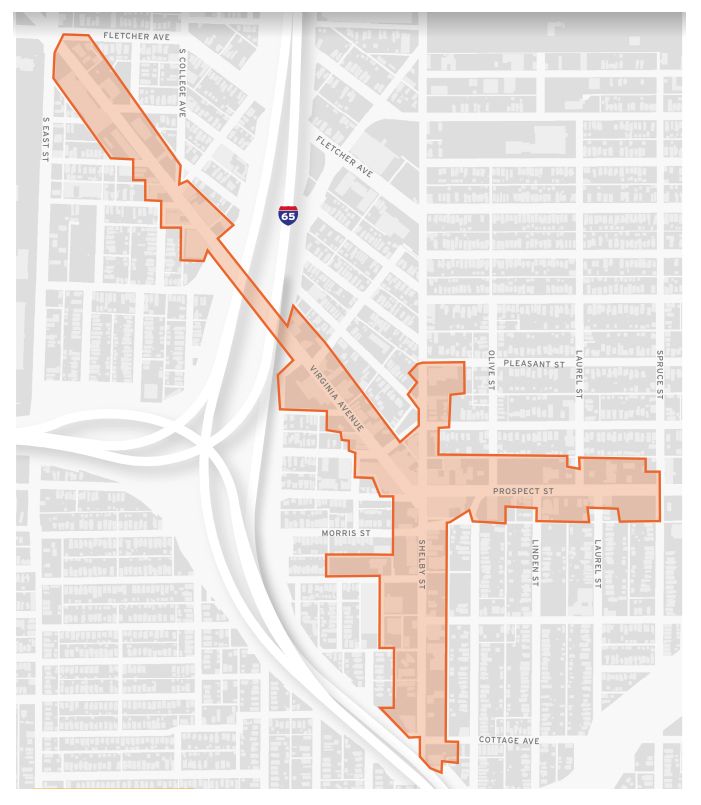 Contact WFYI Morning Edition newscaster and reporter Taylor Bennett at tbennett@wfyi.org. Follow on Twitter: @TaylorB2213.