The number of grocery stores in Indianapolis has increased in the past year, but so has the number of people living in food deserts, according to a new report.
SAVI, a program in the Polis Center at Indiana University-Purdue University Indianapolis, tracked food accessibility trends since 2016 and found 208,000 Indianapolis residents currently live in a food desert -- 2,000 more people than in 2018. That is also a 10 percent increase from 2016.
According to the report, food deserts are a way of defining communities that lack access to healthy food. SAVI says these are neighborhoods with both low healthy food access and low income. One mile is generally used to measure a household's distance from a grocery store.
Unai Miguel Andres is one of the report's researchers. He says the USDA uses census tracts to measure food deserts, but SAVI based their measure on block groups to provide an accurate picture of food access in the city.
"We define a low food access block group as a block group that had at least 200 people far from a grocery store or at 33 percent of the block group far from a grocery store," Andres says.
They defined a low income area as block groups with a poverty rate of 20 percent or greater or with a median household income equal to 80 percent of metropolitan area median income.
One fifth of the city's population now lives in a food desert.
The report shows that 22 percent of Indianapolis residents live in a food desert, and 18 percent of the city's white residents live in a food desert. There are almost as many black residents living in food desserts, but because the black population is smaller, they live in food deserts at a much higher rate than white residents. It shows 32 percent of the black population live in food deserts - a 4 percent increase from 2016. There was a 15 percent increase in the number of Hispanic or Latino people in food deserts.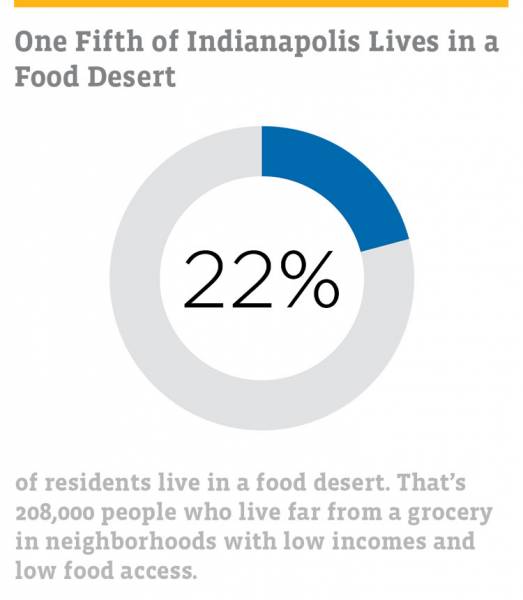 Provided by The Polis Center

The report shows that the rise in the number of people living in a food desert is mostly driven by the 2017 closure of Marsh Supermarkets.
Marsh was one of Central Indiana's major grocery chains. In 2016, there were 199 grocery stores across the city. After the Marsh closings in 2017, there were only 186.
There are now 200 grocery stores in Indianapolis. Despite the increase in numbers, the existing stores tend to be grouped together in the same areas.
Data also show that 28 percent of renters and 30 percent of households without a vehicle live in food deserts.
Polis Center researcher Matt Nowlin says food access actually improved for people without cars between 2016 and 2019. He says that populations that live in the city's center generally do not have a car, but there are now more grocery stores downtown.
"But outside that four mile radius," Nowlin says. "Access got 20 percent worse. And for populations like white and Latino residents that tended to live in those further out, older suburb areas, their food access worsened by quite a bit in that time period."
A large portion of SAVI's report focuses on looking at food access by different transportation modes.
"It is really important to know how food access changes by different transportation modes," Andres says. "Especially for those that might not have a car."
Driving to a grocery store two miles away might only take a few minutes but walking to a grocery store could mean walking 20 minutes with several bags of food. Getting to the grocery store using public transportation not only depends on the location of the store, but also on bus stops and routes.
When the method of getting to a grocery store changes, so does the number of people in a food desert.
The report found there are 236,000 people who live in a transit food desert, including 10,500 households with no vehicle. It also found that more than 40 percent of the county lives in a pedestrian food desert.