Saturday 8 p.m, 'Greenwood's good Samaritan' honored
Elisjsha Dicken of Seymour was honored tonight for his bravery and stopping the mass shooting at the Greenwood Park Mall last July.
Dicken was shopping with his girlfriend at the mall on July 12, 2022. That evening, a man exited the restroom in the food court and began shooting a rifle. The man, Jonathan Sapirman, shot into the the area for 15 seconds and killed three people and injured others before he was shot and killed by Dicken.
Dicken was legally carrying his 9mm pistol under Indiana's new constitutional carry law. Dicken was lauded as a hero by local officals and law enforcement.
"We're very thankful for a young 22-year-old man who stopped this violent act," Greenwood Mayor Mark Myers said at the time. "This young man, Greenwood's good Samaritan, acted within seconds, stopping the shooter and saving countless lives."
The NRA, in a social media post, described Dicken as someone "the media doesn't want you to hear about."
That is not correct. WFYI and other local media reported on how Dicken stopped the mass shooting at the time, and in follow up stories, such as this one from WTHR.
At the NRA Annual Meeting, Wayne LaPierre honored Eli Dicken, the courageous armed citizen who stopped a mall shooter in Indiana last July, saving countless lives. pic.twitter.com/hJzEfpTNjX

— NRA (@NRA) April 15, 2023
Saturday 2 p.m, protests continue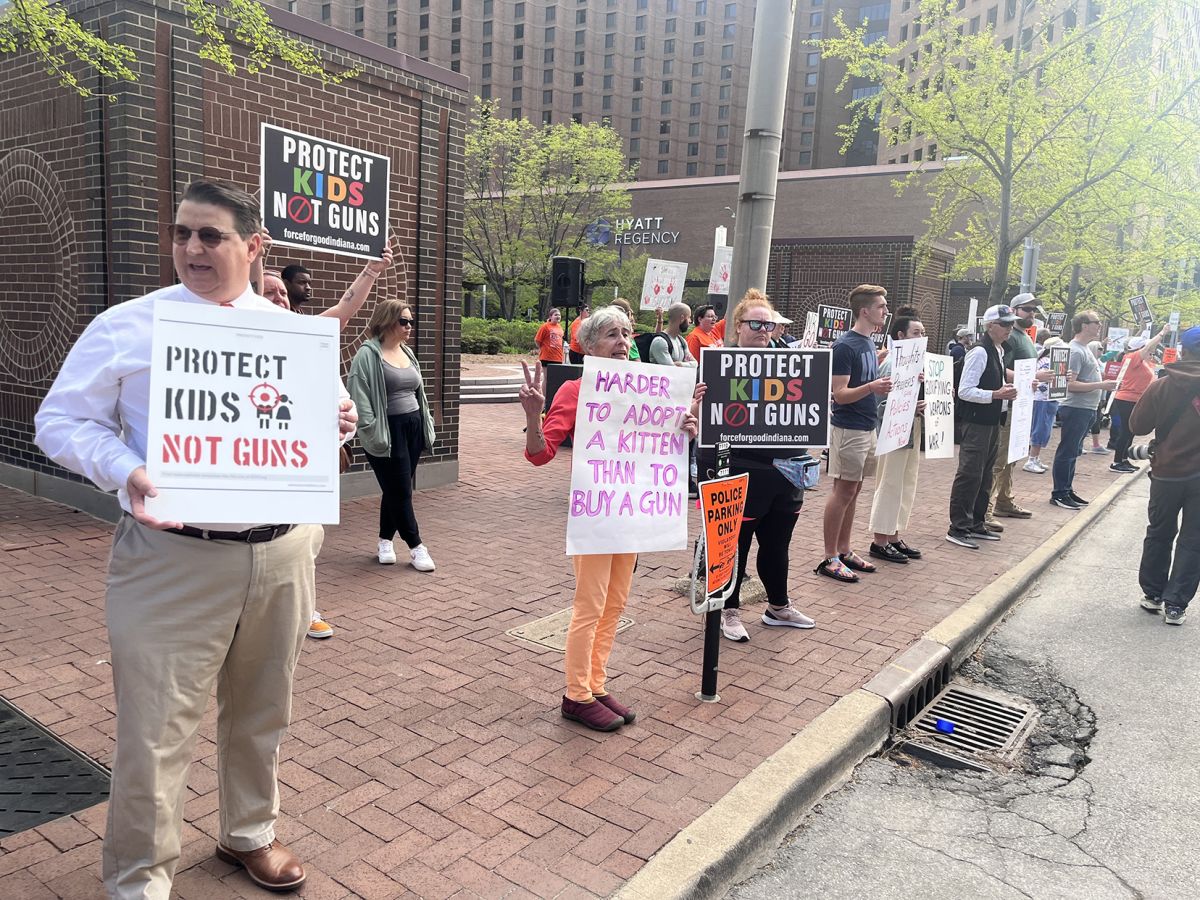 Protestors gathered outside the the National Rifle Association's annual convention Saturday to draw attention to the hundreds of children killed by guns last year.
Mary Tuttle is the Indianapolis parent who organized the protest. She has a message for NRA members.
"I don't want to take all your guns. That's not who we are," Tuttle said. "What we want is for the NRA to stop keeping us from passing any legislation that helps keep people safe."
Tuttle and other protesters at Hudnut Commons said they want more gun control measures, like mandatory waiting periods to obtain a firearm after purchase.
Demonstrators at the event took turns reading the names of the roughly 1,600 children killed by guns last year.
Inside the convention, some of the speakers this weekend expressed sympathy for the victims of the recent shootings in Nashville and Louisville. But they blamed liberal policies and mental health for the violence.
7 pm, First day of NRA conference wraps up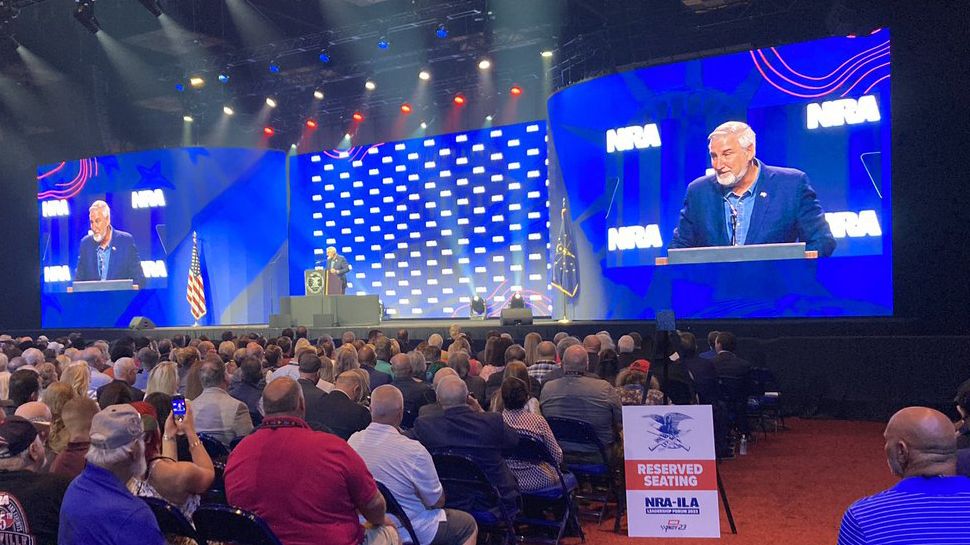 Thousands gathered Friday afternoon to hear from a slate of presidential hopefuls and National Rifle Association top brass during the NRA's annual leadership forum in Indianapolis.
High-profile GOP politicians, including former President Donald Trump and former Vice President and former Indiana Gov. Mike Pence, blamed mental illness and liberal policies for the country's gun violence epidemic. They criticized "woke" ideology and asserted that it has infiltrated the country's criminal justice, education and banking systems.
The event is the third time the gun rights advocacy group has held its annual convention in Indianapolis. And it's the first convention since a permitless carry law took effect in the state.
"You know, if I ever write a book about my experiences with the NRA, I think I'll call it 'if you fight like hell for freedom, you'll get more of it'," NRA Executive Vice President and CEO Wayne LaPierre told the crowd. "That's how it really works."
There are still two days of the NRA convention planned, largely centered around an exhibition hall featuring firearms for sale. Various seminars will also be offered, ranging from "Lessons Learned From Analyzing 40,000+ Real Gunfights" and "Refuse to Be a Victim: Crime Prevention Strategies."
Read more here
5 pm, Trump takes the stage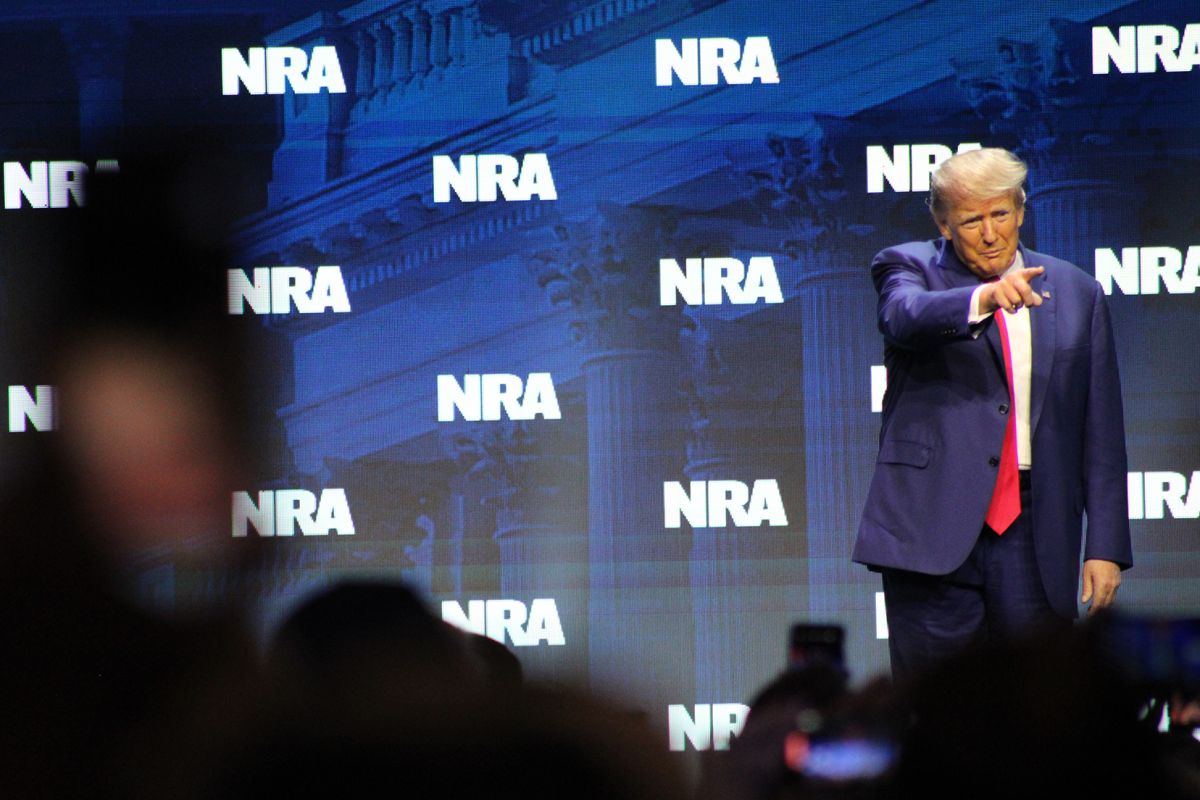 Former President Donald Trump addressed a crowd of thousands at the National Rifle Association's leadership forum.
Trump favorably name-checked a number of Indiana Republicans after he took the stage, praising US Senate Candidate Jim Banks, Lt. Governor Susanne Crouch, and Attorney General Todd Rokita.
Trump lost no time in pivoting to his reelection bid in 2024 and acknowledging his recent indictment in Manhattan.
"I promise you this with me at 1600 Pennsylvania Avenue no one will lay a finger on your firearms just as took place for four years when I was your president," Trump told the crowd to cheers.
The president's comments come in the wake of a mass shooting in Louisville, Kentucky earlier this week that left five dead.
4:30 p.m., Braun praises an armed public
U.S. Senator Mike Braun spoke in front of the NRA members underscoring the importance of an armed public.
Braun, currently an Indiana Republican gubernatorial candidate, pointed to the Greenwood Park Mall shooting last year as evidence that an armed public is a safe public.
The Greenwood Park Mall shooting, which left three dead, was cut short after an armed civilian, 22-year-old Elisjsha Dicken shot the gunman just fifteen seconds after the incident began.
"The good samaritan is a hero and also a reminder that our second amendment right to self-defense also comes with responsibilities to be well trained, moral, and always ready," Braun said.
3 pm., Pence greeted with boos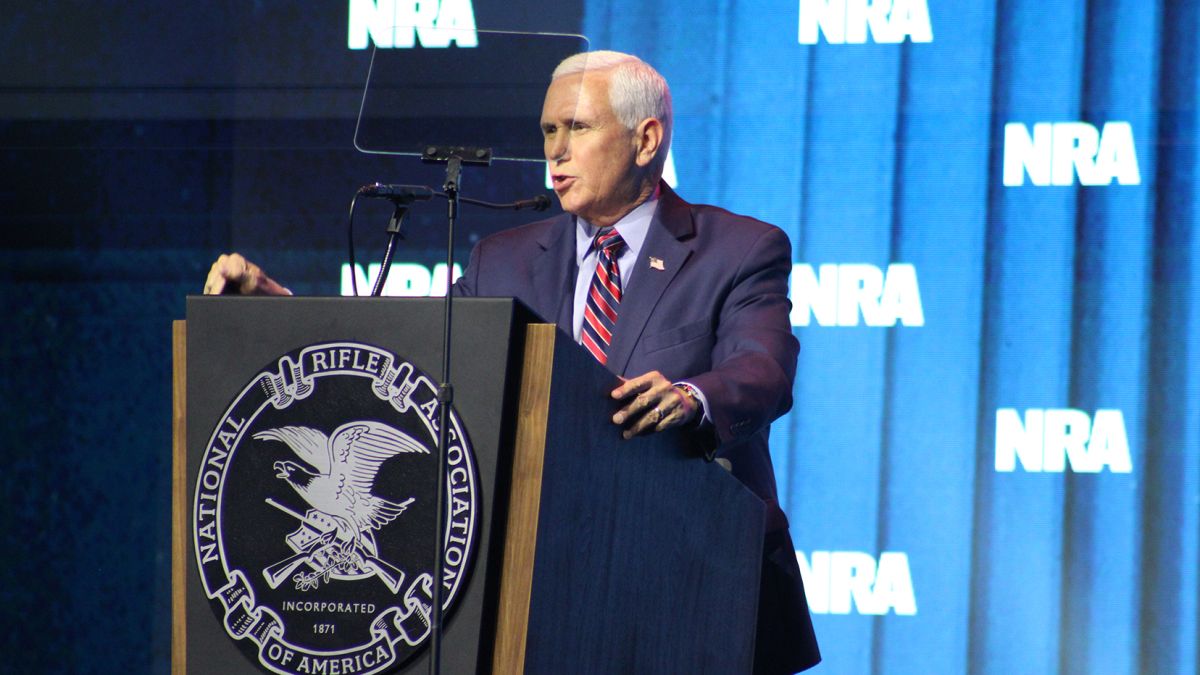 Boos from the crowd greeted former U.S. Vice President and former Indiana Gov. Mike Pence as he walked onto the stage at the NRA leadership conference.
One person in the crowd shouted "we love you, Mike."
"I love you too," Pence said in response.
Pence has faced opposition from some in the GOP base after he refused pressure from former President Trump to block certification of the 2020 election results on Jan. 6, 2021 during a joint session of Congress at the U.S. Capitol. That day, Trump said he hoped Pence would "do the right thing."
Since leaving office, Pence has appeared to prepare for a 2024 presidential run – including in a fiery speech today, when he talked about institutionalizing the "dangerously mentally ill," instituting a federal death penalty statute for mass shooters, and placing armed guards in all schools.
"American freedom is under attack as never before," Pence said, to cheers.
Pence addressed the recent mass shootings in Nashville, Tenn. and Louisville, Ky. "President Biden and the Democrats have returned to the same tired arguments about gun control and confiscation," he said.
He called for "crime control," not limitations on guns. Pence also focused on the need to rebuild institutional mental health care.
"Families with someone who is struggling as a threat to themselves or a threat to others, have to have a place to send that family member other than the county lockup," Pence said.
Briefly, Pence mentioned Trump while naming accomplishments during their four years in the White House.
2 p.m., Watch Pence, Trump and other GOP leaders speak live

1:30 p.m., Holcomb, Pence and Trump to speak soon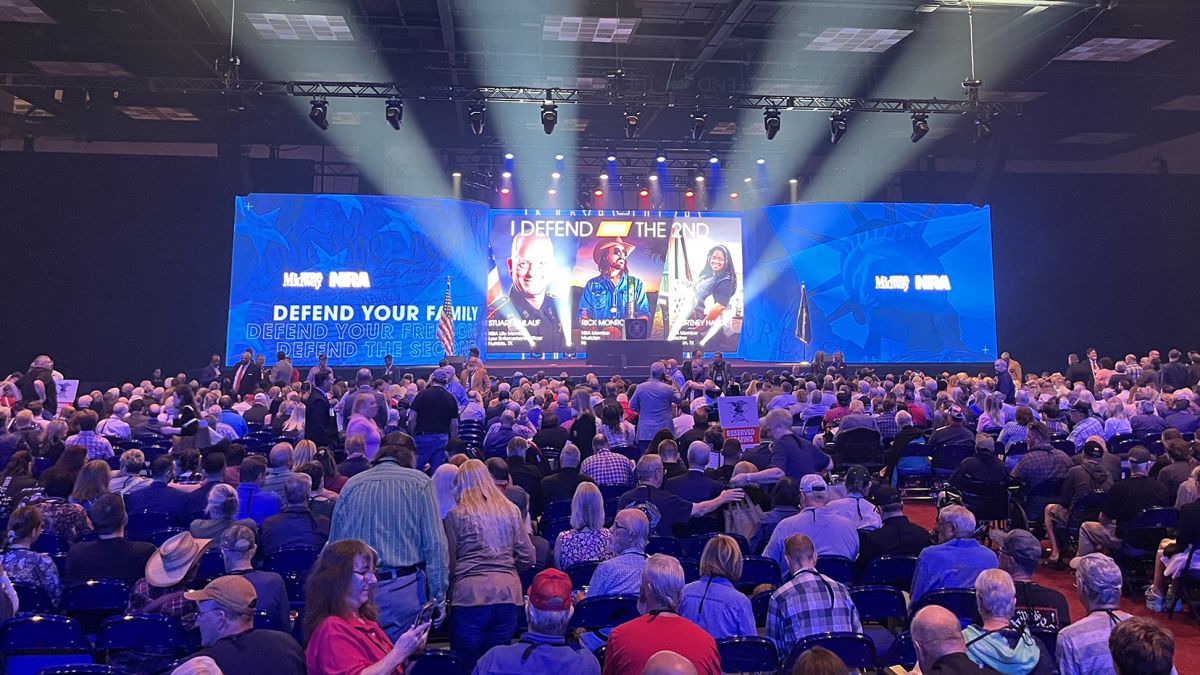 NRA members continue to filter into the convention center auditorium ahead of the organization's leadership forum. An NRA spokesperson said the auditorium can accommodate between 3,700 and 4,000 people. The show is scheduled to begin at 2 p.m. with remarks from NRA president Charles Cotton and NRA executive vice president and CEO Wayne LaPierre. Indiana Gov. Eric Holcomb will follow, then former Vice President and former Indiana Gov. Mike Pence.
Former President Donald Trump will be the last speaker to address the crowd. His remarks are slated to begin around 4:30 p.m.
Other high profile GOP speakers include presidential hopefuls Gov. Asa Hutchinson, Nicki Haley -- via video message -- and Vivek Ramaswamey. Florida Gov. Ron DeSantis will also address the crowd via video message, along with Senator Tim Scott. Indiana Senator Mike Braun will speak as well.
A live stream of the event is available on the NRA-ILA website.
1 p.m., attendees says gun regulations are 'getting out of hand'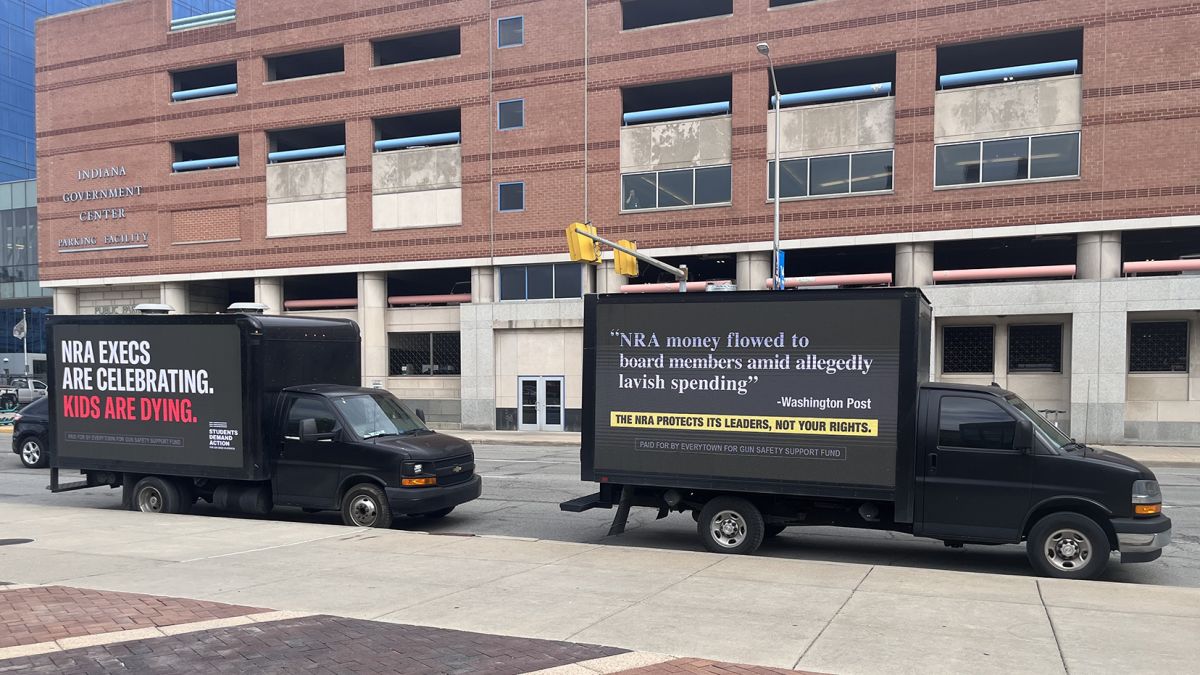 Thousands of people are lined up in large groups to get into the NRA leadership forum and hear a series of speakers starting at 2 p.m.
"I just renewed here this year that I remember previously just wanted to come see Trump today and see what's happening," said Mike Stackhouse is from Lansing, Kansas about his NRA membership.
John Perez traveled from Illinois and has only been a NRA member for about six months. He feels the Second Amendment is under attack from Democratic Party members. He and others said guns are not the core issue causing mass shootings.
"I honestly believe that mental health is a huge issue," Perez said.
Steve Thatch is also from Illinois where lawmakers recently passed a gun reform package that ends the sale of assault weapons and high-capacity magazines.
"I think especially in Illinois with all the gun laws, it's getting out of hand, and I feel like I need to get involved," Thatch said. "I never got involved before but I think it's gotten to the point where more people need to get involved."
11 a.m., dealers and buyers gather at '40 acres of guns and gear'
The first day of the convention has drawn a massive crowd of firearm enthusiasts. There are likely thousands of guns on display, ranging from military style weapons to handguns to knives and antique firearms are on display from vendors who traveled from across the country to Indianapolis.
Attendees are handling guns, trying on accessories such as holsters and gun belts, and some are inspecting climate controlled safes for gun storage.
The NRA has described the event at "40 acres of guns and gear" at the convention center.
The convention opens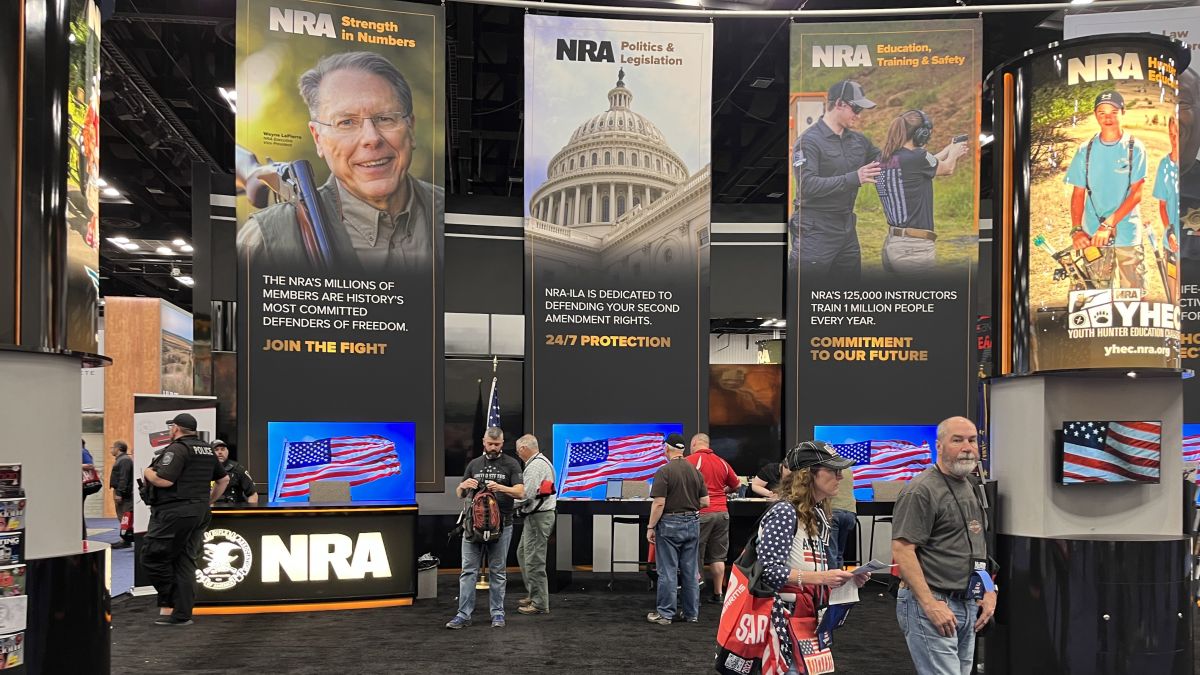 Former President Donald J. Trump will address National Rifle Association members during the gun rights organization's annual meeting later this afternoon, along with his former vice president, former Indiana Gov. Mike Pence.
Trump will take the stage after other high profile Republicans who are challenging him in the 2024 presidential election, including former Arkansas Gov. Asa Hutchinson and entrepreneur Vivek Ramaswamy.
Around 70,000 gun enthusiasts are expected to attend through Sunday at the Indiana Convention Center in downtown.
Demonstrations against the NRA and calls for gun regulation are expected throughout the weekend. Protests are planned Saturday and Sunday to honor mass shooting victims.
To catch up on what this gathering means for GOP politics and Indianapolis, listen to an interview between WFYI's Ben Thorp and NPR's Morning Edition host Leila Fadel.
This story be updated throughout the day.