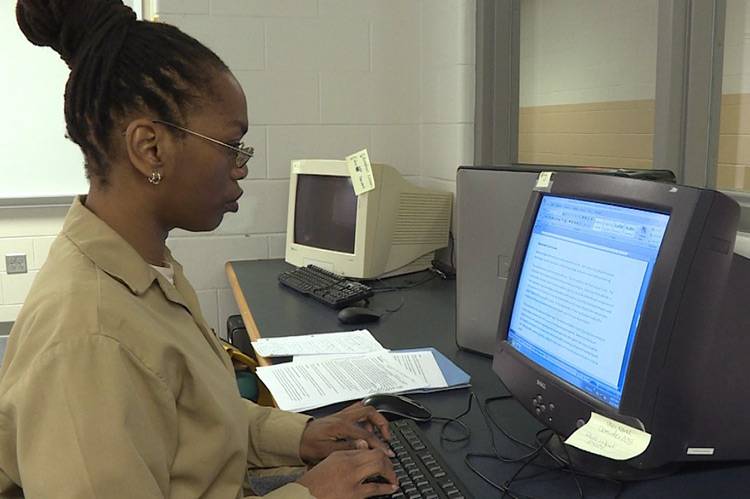 Michelle Jones says educational opportunities help her stay out of trouble while serving her sentence. Photo: Barbara Brosher
For the first time in more than two decades some of Indiana's prisoners could get help from the federal government to pursue a college education.
The Obama administration announced last year the creation of the Second Chance Pell Pilot Program.
The U.S. Department of Education will select a small number of colleges to partner with prisons as part of the program.
That means some Hoosier prisoners could be able to pursue a college education for the first time in years.



The Indiana Department of Corrections phased out its college degree programs in 2012. Photo: Barbara Brosher

Education Keeps Indianapolis Prisoner Focused
Michelle Jones is working in the computer lab at the Indiana Women's Prison in Indianapolis. She examines stacks of marked up papers while quickly typing up revisions.
She spends a lot of time here.
"I've done research on the cult of domesticity and I've done research on cult of true womanhood and Quakerism and how they were very important to the reform movement," Jones says.
One of her most recent projects delves into the history of the very prison she's serving time in. She recently presented her research at a statewide conference – and it's not the first time. Jones often Skypes into meetings and conventions to share her research findings.
She says educational opportunities have been essential to her success here. She's serving the last year of a 21-year sentence for murder and neglect of a dependent.
And more than two decades in prison can take its toll.
"The brain atrophies and you begin to think on petty things, small things and your brain gets narrower and narrower," she says. "So education was critical and it really was fundamental to me."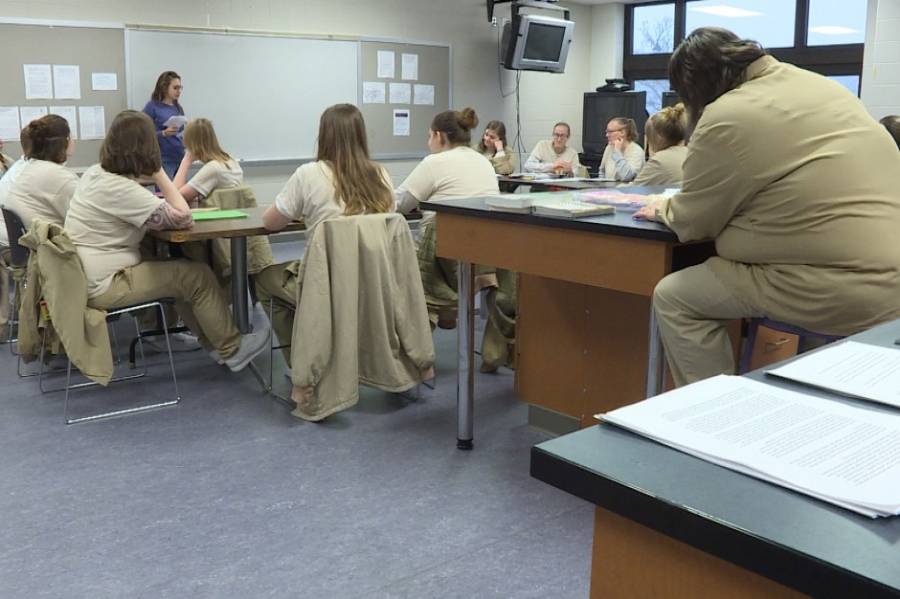 More than 200 universities applied to participate in the pilot. Photo: Barbara Brosher

Federal Pilot Program Could Open Door To College For Indiana Prisoners
Unlike the majority of women at the prison, Jones has a college diploma. The opportunity for Indiana prisoners to obtain one while serving their sentences ended in 2012, when the Indiana Department of Corrections phased out its college degree programs to save money.
"It was one of the hardest days in prison," Jones says. "You would think something involving your personal self would be the hardest things in prison. That was one of the hardest days to see their faces and their cries and their frustration."
The Department of Corrections still offers high school equivalency programs, as well as job and vocational training.
But the opportunity for prisoners to earn a college degree essential for many real-world jobs is only available if they pay the entire cost of tuition themselves.
That could eventually change because of the Second Chance Pell Pilot Program.
"While a high school equivalency is important it's only the first rung on the ladder," says Indiana Commisioner for Higher Education Teresa Lubbers. "And so giving an opportunity for people to move beyond that I think is really important."
Study after study shows education decreases a prisoner's chances of recidivism.
According to the Indiana Department of Corrections, those with a college diploma returned to prison at a rate of 21 percent, while those with an education level below a GED returned at a rate of nearly 38 percent.
"I think it's pretty clear if you look at the impact of education on recidivism rates that in fact there is a correlation between people who have education and skills when they leave prison, being able to then have a meaningful job afterward," Lubbers says. "So, I think there's reason to actually look at that."
Universities Will Partner With Prisons For Program
But only prisoners who are eligible for release within five years can qualify for the grants. They also have to meet all other federal financial aid requirements.
"The state has an obligation to educate its citizens and we have 28,000 Hoosier citizens in prison with this and so we have an obligation to educate them as well," says John Nally, the Director of Education at the Indiana Department of Corrections. "Just because they're a subset moved over here I don't think we should stop our educational process. If it's for the general welfare of the whole state to educate people, it's good for the overall welfare of the state to educate 28,000 Hoosiers that are in prison."
The U.S. Department of Education received more than 200 applications from colleges hoping to participate in the pilot. They'll partner with prisons and provide the college courses. The Department of Education will select universities to participate in the pilot program later this spring.
Nally says it's unclear how many will be selected for the experiment – or whether Indiana prisoners will have the opportunity to take advantage of the funding.
"I don't think it's realistic to think the feds are going to send a large sum of money to any one state that would impact five, eight, ten percent of the population," he says.
As universities wait for word on whether they've made the cut, Jones is holding out hope that an Indiana institution will be selected for the pilot.
She already has her degree and wants the other women here to have the same opportunity.
"Education is very integral to the prison culture here," she says. "It actually shifts the focus of what we do everyday and what we are thinking about in the afternoons. Because I have assignments, I have work to do, I don't have time to be idle and get involved in the drama and the conflict that's so common in prison conflict. I have a goal that's recognizable in the world. It's currency in the world."
If all goes according to plan, Jones will get to use everything she learned here in the real world. She's scheduled to be released next year.