What began as a peaceful protest early Friday evening on Fort Wayne's Courthouse Green turned into tear gas and riot gear by 8 p.m.
Organized by Alisha Rauch to protest the killing of George Floyd in Minnesota on Memorial Day by police officers, the protest started around 5 p.m. with a few hundred gathering along both sides of Clinton Street.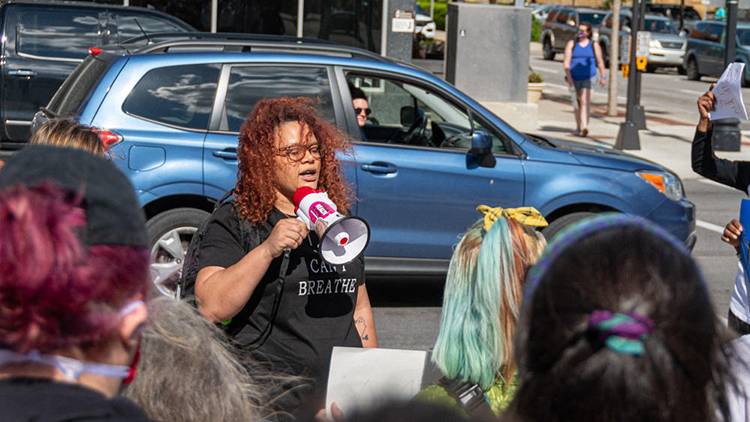 For more than three hours, a diverse crowd of white, black, and brown; from old to very young carried homemade signs along the sidewalk, chanting "Black Lives Matter" and "No Justice, No Peace" through masked faces.
Throughout the early evening, a few protesters mingled with the heavy traffic on Clinton Street, but mostly stayed on the sidewalk. Motorists slowed, honking their horns and raising fists through sunroofs and out of windows. Many captured pictures with their phones, yelling their support.
But at about 8 p.m., as the protesters moved north up Clinton Street to the Martin Luther King
Jr. Bridge, they began to block Clinton Street in its entirety, filling the intersection at Main Street, in an event broadcast live on social media streams by local television stations and citizen cell phones.
As shown in the streaming videos, by 9:30 p.m. officers from both Fort Wayne Police and Allen County Police had squared off with what was now an angry group of protesters along Wayne Street.
As more police arrived in the area, protesters left the intersection of Clinton and Berry streets, and fled from tear gas canisters. Many were prepared with half-gallons of milk to help clear the tear gas from their eyes.
It was not the event that Rauch oversaw at 5 p.m. She told WBOI earlier in the evening that the event had grown out of her increased frustration.
"My decision was, it's just after time you see it over and over and over again and then, finally, I was just like 'I'm tired of seeing it, I'm tired of watching. I wanna do, I wanna do something,'" she said. "We just want to be felt, we want to be heard. We want them to know that this isn't okay, this isn't okay to us."
At about 9:45 p.m., Fort Wayne Mayor Tom Henry issued a statement about the police actions downtown.
"The City of Fort Wayne respects the rights of individuals to participate in peaceful demonstrations. Tonight's demonstration in downtown Fort Wayne began peacefully. As the demonstration moved along, it began to get more aggressive and the safety of the public was being put at risk," Henry said. "The Fort Wayne Police Department ultimately had to respond in a manner to protect the public's safety. "