Researchers are worried about how climate issues will impact fish and other life in the water. The Purdue Climate Change Research Center released its latest report Wednesday.
Researchers aren't sure exactly how these species will react to climate change — but it doesn't look good. Fish and other aquatic life are closely tied to the environment in the streams and lakes they live in. So things like changes in temperature, stream flow, and rainfall can have a big effect. Research Center Director Jeff Dukes says climate shifts complicate things even more.
"We're making the extremes more extreme and that's making life more difficult for the species that are already on the edge," he says.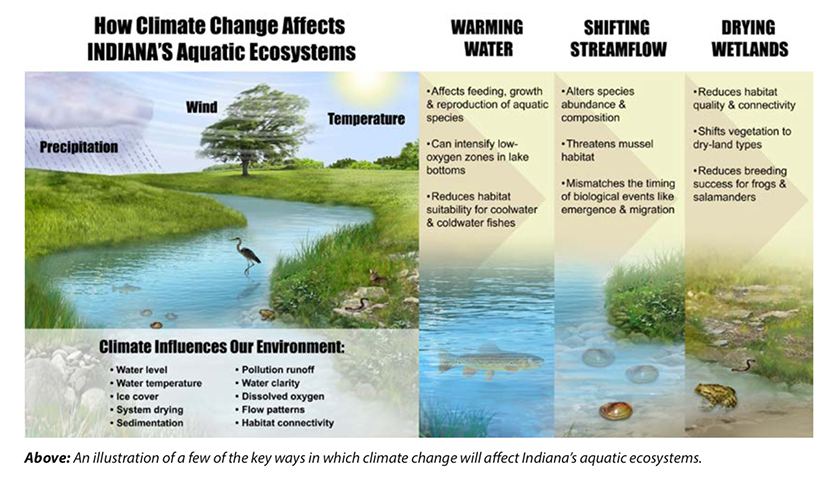 For example, periods of more rain and drought might hurt Indiana's endangered freshwater mussels. Heavy floods can wash away young mussels, while low water levels could dry them to death.
According to the Indiana Department of Natural Resources, the state used to have about 80 different species of freshwater mussels. Now, Purdue researchers say half of those either no longer live in the state or are listed as endangered or threatened.
Another species that could be in trouble is the cisco — one of the few native species of fish that lives in Indiana's inland lakes. Tomas Hook is a professor in Purdue's forestry and natural resources department. He's also the director of the Illinois-Indiana Sea Grant.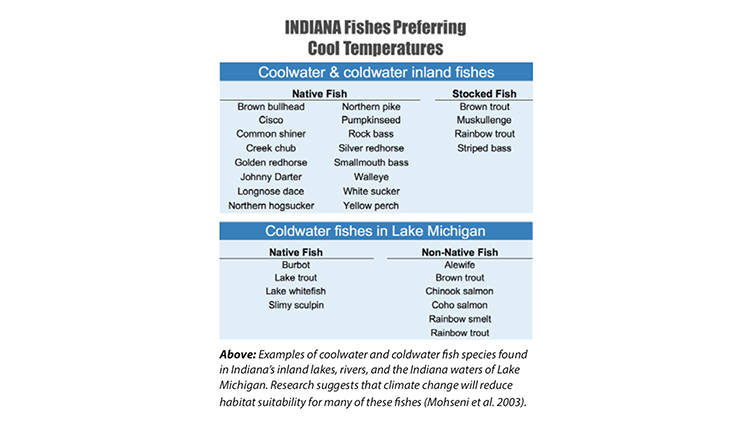 He says the cisco likes cooler, deeper water — but climate change and other factors are making it so there are fewer lakes where it can live.
"They get squeezed between very warm water at the surface and no oxygen on the bottom," he says.
Hook says there will likely be more heavy rains in the spring as the Earth warms, which means more fertilizer runoff from farms. That runoff then helps form algal blooms that use up more oxygen in the water — leaving less for fish and other aquatic life.
Hook says there are only six populations of cisco left in Indiana and they might not live much longer.
But even hardier fish can be affected by changes in climate. Hook says if the water gets too warm, fish burn more energy and have to eat more to survive. He says parasites and pathogens that affect fish are also more common at warmer temperatures.
Jeff Dukes says natural resource managers need to plan for climate impacts and keep waterways healthy and full of diverse species to make them more resilient.
Indiana Environmental reporting is supported by the Environmental Resilience Institute, an Indiana University Grand Challenge project developing Indiana-specific projections and informed responses to problems of environmental change.