Preview: 2021 Ram TRX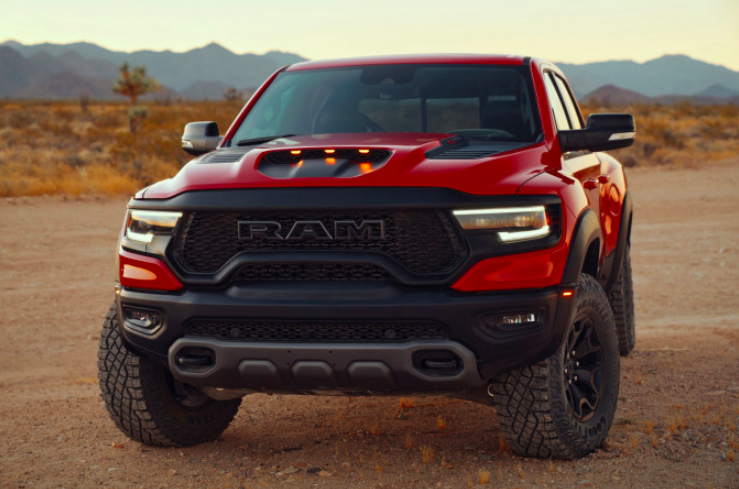 You had to know Ram wouldn't let Ford's Raptor go unanswered -- certainly not when the Challenger Hellcat's supercharged HEMI V8 fits in the engine bay. Throw in desert-ready chassis upgrades and a body to cause heart palpitations and you have the making of something delightfully sinister.
It lights high plains aflame with 35-inch Goodyear Wrangler Territory tires, R-A-M badge with flow-through lettering, functional hood scoop, and raging composite front fender flares that add 8 inches of width. All-new steel box outers amplify the Coke bottle affect. Adaptive LED headlamps and LED clearance lamps integrated into the scoop and bumper flares bring down the sun. A 2-inch ride height increase over Ram 1500 gives it a total of 11.8 inches and the ability to ford 32 inches of water.
Designers made sure the trek up through Dante's nine circles will be quite comfy. Hand-wrapped leather instrument panels, flat-bottom steering wheel, optional suede and carbon fiber accents, and aluminum paddles coddle deviants – as do a 5-content head-up display, 900-watt Harman Kardon audio system, and digital rearview mirror. Adaptive cruise, full-speed forward collision mitigation braking, and electronic roll mitigation keep everybody safe.
The digits will make you dizzy. The 6.2-liter engine produces an unholy 702 horsepower and 650 lb.-ft. of torque – all routed to the four-wheel-drive system through an eight-speed automatic transmission. Cackle evil little giggles as you scamp from 0-60 mph in just 4.5 seconds, fly by 100 mph in 10.5 seconds, and end the quarter-mile in 12.9 seconds at 108 mph – just 10 mph shy of the truck's governor-limited top speed (Z-rated tires are no good for off-roading). Take a breath. Or don't, because we're far from finished.
Fortified for desert running, the TRX employs active suspension damping and wheel travel 40 percent greater than regular Ram 1500s. The Drive Mode Selector and Launch Control customize the experience. Bilstein shocks were engineered to optimize heat dissipation above 100 mph over harsh terrain. Proving it can work for a living, the Ram TRX has a max payload of 1,310 pounds and can tow 8,100 lbs.
A time will come when trucks like this will be dinosaurs of a bygone era, so devour one now. Before Ford decides to escalate the fire throwing, it should realize Chrysler has the 808 horsepower Demon engine hissing about. Lay down $71,690 to play.
2020 Ram 2500 Fades To Night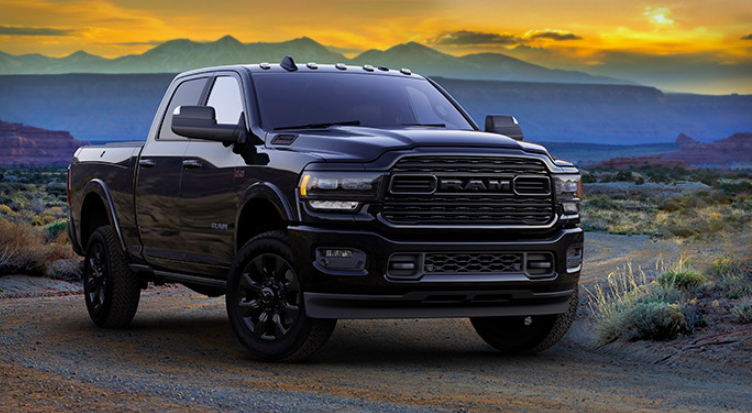 If the Ram TRX seems like a bit extra, let me suggest something a bit tamer, though still plenty capable. One can buy bigger and stouter pickups than the Ram 2500, but not by much. And, I'm sure somebody will think others are more stylish, but I'd probably have to argue. When it comes to ride and comfort, Ram is right there with the best too. So, what could be improved? Well, I won't complain about the sportier blacked-out Laramie Night Edition we have here.
It's a very cool-looking truck with black grille, matching mirror caps, 20-inch black-painted aluminum wheels, and painted bumpers. It all looks very custom, but Ram's iconic style is unmistakable. The dropped down front fenders still look like they belong on a Freightliner, but the entire body has been streamlined to maximize fuel economy and minimize wind noise.
The Crew Cab is pretty tranquil. You can barely hear the diesel engine chattering away, which lets you focus on the slick tablet-style touchscreen that dominates the center dash. Intuitive icons link to menus for the 17-speaker Harman Karman audio system, navigation, climate, and apps. Apple CarPlay and wireless charging pad make it even easier to connect devices.
But, the attention to detail goes beyond a glassy toy because stitched dash coverings, heated/cooled front leather seats, and thick leather-wrapped steering wheel are pretty nice too. Three passengers ride like celebrities in the rear heated thrones. Rain-sensitive wipers and power-adjustable pedals add convenience while safety is enhanced by adaptive cruise, lane keep assist, forward collision warning, rear cross-path detection, and blind spot warning systems.
As good as it looks and spoils passengers, the crowning glory of this truck is its engine. Under the streamlined hood is a 6.7-liter Cummins inline-six turbo-diesel throwing out 370 horsepower and 850 lb.-ft. of torque. It all routes to the four-wheel-drive system through a 6-speed automatic transmission. Planted in our non-dually pickup, that's enough to haul nearly 2,500 lbs. and tow over 19,000 lbs. It's probably more than you need to haul bicycles or a pop-up camper, so go big. Fuel economy is not rated for heavy duty pickups.
Further proving this truck is not just a pretty face, it's fortified with transfer case skid plates, spray-in bedliner, and preparations for a gooseneck hitch. The automatic leveling rear suspension can be dropped with a button on the dash so drivers can easily slide under trailers. Of course, that suspension also pays dividends on the highway by quelling rear hop over rough pavement. You'll never confuse the unloaded ride quality for a luxury SUV, but it is far calmer than heavy duty pickups of the recent past.
Ram stays incredibly competitive by understanding what customers want and need – often before they even know what they want and need. Having the capability of a 2500-series pickup with the look of a custom hot rod is a pretty tempting combination and plenty to keep those in charge of the GMC Sierra, Chevy Silverado, and Ford F-250 on their toes. Just be prepared to write a big check. While a base Ram 2500 starts at $33,895, our Night Edition Laramie Crew Cab 4x4 came to, cough, $79,670.
Storm Forward!
Send comments to Casey at AutoCasey@aol.com; follow him on YouTube @AutoCasey.
2020 Ram 2500 Night Edition
5 passengers, 4WD Pickup
Powertrain: 6.7-L Diesel, 6-spd auto trans
Output: 370 hp/850 lb.-ft.
Suspension f/r: Ind/Solid axle
Wheels f/r: 20"/20" alloy
Brakes f/r: disc/disc
Must-have features: Engine, Luxury
Fuel economy: Who knows?
Assembly: Saltillo, Mexico
Base price/As-tested: $33,895/79,670