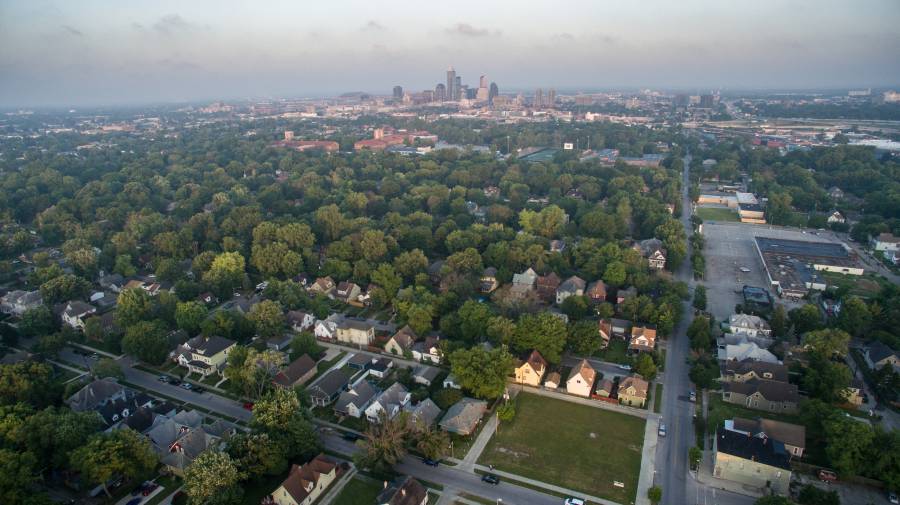 The Near Eastside of Indianapolis is being redeveloped after decades of decline — good news for a city trying to build its tax base and attract talent.
The revitalization gained momentum in 2012, after Super Bowl projects and the private investments surrounding them pumped nearly $150 million into the area — more money than the 44-square-block neighborhood had seen in decades.
The money jumpstarted the Near Eastside's turnaround, and today, the changes are evident everywhere along East 10th Street, with new businesses, spruced-up storefronts, and the wide new sidewalks and rain gardens that overflow with blooms on a warm summer day.
"It just allows for that safety measure, and it adds a lot more beauty," said Tempest Brown, who runs a daycare here.
People love the new public space, but there's worry that current low-income residents will be priced out as the neighborhood draws more private development and property values rise.
For part of its strategy, the city turned to tax increment financing, or TIF, a financial tool developed in California in the 1950s to help redevelop blighted areas. But five years ago, California Gov. Jerry Brown eliminated the redevelopment TIF. Among the criticisms: They contribute to displacement.
Advocates for low-income people want to make sure the same thing doesn't happen here.
The Trouble With TIFs?
TIFS are complex — and often controversial — tools for development, but Indiana cities have increasingly come to rely on them, especially given the property tax cap imposed on cities by the General Assembly in 2008.
Redevelopment TIFS, like the one on Indy's Near Eastside, often effectively develop an area's housing and improve its economy. But in a recent study of TIFS in Indiana, Ball State University economists were critical of their overall impact, saying they don't decrease poverty or increase employment over entire counties.
"People love TIFS, people hate TIFs, but in general I think it's really about how they're being applied," said Geoff Smith, the executive director of the Institute for Housing Studies at DePaul University.
Where TIFs or other redevelopment tools are being used, Smith said, "it's really important to maintain a certain number of units that are affordable to low-income residents. Otherwise, displacement is kind of inevitable."
Ten years ago, Near East Area Renewal or NEAR, became the lead Community Development Corporation in the area for housing development.
Since then, they've restored or built 86 houses, primarily in the St. Clair Place neighborhood, and most of them for low or moderate income homeowners or renters.
Before NEAR started its work, said Executive Director John Franklin Hay, over 45 percent of the houses and lots in the neighborhood were vacant or abandoned. Residents were dealing with "very serious issues" of crime and blight.
Before they could build the houses, Hay said, they had to fix the infrastructure of the streets and sewer lines.
"You can't get to the sexy stuff … about housing development unless you have the guts of it and the sound foundation," he said.
To fix the streets, they needed money. So they turned to a redevelopment TIF to pay for these repairs.
Redevelopment TIFs in Indiana generally work like this: A city outlines a blighted area and takes out loans to improve the streetscape. The city pays back its loans with the resulting increase in property taxes over a 25-year period. By improving the streetscape and infrastructure, so the theory goes, property values will go up and so will property taxes.
In this particular eastside TIF, Hay said the initial investment was about $4 million.
The money was used to build the sidewalks, rain gardens and purchase a few empty lots. That debt has been paid back to the city. And now, the property taxes in the area are accruing in a bank account. Hay said the eastside redevelopment TIF generates a little over $500,000 every year.
From now until it expires in 2033, Hay expects money from the Near Eastside TIF to be used almost exclusively for infrastructure development.
The improvements to the Near Eastside are also increasingly attracting private development and investors, which could increase property taxes and drive low-income residents out.
Priced Out
John Tinkle used to live in one neighborhood adjacent to the TIF area: Woodruff Place.
Tinkle is in his 50s. He makes his living as a handyman, and drives his white truck between jobs. Pulling onto the street where he used to live, Tinkle nodded toward a modest single-story house.
"Not one single thing has changed since I moved out of there," Tinkle said. "It's the same paint. I built that fence. I did the porch lights, repaired the concrete steps. I miss that house. It's a nice house."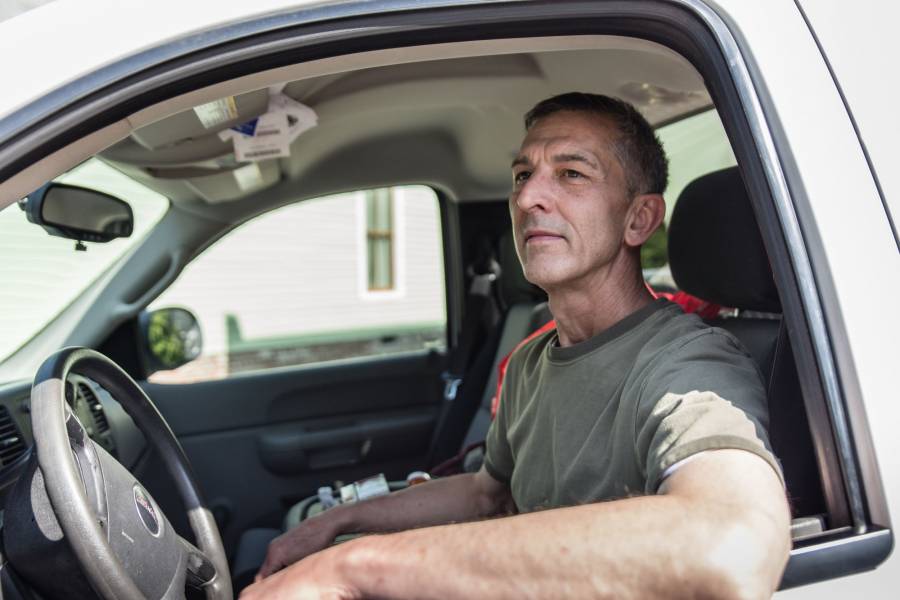 John Tinkle, a handyman, peers out of his pick-up truck onto the streets of his Near Eastside neighborhood. Tinkle used to live in Woodruff Place before his landlord sold the property in 2006. (Photo by Brian Paul, WFYI)

The compact neighborhood, full of big, old homes not far from downtown was among the first on the Near Eastside to turn around, and in 2006, Tinkle and his boyfriend were forced to move when their landlady decided to sell. They'd lived there 12 years and paid $500 a month in rent. As a handyman and a graphic artist, they didn't make the kind of money that could keep them in the neighborhood. Tinkle said houses were being rehabbed a lot back then.
John Tinkle's old neighborhood, Woodruff Place, is located just west of the eastside TIF housing district border.
On this map, the light blue indicates the borders of the IndyEast Promise Zone. The dark blue are TIF areas on the Near Eastside that fall within or near those borders. (Source: IndyEast Promise Zone, Indiana Gateway TIF Viewer; Graphic by Ashley Shuler, WFYI)

"At that time things were hopping, and I don't blame her," Tinkle said of their landlady's decision to sell. "She made money, which is what it was for."
They were sad to go, but they couldn't afford to stay. So they moved farther east, to a part of the eastside that's still struggling economically.
"I don't really like living over here, but it's not awful," Tinkle said of his current neighborhood. "I don't dislike it, but I don't love it."
Thinking Outside the Toolbox
Community organizer Mat Davis grew up on the eastside. He says any redevelopment tools that incentivize an increase in property values don't protect current low-income residents.
"Even though there are some initiatives that have good intentions, what ends up happening is the market and the conventional approaches to economic development still dominate," Davis said.
He works with the St. Dime Society, a grassroots community group on the Near Eastside. They were searching for some alternatives to conventional economic development when they discovered the community land trust movement, Davis said.
The first community land trust in the U.S. was formed nearly 50 years ago in rural Georgia, and now there are more than 240 such groups around the country.
They generally work like this: A group of community members buys land and sells the houses on the land to low-income residents. If the residents move, the houses are sold back to the land trust, which then finds other low-income residents to buy them. Keeping the land and the houses off the traditional real-estate market keeps the prices low, indefinitely.
Davis believes the model could work on the Near Eastside.
"Community land trusts help people do away with the fear of being displaced, or that constant feeling of scarcity that so many people deal with, sometimes their entire lives. [They] help provide a holistic opportunity for communities to build wealth on their own terms," he said.
There's no doubt the neighborhood needs investment. In a city with limited funds for improvements, community developers do what they can with the tools available to them.
But some, like Davis, say the best thing for the city's most vulnerable is to think outside the toolbox.
The Near Eastside is one of many areas in Center Township that has experienced gentrification — a trend in urban neighborhoods where increased property values displace lower-income families and small businesses. The light blue on the map signifies the boundaries of Center Township, and the dark blue details the areas that have gentrified from 2000–2013 based on factors like increased median household income and a higher percentage of residents with bachelor's degrees flocking to the area. (Source: Governing Magazine, 2000–2013; Graphic by Ashley Shuler, WFYI)