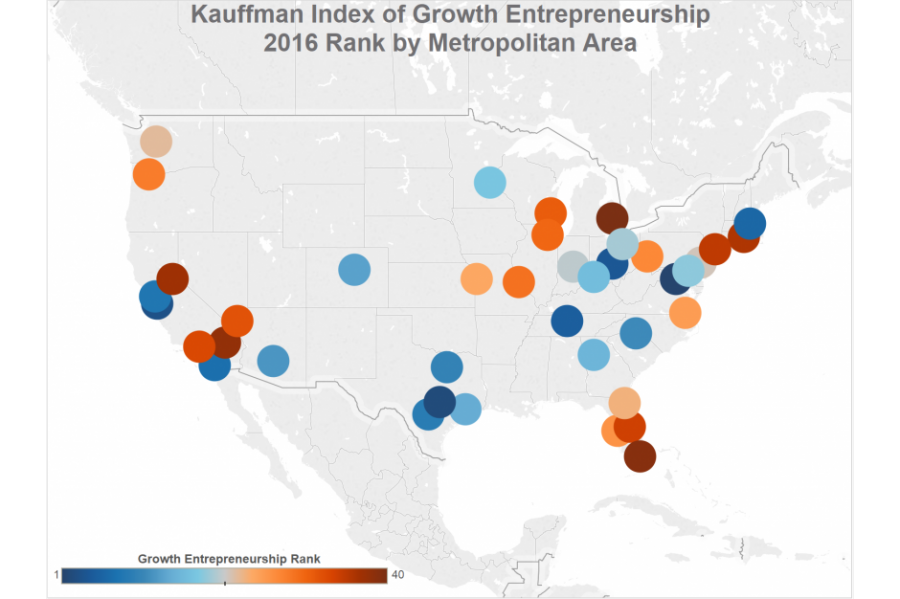 Cities marked with blue dots have fast-growing start-ups, while start-ups in cities marked with red and orange dots are growing more slowly. Indianapolis ranks 20th overall for entrepreneurial growth, down from 11th last year, and is last for start-up job growth. (See detailed data below.) Photo: Kauffman Foundation

A new report ranks Indianapolis last in the nation for start-up job growth.
The Kauffman Foundation puts out annual indices measuring entrepreneurial activity in the nation's 40 largest metropolitan areas. But this is its first report on annual growth at existing start-ups.
The 2016 report ranks Indianapolis last for jobs added at start-ups in their first five years of operation.
At a rate of 35.3 percent, a company that began with six employees has only added about two. Compare that to San Jose, where the report says the average start-up has more than doubled its staff.
Kauffman also ranks Indianapolis 28th out of 40 for creating new start-ups, a slight boost from last year.
But overall, the city's entrepreneurial growth rate saw one of the biggest drops of any nationwide, from 11th place last year to 20th this year.
That's even as Indiana towns invest heavily in co-working spaces to start businesses and draw talent. Emily Carter helps run one of those spaces -- Lafayette's Matchbox, home to about 50 start-ups.
Though several have expanded this year, she says, many have just one or two employees. But Carter says success should be measured by more than staffing and funding
"Part of it is looking at how long have they been in existence, how long have we known about them, and how long have they been keeping that momentum going?" she says.
Carter says the startups in the report are doing well for just being five years old.
Read more from the new Kauffman Index here, or check out Indianapolis' numbers below: