In the landscape of Indiana education politics, it's rare to find a topic people on opposite political and ideological sides agree on. But over the last few years, one such topic has come forward: affordable pre-k.
Most of the people working toward this goal agree the state should offer funding to make that possible. But opinions diverge there, over how much funding and who should qualify.
Some believe every child in the state should attend pre-k on the state's dime, others think we should focus on low-income families.
And this discussion is in the public spotlight now, with the upcoming election and the 2017 General Assembly determining a new two year budget.
Why Make Pre-K More Affordable?
The reason everyone agrees pre-k should be a priority is because research shows kids who attend a high quality preschool do dramatically better in school later on than kids who do not.
A report published this month by the Brookings Institution studied the Head Start program. It found kids who attended the federally funded pre-k program were more likely to graduate from high school, attend college or complete some sort of post-secondary program.
In response to the number of these studies endorsing the importance of pre-k, 42 states and the District of Columbia established state funded programs to get more kids into pre-k classrooms.
For many years, Indiana was one of eight states without a state funded preschool program, which changed in 2014.
Pre-K Pilot Program Put Indiana on the Map
The 2014 General Assembly changed Indiana's status as one of a handful of states without a state funded program. Gov. Mike Pence championed the pilot program, called On My Way Pre-k, which gave scholarships to low income families in five counties in Indiana.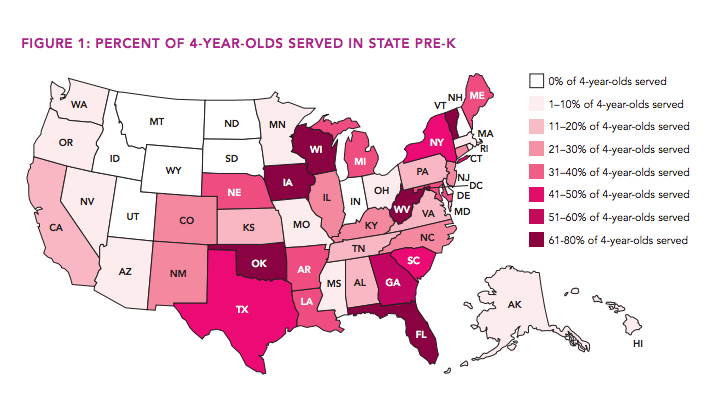 The National Institute for Early Education Research maps out how many four-year-olds are served under state programs across the country. When their 2015 Yearbook was published, Indiana had just launched the pilot program, and isn't reflected in this map (photo credit: National Institute for Early Education Research, 2015 Yearbook).

The program enrolled 400 students in the first year, which is less than one percent of four-year-olds in the state. More than 1,000 students applied in these five counties alone, demonstrating a demand for the assistance.
The counties included in the pilot program are Allen, Vanderburgh, Lake, Marion and Jackson. They were chosen to be representative of the state. Some are rural, some are urban, they are meant to represent a range and measure On My Way Pre-k's ability to succeed in different communities across the state.
The legislation that created the program set aside money for two years, and that budget expires this year.
The 2017 General Assembly can decide to continue this program, expand it or not go forward. But there is so much support to continue On My Way Pre-k or something similar, that it is likely the legislature will address it in some way.
Preschool for All
State superintendent Glenda Ritz and Democratic gubernatorial candidate John Gregg are advocating for universal pre-k in the state. Earlier this summer, the two announced a proposal to make preschool free for every kid in Indiana, regardless of income.
"Middle income families affording daycare and pre-K, it's a stress on their budgets," Ritz said at a press conference in June.
The plan Ritz and Gregg support would cost the state an estimated $150 million a year. The money would be allocated to 289 public schools with preschool programs, but they say it wouldn't require families to enroll.
Ritz says the Department of Education will propose this program to the legislature in January.
Democrats proposed universal pre-k before the legislative 2014 session, when On My Way Pre-k passed. But convincing Republican to pass the small pilot program was a challenge in it of itself, as they were concerned with cost.
Preschool for Some
A new campaign, called All IN 4 Pre-K, would allow more lower income families to qualify. It is spearheaded by Early Learning Indiana and the United Way of Central Indiana, and it aims to expand the mission of On My Way Pre-k.
This initiative has the support of outgoing Eli Lilly CEO John Lechleiter, Indianapolis mayor Joe Hogsett, the Indiana Chamber of Commerce and Republican gubernatorial candidate Eric Holcomb.
This group wants to eliminate the lottery for the pilot program that rejects thousands of families. Less than four percent of the state's four year olds are currently served by the pilot, and this group doesn't want any low income families to be rejected.
Here are some of the recommendations this group is making to the legislature regarding the expansion of high quality pre-k:
Expand how a family qualifies for a state program.
Increase teacher education requirements, so pre-k teachers have more training.
Establish ways to engage families in a child's education.
Make sure the pre-k programs foster a smooth transition to kindergarten and further schooling.
Increase the funding for these programs, and find additional resources to increase state funding.
This proposal is expected to have wide legislative support. The 2017 General Assembly convenes in January and will craft a budget for the next two years.