Nothing puts a brighter shine on the holidays than a sharply lit tree with a heap of presents beneath – unless it's a freshly cleared driveway with an exotic sedan, coupe, or crossover. From a shimmering star to a movie star and joyous spirit, one of these should get your through the season and beyond.
Mercedes-AMG GT63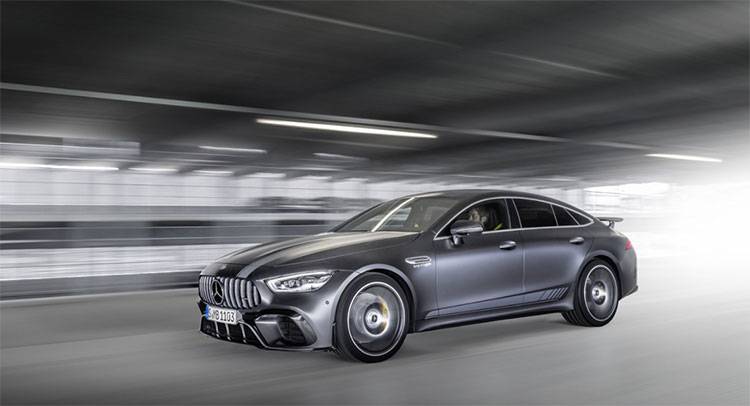 There's plenty of room in the Mercedes-AMG GT sports car for Santa and The Mrs., and a couple of elves would probably fit in the trunk, but the fat man can forget carrying many toys or taking his toy-making family to play in snow. For that, he'll need the GT four-door coupe.
When he flashes his front splitter, rear diffuser, and mechanically adjusted rear spoiler, North Pole inhabitants will know this is no Mercedes CLS. A wide rump and long hood cover 21-inch wheels. Sliding inside, The Claus' will feast on matte carbon-fiber trim, a herd of Nappa leather, and illuminated sill panels. The car even gets its own fragrance in the atomizer: "AMG #63".
Those beefy flanks leap roadward with a corral of 630 horses delivered by a 4.0-liter biturbo V8 engine. Getting where it needs to go in the wink of an eye, this sleigh runs 0-60 mph in 3.1 seconds on the way to a 195 mph top speed. 4MATIC all-wheel-drive gets through slick blizzards, but an adjustable suspension, variable torque distribution and Drift Mode puts the Holy Night in all that's light.
Base price (est): $160,000
Ford Mustang Bullitt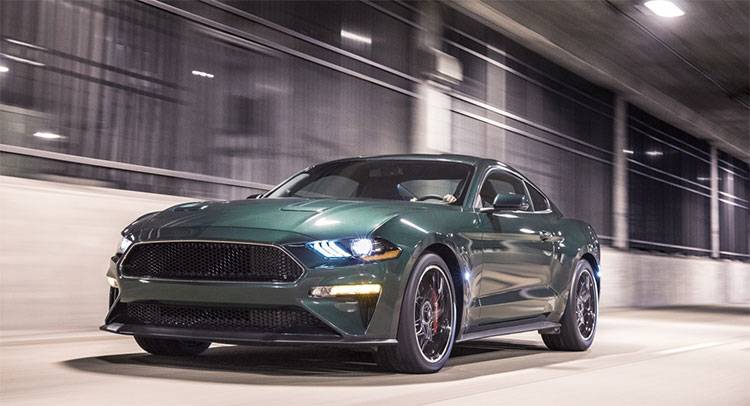 When I was a kid, my parents put The General Lee and KITT under our tree, but neither compare to the movie star represented here. Honoring the car driven by Steve McQueen in the 1968 movie Bullitt, this fantasy sleigh comes in Dark Highland Green glazing a body bereft of tacked on tacky wings. Subtle chrome tinsel around the grille, classic 19" five-spoke alloys, faux gas cap, and red painted Brembo brakes would brighten any holiday season. Inside, it's all about RECARO black leather seats with green stitching, white cue ball shifter, and flatscreen instrument cluster.
It's not all about fancy wrapping. There's plenty of bling under the hood, too. This toned down Mustang GT flies with a 5.0-ltier V8 engine that delivers 475 horsepower and 420 lb.-ft. of torque.
That's adequate to blitz from 0-60 mph in well under 5s on the way to a 163 mph top speed. This generation Mustang's independent rear suspension already made it as gentle as a snowy winter night, but the Bullitt rides on the MagneRide semi-active suspension system that can be adjusted for handling or smooth long-distance touring.
If you've never seen it, watch the 10-minute movie chase scene through San Francisco. That's child's play compared to the race across the globe to deliver presents to every girl and boy. The Big Guy just might want to take it easy with the exhaust burble if he doesn't want to get caught in the act.
Base price: $46,595
Rolls-Royce Cullinan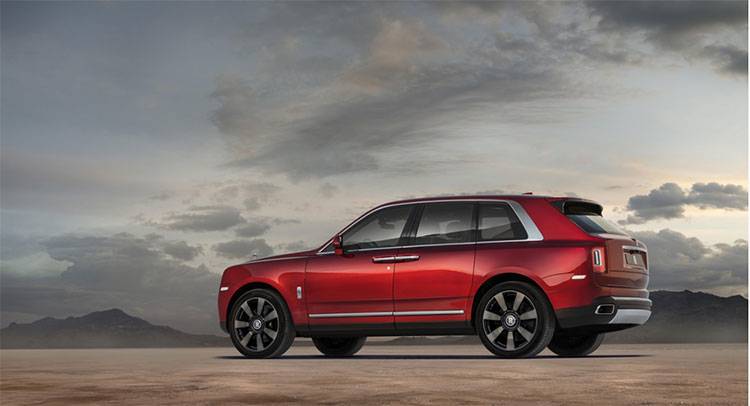 Named after the largest diamond ever discovered, the Cullinan is one glitzy ornament for wealthy holidays. I mean, roll up at any Christmas concert and flash that big grille to have your way with the seating plan.
It looks like a Phantom on stilts, which is appropriate since the pair share an aluminum-intensive architecture. Step through the coach doors and gaze at the requisite slabs of timber and swaths of perfect hides. Those in the rear choose between comfy lounge seats for three wise men (or women) or individual seats separated by a drink cabinet containing whisky glasses, decanter, and a refrigerator. There's all that plus night vision camera, Wi-Fi, head-up display, wildlife/pedestrian warning, and panoramic glass roof
An entire stable of reindeer tremble next to the Cullinan's long hood. Beneath is a 6.75-liter twin-turbo V12 that frees 563 horsepower and 627 lb.-ft. of torque. Chauffers will appreciate all-wheel steering to shorten the big gal's girth. Magic Carpet Ride air suspension and all-wheel-drive configurable for track, gravel, wet, grass, mud, snow, or sand gets you there in divine comfort. Ford deep streams if your castle has a bridgeless moat.
Who needs Rudolf when you have the Spirit of Ecstasy leading the way? Slap some red paint on your sleigh and roll through the snow as if unconcerned with abominable snow monsters – or risky valets.
Base price: $325,000