Indiana leaders are trying to overhaul education to use scientific research on how people learn to read to inform how schools teach children.
Lawmakers passed a bipartisan bill earlier this year that requires schools to use the science of reading. And one of Indiana's largest philanthropies is partnering with the state to provide more than $100 million in training for teachers and support for students.
Those efforts are part of a national conversation about reading instruction that was inspired in part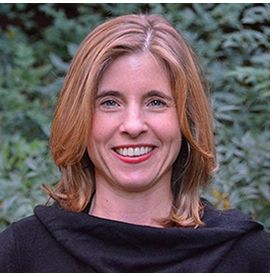 by several years of reporting from Emily Hanford, senior correspondent and producer for APM Reports. Hanford's podcast "Sold a Story" explores the research that shows how people learn to read, why schools have relied on discredited methods, and the students who struggle as a result.
Hanford was in Indianapolis Saturday for a literacy summit. WFYI spoke with Hanford last week about the movement to change how we teach reading.
This interview has been edited and condensed for clarity.
Dylan Peers McCoy: The term the science of reading has become a really common shorthand, but it's often used as a synonym for teaching phonics. What is the science of reading? And what does it look like when schools embrace that approach?
Emily Hanford: So the first thing I think it's important for people to know is that the science of reading is not a thing you do or something you teach. The science of reading is a body of research that has been conducted over decades in the United States and across the world, in multiple languages, trying to understand how reading works, how people learn to do it, and what people need to learn to become good readers. You're very right, that it's become a sort of shorthand, that I think number one sort of stands in for teaching and a way you teach it and particularly a focus on phonics. I think it's important for people to realize that phonics skills are really critical to being a good reader. And I think there are a lot of teachers who haven't understood why phonics instruction matters so much. And a lot of my work has been trying to understand that and help other people understand that.
McCoy: One of the things that I found really interesting in your reporting on this is understanding a little bit more about why phonics is important. Can you explain how sounding out words changes our brains, and why it's better than just memorizing words?
Hanford: Sounding out the written words — usually, at first, in kind of a laborious, slow and sort of painful way — is a really, really critical part of the process of getting the written form of a word stored in your long term memory. The way you become a good reader is that you learn the connections between the sounds of the words you know how to say and the pronunciation of words. Many little kids come to school knowing how to say lots and lots of words. What they don't know how to do is read those words yet. So in schooling, and through phonics instruction in particular in the early days of their education, they learn how to make this connection between the pronunciation of the words they know how to say, with the written form of the word and the words' meaning.
McCoy: Since you started reporting on this, about five years ago, the science of reading has caught the attention of state lawmakers around the country. Indiana is one of several states that will soon require schools to use curriculum that follow the approach. What do you think the impact of these legislative changes will be? Will more children learn to read?
Hanford: I think a lot remains to be seen on that front. I mean, passing laws can be difficult. But that's actually sort of the easy part, when it comes to really getting to the end goal, which is more kids being taught what they need to know to become good readers. And really, when we're talking about education, this is about, do teachers and schools know what the intent of the law is and have the resources and the guidance and the training and the support and the time to do the things that the law wants them to do?
McCoy: How do you change what teachers are doing in schools? I think you're getting at a really interesting idea that what happens in the statehouse doesn't necessarily reshape classrooms. But what do we need to do to get teachers to embrace these ideas and to actually change their practices?
Hanford: Well, I think really at the core, this is about knowledge. It's about understanding how kids learn to read. And I think what's happening all over the country, for many, many educators — and I hear from them every day — is that they are learning things that they never knew about how kids learn to read, and why some kids really struggle to read, and what they need to learn to become better readers. And there are just many, many teachers who didn't have a good understanding of that. And they're learning more, I think, because of this national conversation about the so-called science of reading.
A lot of teachers are learning things they never knew before. And it's blowing their minds. And it's difficult for them to accept at first. But so many of them dig into this, learn more about it, talk to colleagues who are doing this or trying to implement these practices that come from the scientific body of research — and they're finding that it's really working with their students, and they're really excited.
I hear from teachers who say to me, 'I've been teaching for 25 years, and I didn't know this, and I've just been learning it over the past few months or the past few years'. And: 'Wow, it's amazing. I wish I had known it earlier. But now I'm like, I'm gonna give my all to the last five or 10 or 15 years of my career, because I know better now and I think I can really do better.'
Contact WFYI education reporter Dylan Peers McCoy at dmccoy@wfyi.org.