INDIANAPOLIS - Indianapolis Power and Light converted its Harding Street coal plants to run on natural gas to comply with new federal pollution standards, including a proposed 20 percent reduction in carbon dioxide emissions by 2030. IPL's Harding Street plant burned its last load of coal earlier this year.
But now there' s another question: what to do with the byproduct of these coal plants – coal ash? Coal ash is toxic, and it doesn't biodegrade, so storing it safely matters.
Dr. Indra Frank, the Environmental Health and Water Policy Director for the Hoosier Environmental Council said drinking water contamination is the biggest risk posed by the ash ponds.
She also says coal ash contains a lot of heavy metals and other contaminants, which can cause cancer or damage the nervous system.
To close the ponds, IPL is going to cover the top of the ponds with a waterproof liner, and then cover that with about three feet of sand and soil, leaving the sides and bottom of the pond unlined, as they are now.
That worries people like Jodi Perras, a representative of the Sierra Club Beyond Coal Campaign. IPL's plan doesn't account for the long-term potential for groundwater contamination, Perras said.
"Where you put coal ash with no liner, which is the majority of these pits around the state, there's gonna be ground water pollution underneath that," Perras said.
Perras has been speaking out a lot about this issue, and at a meeting held by IPL last week, she said a safer alternative would be to move the ash into a lined pit.
"We collected almost 450 signatures from people, asking IPL to remove the ash from those pits where they are now, and put it in a dry landfill on dry land, a lined landfill that's covered. That's gonna keep that ash protected forever," Perras said.
But IPL says its plan to close the Harding Street ponds complies with all state and federal rules and they don't need to move the ash into a lined pond. While that's true for the current rules, it may not be true for future rules. That's because the rules governing coal ash storage are changing.
Last year the Environmental Protection Agency finalized the Disposal of Coal Combustion Residuals from Electric Utilities rule. In plain English, that's basically new regulations for coal ash storage. The EPA leaves it up to the states to write a plan enforcing those rules. In Indiana, that job falls to the Department of Environmental Management, or IDEM.
The agency held a public hearing last week on the state's proposed plans to deal with coal ash at Indiana's 84 storage ponds.
Tim Maloney was one of seven people to comment at this meeting. He also works for the Hoosier Environmental Council.
Maloney said one of the most important things the new state plan can do is prohibit utilities from doing what IPL is currently doing at Harding Street—leaving coal ash in an unlined pond, a practice called closure in place.
"Closure in place, particularly for any lagoon or landfill that's unlined, will continue to pose a risk for groundwater and we just don't think that's an appropriate approach," Maloney said.
IPL will follow the current rules to close the eight ponds at the Harding Street plant, which will be finished by May 2021. As for the new rules, IDEM will finish a draft plan by the end of the year. The final plan requires federal approval from the Environmental Protection Agency.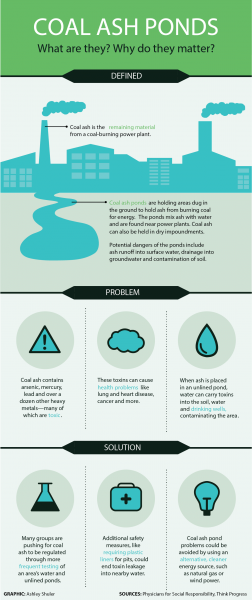 Click here for a full-size version of the graphic.
WFYI's Ashley Shuler contributed to this report.