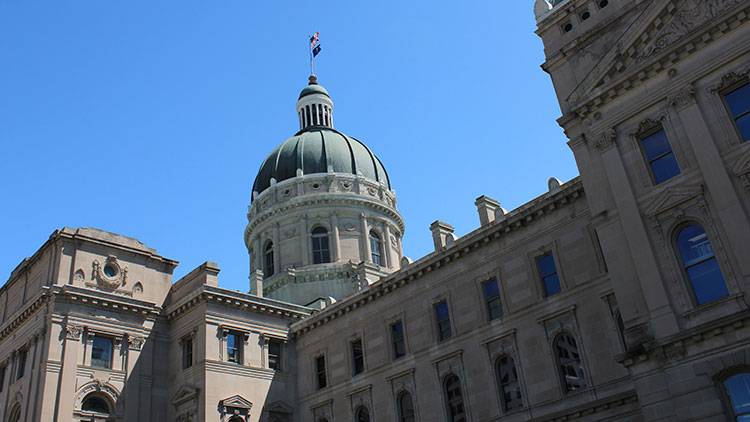 The 2016 session of the Indiana General Assembly came to a close Thursday. -- Photo Emily Metheny

INDIANAPOLIS -- Despite passing more than 100 bills, and resolving issues that had lingered in the the legislature for years, the 2016 session of the Indiana General Assembly may be remembered more for what lawmakers couldn't get done.
Indiana Public Broadcasting Statehouse Reporter Brandon Smith has this recap:
No definitive position on LGBT civil rights
Nearly one year ago, Gov. Mike Pence signed into law the controversial Religious Freedom Restoration Act, setting into motion a series of events that are still playing out. Senate Republicans took first aim at the issue this session.
Sen. Travis Holdman, R-Markle, wrote the LGBT rights bill. "My focus, to be quite honest with you, is really around the religious liberty issue here and I think that's what's important about this bill," he said in November.
Despite his efforts to find compromise, groups on both sides of the debate rejected his effort. Religious organizations cried foul at any language granting civil rights protections to LGBT Hoosiers; gay rights groups opposed legislative attempts to exempt many businesses from complying with the law.
Then, Pence stepped in.
"I will not support any bill that diminishes the religious freedom of Hoosiers or interferes with the constitutional rights of our citizens to live out their beliefs in worship, service or work," Pence said during his State of the State Address in January.
And while some thought the governor's remarks lacked direction, Speaker Brian Bosma, R-Indianapolis, wasn't one of them.
"I think it does make passage more difficult because I'm not certain that there is a solution on the table that meets the requirements that the governor indicated he was looking for," said Bosma.
Holdman went back to the drawing board, unveiling a new attempt at compromise – a bill that granted rights to lesbian, gay and bisexual Hoosiers, but left transgender rights out. That didn't sit well with LGBT advocates and didn't make the bill more palatable to religious freedom groups.
A Senate committee spent nearly five hours taking testimony and debating the bill before sending it to the Senate floor. But it would go no further.
House Democratic Leader Scott Pelath, D-Michigan City, pledged to keep the debate alive, introducing several amendments on the subject throughout the session's second half.
"We've had several votes over here in the House, some of the first ones in the state's history that would expand civil rights protections for our LGBT community," Pelath said. "They were turned down."

Local communities say they still need a long-term solution to address deteriorating infrastructure. — Photo Barbara Brosher

Road Funding Compromise
While leadership dubbed this the "roads" session, it did not produce a long-term road funding solution.
Hoosiers calling for funding for the state's roads and bridges will have to wait a little longer. But, Sen. Luke Kenley, R-Noblesville, says lawmakers did provide some short-term help.
"Let's do what we can and do it right today," Kenley said. "But let's save, for a later day, a better decision so that we maintain our basic principles of good fiscal solvency and a commitment to build a good infrastructure program."
That came in the final days of session, after lawmakers combined the language from two bills to produce a final road funding package. It's worth about $1 billion over the next two years, split between state and local roads.
Speaker Bosma acknowledges that's only a short-term answer.
"We have challenges on our ongoing, future road and bridge funding at the state level and this does not solve that," he said. "It honestly doesn't solve all local issues, either."
House Republicans' original plan, Bosma said, would've gone much further towards addressing those challenges. That proposal included two tax increases – hikes in the gas and cigarette taxes. Sen. GOP Leader David Long, R-Fort Wayne, said that never got traction in his chamber.
"We don't support the tax hikes at this time," Long said. "We do think we need to study the situation."
But that study is part of the final bill – a task force, compromised of lawmakers and state and local officials, will aim for a permanent, long-term solution for Indiana's infrastructure future.

After a similar bill failed last year, those adopted during Indiana's closed records period could finally have access to birth records. — Photo Barbara Brosher
Adoption Bill and Deer Hunting Measures Pass
There were two groups that did see their causes find approval after years of legislative failure.
The first was adoptive children seeking records releases from 1941 to 1993. Those records have been sealed, making it difficult for children to get their birth certificates and family medical histories.
Pam Kroskie, a longtime advocate for opening the records, said keeping them sealed leaves people unprepared.
"I want you to picture the adoptee who is now in 70s," Kroskie said."They are discovering they have high blood pressure, high cholesterol, diabetes, Alzheimer's, breast cancer, Parkinson's or colon cancer."
A similar measure failed in previous sessions, chiefly over concerns about birth mothers' privacy.
Sen. Brent Steele, R-Bedford, the bill's author, said this session's solution addresses that concern by giving birth mother's more options – allowing contact, barring contact entirely, permitting contact only through a third party or allowing only the release of medical records.
"It's a smorgasbord of selections and you can decide the amount of contact that you wish to have or not have," Steele said.
The bill moved easily through both chambers and has already been signed by the governor.
Another group that gained a long term answer this session – the high-fenced deer hunting industry.
The legal and legislative battles over their right to operate fenced hunting preserves stretches back more than a decade.
Court rulings last year left the industry unregulated. And GOP Rep. Sean Eberhart, R-Shelbyville, said that was the final push needed to force lawmakers to act.
"Address the concerns that we have, put in some common sense regulations and finally put this issue to bed," Eberhart said.
Indiana Deer Hunters Association's Doug Allman said there was another choice; lawmakers could have voted to ban the preserves entirely. He doesn't consider the animals in the preserves, which are raised on deer farms, the same as wild deer.
"We just don't feel that shooting farm animals and calling it hunting is legitimate," Allman said.
In addition to these decisions, lawmakers approved more than 100 bills before gaveling the session to a close.
In the next nine months, between retirements and reelection losses, the next time state lawmakers meet, there may be plenty of new faces to revisit unresolved issues and address new ones.