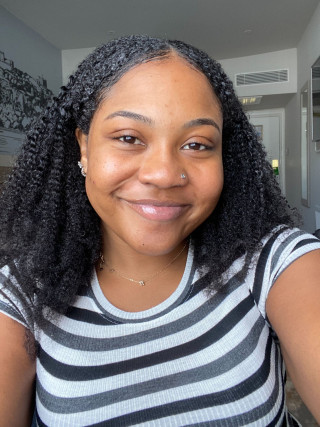 Abriana Herron is a Morning Edition newscaster and reporter at WFYI. She was previously a freelance reporter for several publications including The Indiana Citizen, Fashion Dive and The Indianapolis Star.
While freelancing, Abriana covered issues of voting access, racial disparities, local policies and education. Before joining public media, Abriana was a religion reporter for the Indianapolis Recorder, the nation's fourth-oldest Black-owned newspaper. At the Recorder, she reported on how Black churches impacted the daily lives of Indianapolis residents.
In 2022, Abriana was also a journalism fellow for The Gerontological Society of America, where she covered the experiences of older Black female veterans in Indianapolis. She was also a Report for America Corps Member. When not reporting, you could find Abriana at a bowling alley with her family or a local coffee shop reading a book.
Contact Abriana at aherron@wfyi.org and follow her on X (formerly known as Twitter) @abri_onyai.