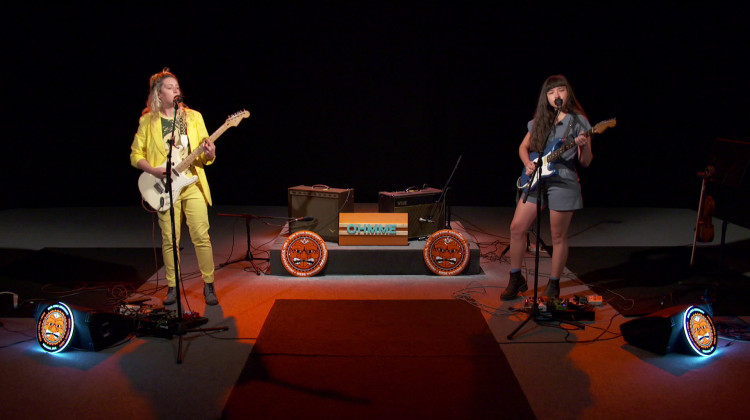 Ohmme
October 20, 2021
Ohmme is an experimental indie rock duo from Chicago, signed to Indianapolis record label Joyful Noise Recordings. The band's latest album "Fantasize Your Ghost" is their second full length recording with Joyful Noise. The band stopped at WFYI for a session on their way to play a show at Indianapolis venue, Healer.
Ohmme played NPR's Tiny Desk in 2019 and was named by series creator Bob Boilen, as one of his all-time favorite Tiny Desk concerts. In this session, Ohmme plays an intimate improvisational four song set, with violins, crunchy guitars, and sweet harmonies.
Set List
1. Flood Your Gut
2. Twitch
3. Spell It Out
4. 3 2 4 3
Band Lineup
Sima Cunningham - guitar
Macie Stewart - guitar and violin
Crew
Series Producer: Melissa Davis
Director of Photography: Chris Elberfeld
Recording Engineer: Adam Graahs
Editor: Aric Hartvig
Videographers: Frank Konermann and Scott McAlister
Photography: Jeff Hinton.
Small Studio Sessions is made possible with support from Sun King Brewing.