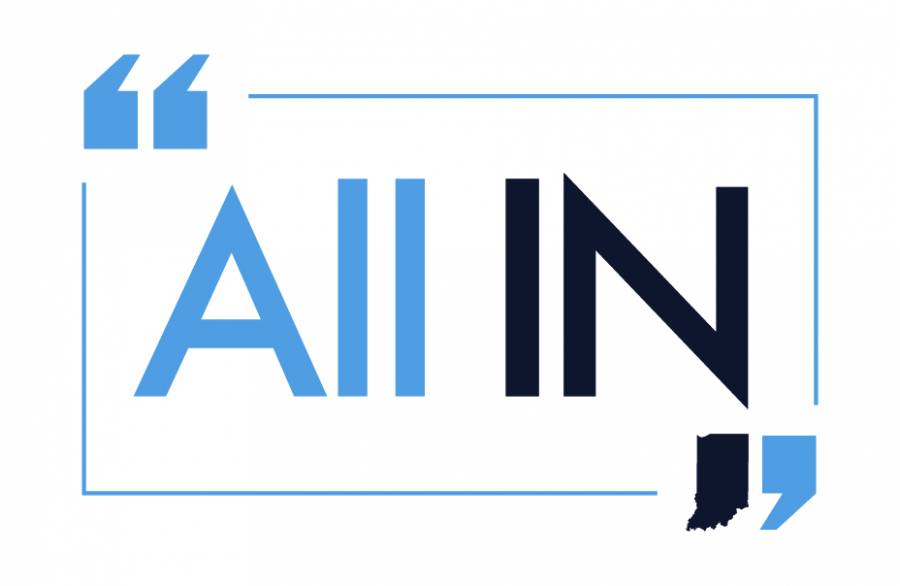 INDIANAPOLIS – It all began in Batesville, Indiana, in 1999. That's where Matt Pelsor got his first taste of being a real radio broadcaster.
"I was 15 years old and got to job-shadow the program director and morning show host at WRBI," Pelsor said. "Before long, they sent me out as a stringer to do high school basketball and football reports, and that's how it started."
Since then, the Sunman, Ind., native and Ball State graduate has spent 20 years honing his skills on various stations with a variety of formats – country, rock and oldies. He joined WFYI as the local host for NPR's popular "All Things Considered" afternoon drive program in 2016.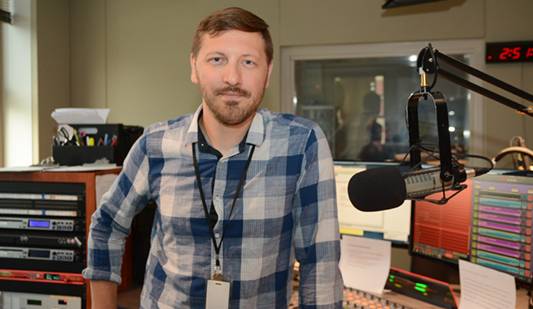 "I've always loved public radio and I'm pinching myself about this opportunity," Pelsor said. "I love Indiana and can't wait to guide discussions with people from all over the state on subjects that are important, timely and just plain fun."
The name of the show, "All IN," reflects the statewide nature of the program that will air on WFYI 90.1 FM locally and other Indiana Public Broadcasting Stations (IPBS) around Indiana. Beginning Tuesday, July 16, the one-hour show will air exclusively on WFYI at 1 p.m. each Tuesday and Thursday. On September 30, the show will start airing at 1 p.m. each weekday on all participating IPBS stations.
"The show will be rooted in hearing from and about people who affect public policy," WFYI Chief Content Officer Matt Shafer Powell said. "We'll have the full resources of IPB News to help deliver up-to-date information from all over Indiana, and we have a lifelong Hoosier with keen insights and natural curiosity that we think will keep listeners fully engaged."
Tuesday's debut program will focus on Indiana's connections to space exploration featuring astronaut Charlie Walker from Bedford, Ind., and Indianapolis Monthly staff members – the magazine devoted much of its July issue to the subject. Other topics on the horizon: the recent South Bend police shooting and a GMO salmon farm in northern Indiana.
"This is a ground-breaking moment for public radio in Indiana," IPBS Executive Director Mark Newman said. "This will be a show for all Hoosiers in every corner of our state. Stations have been sharing stories and information for a while, but to actually collaborate on a live, statewide daily program is new territory, and I think people throughout Indiana are really going to enjoy and appreciate it."
Listeners can take part in the show by calling 1-866-476-3881 to leave a question or comment. They can also connect through social media: @AllINIndiana on Twitter or All In Indiana on Facebook.
About WFYI Public Media
As a PBS and NPR member station that also produces local and original content, WFYI Public Media serves the public through six 24/7 digital broadcast services. WFYI Public Radio operates on two distinct stations – 90.1 FM and 90.1 HD2 The Point, while WFYI Public Television operates three DTV services (20.1, 20.2 and 20.3). Through intentional community engagement, WFYI has a strong education component, particularly as a hub for the public media Ready To Learn initiative, and an ongoing public presence as an organization that amplifies the voices of our community. Additionally, WFYI runs the Indiana Reading and Information Service (IRIS), a reading service for visually - and literacy-impaired people. Learn more at www.wfyi.org.
###