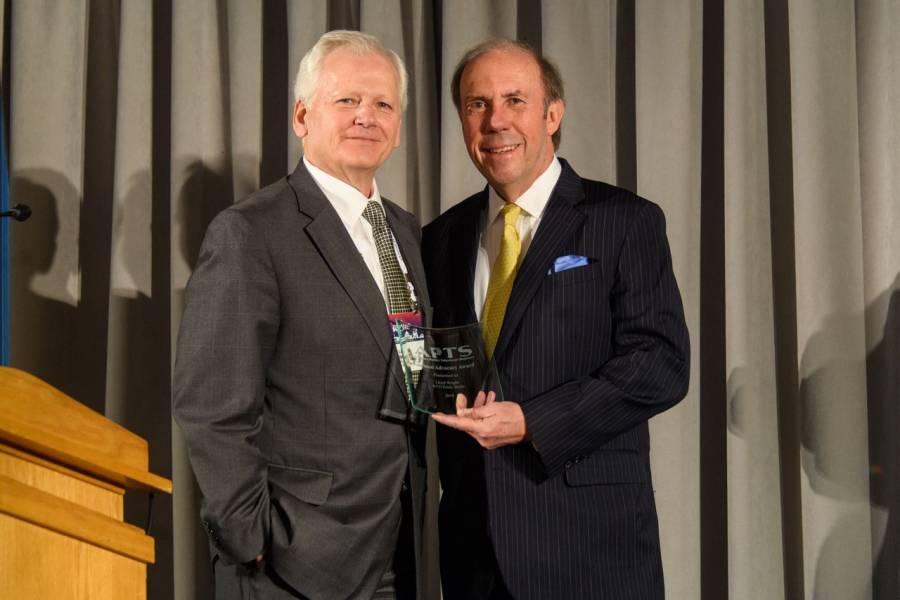 WASHINGTON – America's Public Television Stations (APTS) today presented the 2018 National Advocacy Award to Lloyd Wright, President and CEO of WFYI Public Media in Indianapolis, Indiana, for his exceptional efforts in generating broad public support for public broadcasting.
"Lloyd Wright has been one of public media's most effective and respected leaders for many years, and he never stops leading," said Patrick Butler, president and CEO of APTS. "Lloyd's work at WFYI has made believers of generations of lawmakers in Indiana, and he has demonstrated remarkable resourcefulness and ingenuity in engaging the public in that work. Just last summer, when our federal funding was facing a severe challenge, Lloyd mounted a highly effective campaign to recruit and mobilize supporters of Protect My Public Media, public television and radio's grassroots advocacy campaign, including an innovative advertising initiative on the city buses of Indianapolis. We are extremely grateful for Lloyd's work on behalf of public broadcasting, and we are honored to present him with the National Advocacy Award he so richly deserves."

"It's a tremendous honor to be recognized by APTS, which does such a great job representing America's public television stations," said Wright. "My thanks to Pat Butler and his remarkable team who work hard to assure that the essential programs and services offered by WFYI and other public stations continue to reach all Americans. I am humbled by this recognition and accept it on behalf of the WFYI Public Media staff and my Indiana Public Broadcasting Stations (IPBS) colleagues."
Lloyd Wright has more than four decades of service in public media. In his current role as president and CEO of WFYI Public Media in Indianapolis, he oversees Indiana's flagship PBS and NPR member stations, which includes WFYI Productions — a full service media production facility; WFYI's Community Engagement and Learning Services; Indiana Reading and Information services (IRIS) — a free service for Indiana's print impaired; as well as the WFYI Foundation.

Under Wright's leadership, WFYI's annual operating budget has grown from $2.5 million in 1988, to more than $11 million today. Additionally, WFYI relocated in 2008 to a state-of-the-art facility along "Broadcast Row" in downtown Indianapolis – now also home to more than a dozen tenant-partners; established an innovative partnership with The Economic Club of Indiana; and collaborated with countless community partners in areas of health, education, arts and culture, news and public affairs, as well as Indiana history. WFYI Public Media has also flourished as a multi-media content provider with its three distinct public television services, two HD public radio channels, interactive website and a growing array of social media assets.

Wright has served multiple terms on the PBS Board of Directors and is currently Chair Emeritus on the American Public Television board of directors. Locally, Wright serves on the boards of the Greater Indianapolis Progress Committee, The Economic Club of Indiana, and The Confucius Institute at IUPUI. Wright has been recognized with Emmy Awards for Technical Achievement and Station of Excellence, as well as two Sagamore of the Wabash honors, the highest award given by the Governor to recognize distinguished service to the state of Indiana. Wright has received the distinguished honor of being inducted into the Indiana Broadcasters Association Hall of Fame. He's also been recognized for his outstanding service with the Public Television Major Market Group's 2012 William Kobin Public Television Leadership Award.
The National Advocacy Award was presented to Lloyd Wright during The APTS Public Media Summit on Wednesday, February 28, 2018.
About APTS
America's Public Television Stations (APTS) is a nonprofit membership organization ensuring a strong and financially sound public television system that provides essential public services in education, public safety and civic leadership to the American people. For more information, visit www.apts.org.
About WFYI Public Media
As a PBS and NPR member station that also produces local and original content, WFYI Public Media serves the public through six 24/7 digital broadcast services. WFYI Public Radio operates on two distinct stations – 90.1 FM and 90.1 HD2 The Point, while WFYI Public Television operates three DTV services (20.1, 20.2 and 20.3). Through intentional community engagement, WFYI has a strong education component, particularly as a hub for the public media initiative American Graduate: Let's Make It Happen, and an ongoing public presence as an organization that amplifies the voices of our community. Additionally, WFYI runs the Indiana Reading and Information Service (IRIS), a reading service for visually - and literacy-impaired people. Learn more at wfyi.org.
###