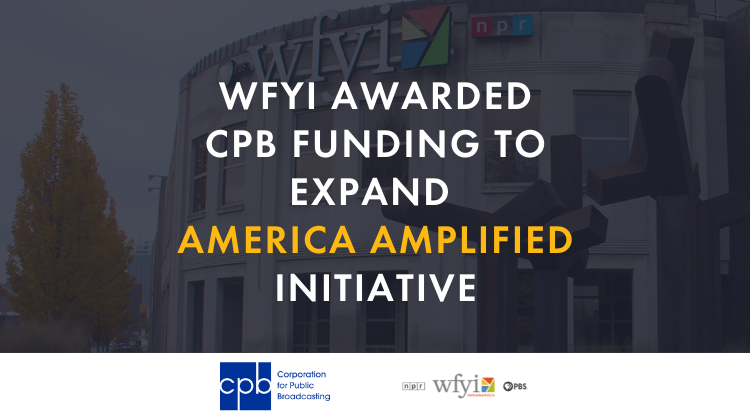 WFYI-Based America Amplified to Help Public Media Stations Develop Voter Resources
DALLAS, Texas (May 18, 2022) -- The Corporation for Public Broadcasting (CPB) will award the WFYI-based America Amplified engagement journalism initiative an additional $375,000 to help public media stations across the country ensure that American citizens have the facts they need to participate in local, state, and Congressional elections this fall. This grant brings the total amount awarded to America Amplified to more than $1.35 million.
The funding will be announced by CPB President and CEO Pat Harrison today at an elections integrity event, Elections — A More Perfect Union, at the George W. Bush Institute in Dallas.
"Voting is the foundation of a democracy, and we want to ensure that all eligible citizens have the information they need to exercise their right to vote," Harrison said. "Public media, with more than 1,500 locally managed and operated stations, is ideally situated to engage all citizens, and America Amplified's listening-first approach will help build trust in the process."
CPB originally awarded WFYI in Indianapolis a $977,000 grant in 2021 to support public media engagement journalism through America Amplified. The initiative involves 20 public media stations in 19 states to instill best practices in taking a listening-first approach to local reporting.
The additional $375,000 to America Amplified will provide resources and editorial guidance for participating stations to help them develop Frequently Asked Questions about the latest voter registration procedures, deadlines for absentee ballots, and other vital, basic information on voting. The additional support will enable America Amplified to provide basic voting information in at least 25 states for the 2022 mid-term elections and will serve as a pilot for a 2024 Election Engagement initiative aimed at helping Americans in all 50 states understand how to vote and what's on the ballot in the 2024 election.
In addition, America Amplified is preparing a series for the fall called "Democracy from the Ground Up," which will profile diverse community leaders who are working to strengthen democracy. At least four of the profiles will air in October on the national daily talk radio program "1A," produced by NPR and WAMU, as part of the CPB-funded "1A Remaking America" series.
In February, CPB announced a $750,000 grant for "1A Remaking America," a major, two-year reporting project with the national public radio program 1A to focus coverage on our growing political divide throughout the country. It will examine critical concerns around political polarization, the dissemination of misinformation, and public media's role in restoring trust in public institutions.
Today's event at the Bush Institute is the first in a series of events for More Perfect, a national campaign to renew American Democracy, led by the Partnership for American Democracy, the American Academy of Arts and Sciences, the University of Virginia Karsh Institute of Democracy, and CPB, which eight Presidential Libraries, Centers and Foundations are supporting. Through a series of conversations with thought leaders, election practitioners, analysts, and democracy experts, the event will tackle how elections work, why they matter, and how to maintain their continued integrity and credibility.
About CPB
The Corporation for Public Broadcasting (CPB), a private, nonprofit corporation created by Congress in 1967, is the steward of the federal government's investment in public broadcasting. It helps support the operations of more than 1,500 locally managed and operated public television and radio stations nationwide. CPB is also the largest single source of funding for research, technology, and program development for public radio, television, and related online services. For more information, visit www.cpb.org and follow us on Twitter @CPBmedia, Facebook, LinkedIn and subscribe for other updates.