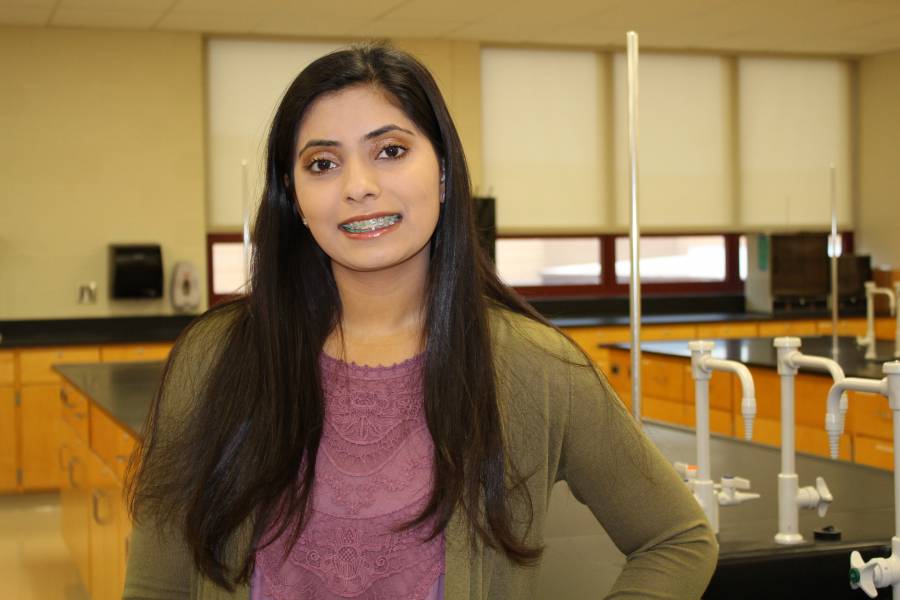 INDIANAPOLIS – Fishers High School senior-to-be Khunsha Ahmed wants to cure cancer. More specifically, she wants to cure kidney cancer.
"Nephrology seems like a pretty cool field," she said.
Ahmed is the only Indiana representative from the 100 recipients of the Emperor Science Award, a PBS LearningMedia and Stand Up To Cancer initiative designed to encourage high school students to explore careers in science, focusing on cancer research and care. She was honored for her essay about renal cell carcinoma, the most common type of kidney cancer.
"I want to look at checkpoint inhibitors from a different perspective," Ahmed said. "They've been researched with specific proteins and such, but not all, so maybe we can expand that."
Checkpoint inhibitors help the human body fight cancer cells. Ahmed will now get to do more research in that area as she begins a summer mentorship with IU Simon Cancer Center oncologist Costantine Albany.
The mentorship is just one reward for Ahmed's winning entry. She has also received a new Google Chromebook and a $1,500 stipend from PBSLearningMedia, a digital educational resource library for teachers and students, and Stand Up To Cancer, a program of the Entertainment Industry Foundation.
"As central Indiana's PBS member station, WFYI is proud to recognize Khunsha as an Emperor Science Award recipient," WFYI President and CEO Lloyd Wright said. "She's an extraordinary young lady with unlimited potential. It's exciting to think about what she will accomplish in the future."
"The students selected for this year's class are leaders in their schools and communities," PBS Education Vice President Sara Schapiro said. "It is our hope that through this unique opportunity they are able to tangibly explore careers in cancer research."
The Emperor Science Award program received nearly 800 applications from eligible 10th and 11th grade students in 44 states throughout the U.S. Prominent scientists served as judges and evaluated the students' applications: written essays submitted online January 10 through March 17, addressing why scientific research is so important in finding a cure for cancer, what scientific field they would study and why. The program extends the learning and outreach for the PBS documentary, Ken Burns Presents CANCER: THE EMPEROR OF ALL MALADIES A Film by Barak Goodman.
Ahmed will work with Dr. Albany throughout the summer and submit a research summary by September 1.
About WFYI Public Media
As a PBS and NPR member station that also produces local and original content, WFYI Public Media serves the public through six 24/7 digital broadcast services. WFYI Public Radio operates on two distinct stations – 90.1 FM and 90.1 HD2 The Point, while WFYI Public Television operates three DTV services (20.1, 20.2 and 20.3). Through intentional community engagement, WFYI has a strong education component, particularly as a hub for the public media initiative American Graduate: Let's Make It Happen, and an ongoing public presence as an organization that amplifies the voices of our community. Additionally, WFYI runs the Indiana Reading and Information Service (IRIS), a reading service for visually - and literacy-impaired people. Learn more at www.wfyi.org.
About Stand Up To Cancer
Stand Up To Cancer (SU2C) raises funds to accelerate the pace of research to get new therapies to patients quickly and save lives now. SU2C, a program of the Entertainment Industry Foundation (EIF), a 501(c)(3) charitable organization, was established in 2008 by film and media leaders who utilize the industry's resources to engage the public in supporting a new, collaborative model of cancer research, and to increase awareness about cancer prevention as well as progress being made in the fight against the disease. As SU2C's scientific partner, the American Association for Cancer Research (AACR) and a Scientific Advisory Committee led by Nobel Laureate Phillip A. Sharp, PhD, conduct rigorous, competitive review processes to identify the best research proposals to recommend for funding, oversee grants administration, and provide expert review of research progress. Current members of the SU2C Council of Founders and Advisors (CFA) include Katie Couric, Sherry Lansing, Lisa Paulsen, Rusty Robertson, Sue Schwartz, Pamela Oas Williams, Ellen Ziffren, and Kathleen Lobb. The late Laura Ziskin and the late Noreen Fraser are also co-founders. Sung Poblete, PhD, RN, has served as SU2C's president since 2011.
About PBS LearningMedia
As America's largest classroom, PBS offers digital content and services for teachers of children from pre-K through 12th grade that help bring classroom lessons to life. PBS LearningMedia, a partnership of PBS and WGBH Educational Foundation, is a free and paid media-on-demand service offering educators access to the best of public media and delivers research-based, classroom-ready digital learning experiences to engage students in exploring curriculum concepts that align with National and Common Core State Standards. Nationwide, more than 1.8 million teachers and users have registered access to more than 100,000 digital resources available through PBS LearningMedia. More information about PBS LearningMedia is available at www.pbslearningmedia.org or by following PBS LearningMedia on Twitter and Facebook.
###