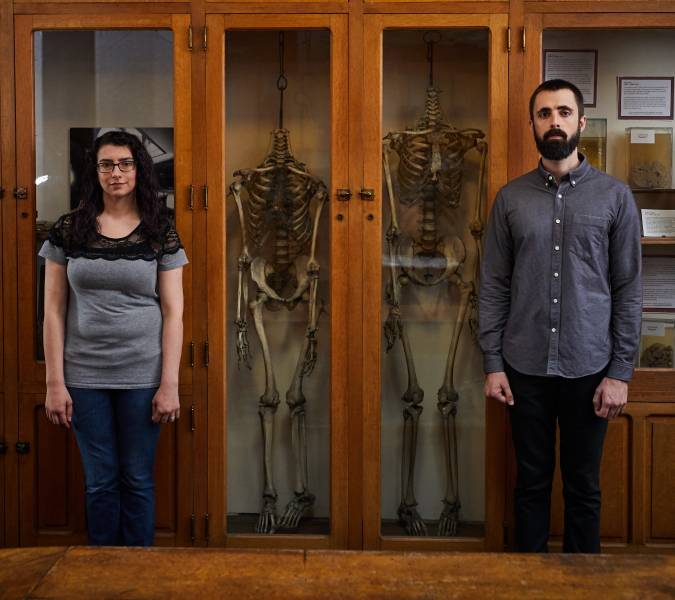 INDIANAPOLIS – "Sick," the new podcast from WFYI and Side Effects Public Media, has been drawing lots of national attention since its first episode debuted Oct. 15. Show hosts Lauren Bavis and Jake Harper were recent guests on NPR's popular "1A" program, and the podcast has already been downloaded more than 175,000 times. It's received five stars (out of five) by nearly 200 reviewers on Apple podcasts, and is drawing high praise for exposing the vulnerabilities of fertility treatment in America.
"Listeners seem to be connecting with the victims in this story," Bavis said. "We hope 'Sick' helps people understand what it's like to have fertility issues and the lengths patients have to go to in order to start a family of their own."
Even with all the attention on Dr. Donald Cline, the fertility specialist at the center of the story, 'Sick' is uncovering new details in the saga. The first episode tells the story of a mother and son who experienced fertility medicine at two very different times, and the horrible secret they uncovered decades later – that Cline used his own sperm instead of an anonymous donor's. Episode two introduces listeners to a woman who wanted to find out how she came into the world, and found seven half siblings.
Today marked the release of episode three, which dives into Cline's personal history. As the season continues, Harper and Bavis explore more about Cline, how he was able to deceive his patients and how he was (and wasn't) held accountable for his actions.
"Cline isn't the only doctor to have done this," Harper said. "New cases keep popping up all over the country, which was part of our motivation to create this podcast."
A new episode will be released each week for the next five weeks. People can get more information or subscribe at sickpodcast.org. Support for "Sick" comes from PRX and the Corporation for Public Broadcasting, a private corporation funded by the American people.
About WFYI Public Media
As a PBS and NPR member station that also produces local and original content, WFYI Public Media serves the public through six 24/7 digital broadcast services. WFYI Public Radio operates on two distinct stations – 90.1 FM and 90.1 HD2 The Point, while WFYI Public Television operates three DTV services (20.1, 20.2 and 20.3). Through intentional community engagement, WFYI has a strong education component, particularly as a hub for the public media Ready To Learn initiative, and an ongoing public presence as an organization that amplifies the voices of our community. Additionally, WFYI runs the Indiana Reading and Information Service (IRIS), a reading service for visually - and literacy-impaired people. Learn more at wfyi.org.
Side Effects Public Media
Headquartered at WFYI Public Media in Indianapolis, Side Effects is a health news service exploring the impacts of place, policy and economics on Americans' health. Our award-winning reporting sheds light on root causes of community-wide issues, including mental health treatment in schools, health care challenges faced by immigrants and refugees and ways people work around the health care system as well as new efforts to solve them. Side Effects stories have been heard nationally on NPR and published in news outlets around the country. Partnering public media outlets include KBIA, Iowa Public Radio, WFPL, WILL, WNIN, WOSU and WSIU.
About PRI/PRX
In August 2018, PRI and PRX announced their merger to create a new media organization. The organization believes strong public media is anchored in journalism, strengthened by new voices, and amplified by innovative technology. PRI/PRX seeks to build a public media company focused on the next generation of creative talent across broadcast and audio on-demand while serving listeners who demand the highest-quality content representing voices and people across diverse and nuanced communities. PRI/PRX programming has been recognized with numerous awards, including two 2018 Peabody Award for Reveal, from the Center for Investigative Reporting and PRX, and four 2019 Webby Awards.
About CPB
The Corporation for Public Broadcasting (CPB), a private, nonprofit corporation created by Congress in 1967, is the steward of the federal government's investment in public broadcasting. It helps support the operations of more than 1,500 locally owned and operated public television and radio stations nationwide. CPB is also the largest single source of funding for research, technology and program development for public radio, television and related online services. For more information, visit cpb.org, follow us on Twitter @CPBmedia, Facebook and LinkedIn and subscribe for other updates.
###