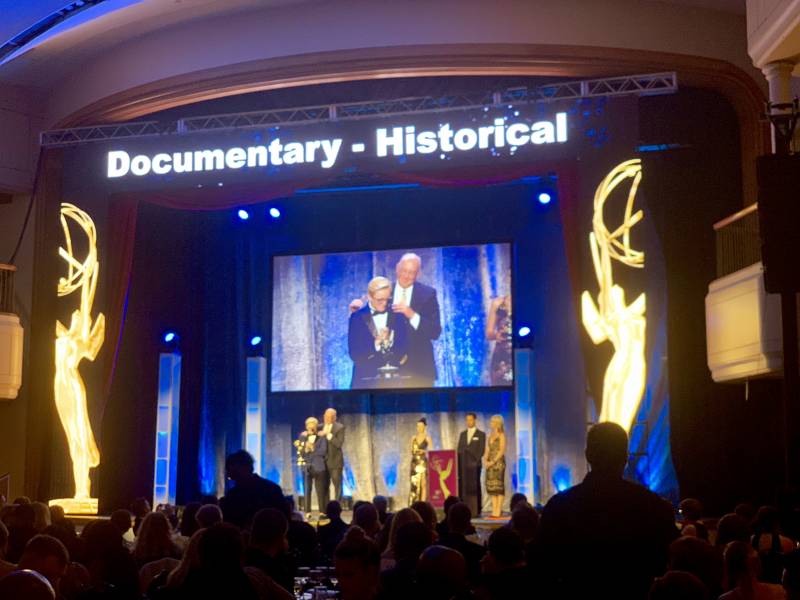 Cleveland – WFYI Public Media and its partners received 10 Emmy Awards Saturday night at the 50th annual gathering of the Lower Great Lakes Chapter of the National Academy of Television Arts and Science (NATAS). The station's documentary "Eva: A-7063," produced in partnership with Ted Green Films, accounted for most of the station's trophies, winning in the categories of Historical Documentary, Writer – Program, Editor – Program and four others.
Meanwhile, in Washington D.C., the station's radio team collected two national competition first place awards from PRNDI (Public Radio News Directors Incorporated). The Side Effects health reporting team won Best Collaborative Effort for its podcast "The Work Around: Wrestling with American Healthcare" and reporter Drew Daudelin won Soft Feature for "The Dream and Aspirations Behind a Youth-led Bike Shop in Indianapolis."
The NATAS Great Lakes Chapter is comprised of dozens of stations throughout Indiana, Ohio and Pennsylvania. Here is the full list of the Emmys WFYI received:
Audio: "Eva: A-7063"
Cedric Freeman, recording engineer
Steve McQueary, audio post-production engineer
Kent Vernon, audio post-production engineer
Pete Saetre, sound design
Arts/Entertainment – News Single Story/Series/Feature: "Lois Main Templeton"
Kyle Travers, producer
Documentary - Historical: "Eva: A-7063"
Ted Green, producer
Pete Saetre, associate producer
Mika Brown, co-producer
Andrew Young, videographer
Vincent Manganello, videographer
Editor- Program: "Eva: A-7063"
Pete Saetre, editor
Health/Science – Program or Special: "The Work Around: Wrestling with American Healthcare"
Kyle Travers, producer
Interview/Discussion – Program/Series or Special: "Inside Indiana Business: Fishers at the Forefront of Tech and Talent Transformation"
Tracy Chen, executive producer
Gerry Dick, host
Tara Twigg, producer
Musical Composition/Arrangement: "Eva: A-7063"
Tyron Cooper, talent/composer
Promotion – Single Spot/Campaign: "Eva: A-7063"
Myke Perrey, producer
Research: "Eva: A-7063"
Ted Green, lead researcher
Pete Saetre, assistant researcher
Writer – Program: "Eva: A-7063"
Ted Green, writer
In addition to these awards, WFYI President and CEO Lloyd Wright received the organization's Silver Circle Award for at least a quarter century of dedicated service to the television industry. Wright is retiring at the end of the month after 30 years in his position.
About WFYI Public Media
As a PBS and NPR member station that also produces local and original content, WFYI Public Media serves the public through six 24/7 digital broadcast services. WFYI Public Radio operates on two distinct stations – 90.1 FM and 90.1 HD2 The Point, while WFYI Public Television operates three DTV services (20.1, 20.2 and 20.3). Through intentional community engagement, WFYI has a strong education component, particularly as a hub for the public media Ready To Learn initiative, and an ongoing public presence as an organization that amplifies the voices of our community. Additionally, WFYI runs the Indiana Reading and Information Service (IRIS), a reading service for visually - and literacy-impaired people. Learn more at www.wfyi.org.
###