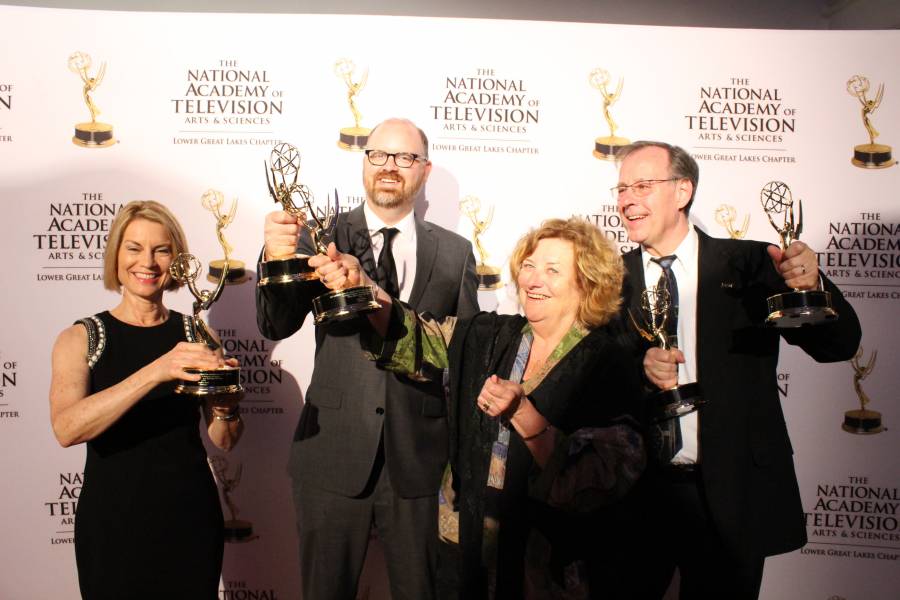 Pictured: Sandy Roob, Vinnie Manganello, Lynn Sygiel, clayton taylor (WFYI VP of TV Production)
INDIANAPOLIS – WFYI Public Media and its partners received 8 Emmy Awards Saturday night at the 49th annual gathering of the Lower Great Lakes Chapter of the National Academy of Television Arts and Science (NATAS). The PBS member station received Emmys for Best Nostalgia Program, Best Historical/Cultural Program and Best Children/Youth Program, among others.
The NATAS Great Lakes Chapter is comprised of dozens of stations throughout Indiana, Ohio and Pennsylvania. Here is the full list of the Emmys WFYI received:
Audio: "Finding Home: Indiana at 200"
Todd Reischman, sound design
Jason Tuttle, post-production engineer
Aakash Ravikrishnan, field recording and audio post-production
Arts/Entertainment – Program/Program Feature/Special: "Artrageous with Nate: Andy Warhol, Pop Art King"
Nate Heck, executive producer & host
Amy Goldsmith, producer
Interview/Discussion – Program/Series or Special: "Inside Indiana Business: Rust Belt Rebirth – Fort Wayne Doubles Down on Downtown"
Tracy Chen, executive producer
Gerry Dick, host
Tara Twigg, producer
Nostalgia Program – Program/Special/Series: "When Kids Wrote the Headlines"
Michael Husain, director
Bryan Boyd, producer
Lynn Sygiel, producer
Freddi Stevens-Jacobi, producer
Children/Youth/Teen Program/Special: "Artrageous with Nate: Who Created the Statue of Liberty? Art Meets Engineering in This World famous Sculpture"
Nate Heck, executive producer & host
Amy Goldsmith, producer
Historical/Cultural Program or Special: "Waves of Fortune: China's Maritime Silk Road":
Sandy Roob, producer
Vincent Manganello, editor
Writer - Program: "A President at the Crossroads"
Jim Simmons, writer
Talent – Performer/Host/Narrator: "An Evening with Carrie Newcomer"
Carrie Newcomer, performer
Overall, WFYI received 21 Emmy Award nominations. A full list of all winners can be found at bit.ly/2K9Uyus.
About WFYI Public Media
As a PBS and NPR member station that also produces local and original content, WFYI Public Media serves the public through six 24/7 digital broadcast services. WFYI Public Radio operates on two distinct stations – 90.1 FM and 90.1 HD2 The Point, while WFYI Public Television operates three DTV services (20.1, 20.2 and 20.3). Through intentional community engagement, WFYI has a strong education component, particularly as a hub for the public media initiative American Graduate: Let's Make It Happen, and an ongoing public presence as an organization that amplifies the voices of our community. Additionally, WFYI runs the Indiana Reading and Information Service (IRIS), a reading service for visually - and literacy-impaired people. Learn more at www.wfyi.org.
###