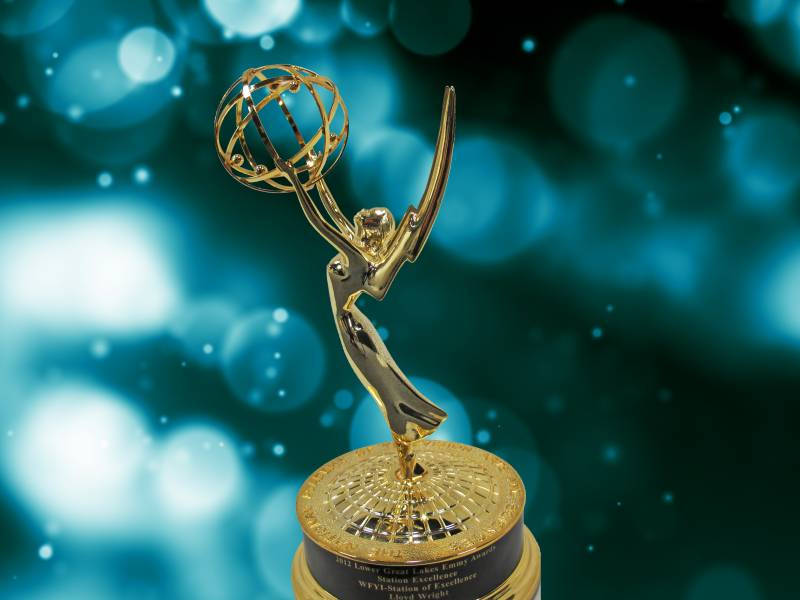 CLELVELAND – WFYI Public Media received 13 Emmy Awards at the 48th annual gala in Cleveland, including four that went to "Attucks: The School That Opened a City" that premiered in September and continues to have screenings and discussions all around central Indiana. The awards honored work performed over the past year in a variety of different categories as judged by the Lower Great Lakes Chapter of the National Academy of Television Arts and Science, which is comprised of dozens of stations throughout Indiana, Ohio and Pennsylvania.
The 13 Emmys is the most WFYI has ever received and means that more than half of the station's 22 nominated works were recognized as the best in their category. Here is a complete list of all the Emmys received:
Research: Attucks: The School That Opened a City
Ted Green, researcher
Program Writer: Attucks: The School That Opened a City
Ted Green, writer
Program Promotion: Eva - A 7063
Ted Green, producer
Pete Saetre, editor
Mika Brown, co-producer
Vinnie Manganello, videographer
Short Format Program – Information/Entertainment: Kid Advice for the Next President
Elizabeth Myer, creative director
Andy Young, videographer
Brad Hoehner, videographer/editor
Cultural Documentary: Attucks: The School That Opened a City
Ted Green, producer
Pete Saetre, co-producer
Historical Documentary: Hoosiers, The Story of Indiana - Episode 3
Kim Jacobs, producer
Kyle Travers, producer/editor
James Madison, host
Talent/Performer/Host/Narrator: Artrageous with Nate
Nate Heck, host
Arts/Entertainment – Program/Program Feature/Special: La Casa Azul, The Musical
Jim Simmons, producer
Aric Hartvig, editor
Gregory Hancock, composer/choreographer
Musical Composition/Arrangement: Attucks: The School That Opened a City
Tyron Cooper, talent/composer
Technical Achievement: Tethers and Unmanned Aerial Systems
Ron Shelnutt, cinematogrpher
Special Event Coverage (other than news or sports): James Aikman's Peacemakers
Jim Simmons, producer
Brian Paul, field producer
Dr. James Aikman, composer
Historical/Cultural Program or Special: The Temple Makers
Michael Husain, producer
Bryan Boyd, editor
Community Service: WFYI Public Media
Gail Thomas Strong, VP of Community Engagement
About WFYI Public Media
As a PBS and NPR member station that also produces local and original content, WFYI Public Media serves the public through six 24/7 digital broadcast services. WFYI Public Radio operates on two distinct stations – 90.1 FM and 90.1 HD2 The Point, while WFYI Public Television operates three DTV services (20.1, 20.2 and 20.3). Through intentional community engagement, WFYI has a strong education component, particularly as a hub for the public media initiative American Graduate: Let's Make It Happen, and an ongoing public presence as an organization that amplifies the voices of our community. Additionally, WFYI runs the Indiana Reading and Information Service (IRIS), a reading service for visually - and literacy-impaired people. Learn more at www.wfyi.org.
###