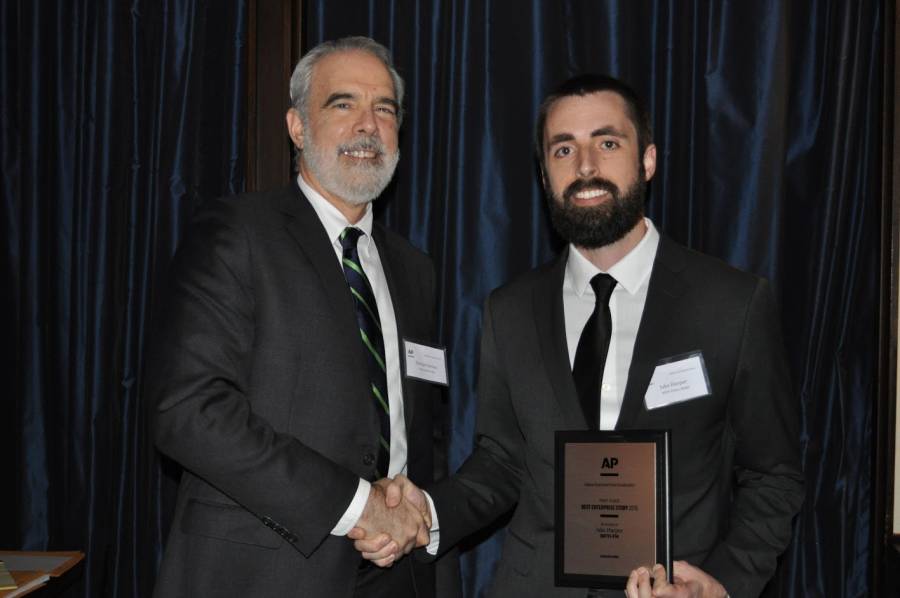 INDIANAPOLIS – WFYI Public Media won the Indiana Associated Press's coveted "Outstanding News Operation" award during the group's annual awards banquet held in downtown Indianapolis. The award is one of 10 awards WFYI received in the radio division, and adds to a multitude of awards the station has received in recent years.
"It's gratifying to have the efforts of our outstanding news team and public affairs programs recognized by our peers," WFYI President and CEO Lloyd Wright said. "To see the judges remark that we 'stand well above the competition' is reassuring as we continue our commitment to provide meaningful stories and programs that impact people's lives."
Here is a complete list of the awards received:
Outstanding News Operation – First Place, staff
Best Spot News Reporting – First Place, Jake Harper ("For Med Students, 'Match Day' is a Day for Tears, Cheers and Jitters")
Best Spot News Reporting – Second Place, Drew Daudelin ("Trump Tweets Don't Faze Union President")
Best Feature – Second Place, Leigh DeNoon ("Bail Bonds Agent is Unexpected Ally for Families Entangled in Justice System")
Best Enterprise Story – First Place, Jake Harper ("For People Recovering from Addiction, Insurance Rules Can be a Big Obstacle")
Best Website – First Place, staff ("wfyi.org")
Best Use of Radio Sound – First Place, Jill Sheridan ("Personalized Playlists Pack Therapeutic Power for Dementia Patients")
Best Public Affairs Program – First Place, John Krull, Shannon Dawson and Michelle Johnson ("No Limits: Making a Healthier Place to Live")
Best Short-form Newscast – First Place, Jill Ditmire and Leigh DeNoon
Best Short-form Newscast – Second Place, Taylor Bennett
About WFYI Public Media
As a PBS and NPR member station that also produces local and original content, WFYI Public Media serves the public through six 24/7 digital broadcast services. WFYI Public Radio operates on two distinct stations – 90.1 FM and 90.1 HD2 The Point, while WFYI Public Television operates three DTV services (20.1, 20.2 and 20.3). Through intentional community engagement, WFYI has a strong education component, particularly as a hub for the public media initiative American Graduate: Let's Make It Happen, and an ongoing public presence as an organization that amplifies the voices of our community. Additionally, WFYI runs the Indiana Reading and Information Service (IRIS), a reading service for visually - and literacy-impaired people. Learn more at www.wfyi.org.
###