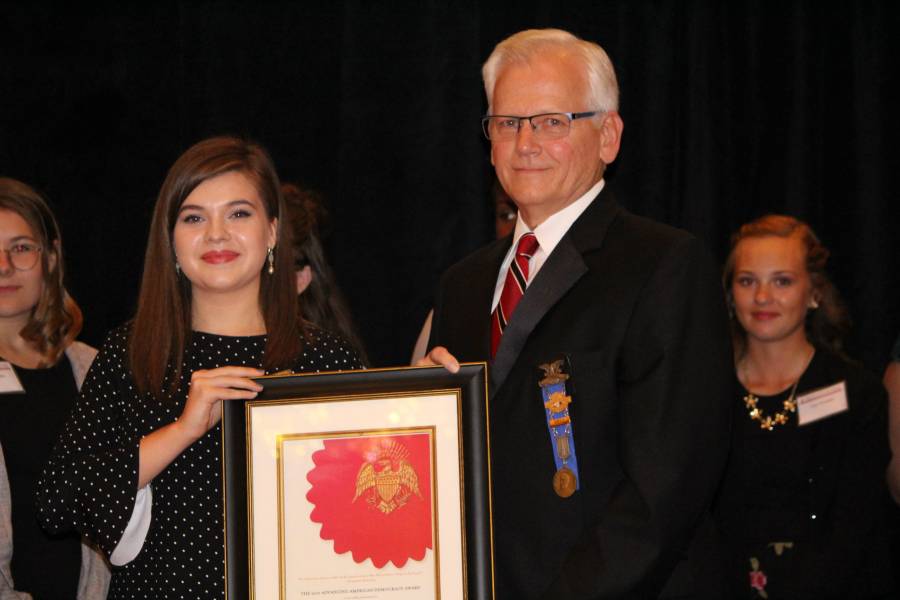 INDIANAPOLIS – The Benjamin Harrison Presidential Site (BHPS) has honored WFYI President and CEO Lloyd Wright, along with PBS President Paula Kerger, with its prestigious Advancing American Democracy Award. The annual award was presented Thursday night as part of the organization's Mary Tucker Jasper Speaker Series.
"Lloyd is an exceptional servant leader who not only understands the importance of strong civic partnerships, but actively invests in them," BHPS President Charles Hyde said. "Under his leadership, WFYI has grown and flourished into a vital community resource fully integrated into the cultural fabric of our community."
BHPS presents the Advancing American Democracy Award annually to "an individual who, in an exemplary way, advances the values of American democracy by encouraging citizen participation in self-government and in greater civic society." Past award recipients include Senator Richard Lugar, Representative Lee Hamilton, Judge Sarah Evans Barker and award-winning Hamilton biographer, Ron Chernow.
"Not only was I happy to be linked with the tremendous work of Paula, whom I admire very much, but it was a great reminder of how fortunate I've been to be associated with WFYI for the last three decades," Wright said. "This recognition is a team award to be shared with WFYI staff, our boards of directors, thousands of volunteers and each of our financial supporters."
Wright is one of the most accomplished media executives in Indiana. A member of the Indiana Broadcasters Association Pioneers Hall of Fame since 2013, he has grown WFYI's annual operating budget from $2.5 million in 1988 to more than $11 million today. He helped lead two successful capital campaigns totaling $29 million, one of which allowed for the organization's move into its contemporary facility on Meridian Street in 2008. During his tenure, WFYI has been honored with multiple PBS Development Awards and has received the prestigious Station of Excellence Award from the National Academy of Television Arts and Science four years in a row, something no other station has done.
About WFYI Public Media
As a PBS and NPR member station that also produces local and original content, WFYI Public Media serves the public through six 24/7 digital broadcast services. WFYI Public Radio operates on two distinct stations – 90.1 FM and 90.1 HD2 The Point, while WFYI Public Television operates three DTV services (20.1, 20.2 and 20.3). Through intentional community engagement, WFYI has a strong education component, particularly as a hub for the public media initiative American Graduate: Let's Make It Happen, and an ongoing public presence as an organization that amplifies the voices of our community. Additionally, WFYI runs the Indiana Reading and Information Service (IRIS), a reading service for visually - and literacy-impaired people. Learn more at www.wfyi.org.
About The Benjamin Harrison Presidential Site
The Benjamin Harrison Presidential Site celebrates the remarkable legacy of America's Hoosier President. The museum is a national historic landmark situated in the Old Northside within easy walking distance of downtown Indianapolis and the bustling 16th Street corridor. The 1875 Italianate mansion is exquisitely restored, and has an exceptional collection of more than 10,000 artifacts. Daily tours of the property include a 75-minute guided tour through the Harrison's house and private quarters. Highlights include an awe-inspiring collection of Gilded Age finery, paintings, furniture and personal presidential gifts and mementos. The privately operated, non-profit organization receives no direct tax support and is dedicated to sharing the life stories, arts and culture of an American President to increase public participation in the American system of self-government. Find out more at PresidentBenjaminHarrison.org.
###