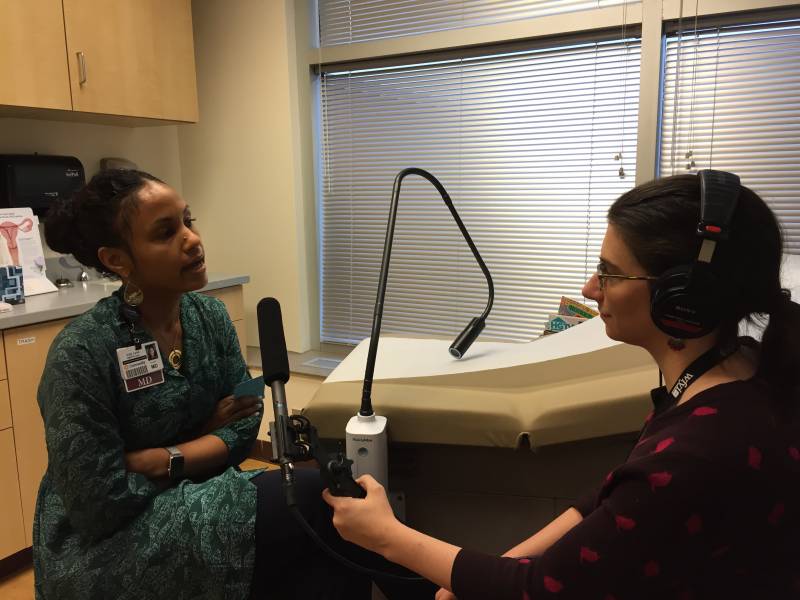 WFYI reporter Lauren Bavis interviews a local health professional.
INDIANAPOLIS – WFYI's public health reporting unit, Side Effects, has been busy since its inception three years ago. Powerful stories, an enlightening new podcast and important panel discussions have had significant impact in central Indiana and beyond. The Richard M. Fairbanks Foundation (RMFF) wants to see that work continue.
Thanks to a renewed two-year RMFF grant of $600,000, the Side Effects team will keep leading the charge into in-depth stories on public health issues, often from a very personal perspective. You can hear several of those on "The Workaround," the team's podcast that details how everyday people often have to work around the difficulties of the health care system in order to get the treatment they need.
"Some of these stories are fascinating… and heartbreaking," WFYI Public Media president and CEO Lloyd Wright said. "It's this kind of reporting we're proud to do and couldn't be done without the generous support of the Fairbanks Foundation, which understands the value of an informed community."
Side Effects is actually a health news collaboration of public media organizations led by WFYI Public Media. It currently includes KBIA in Columbia, Mo.; St. Louis Public Radio; Illinois Public Media; WNIN in Evansville, Ind.; and WOSU Public Media in Columbus, Ohio.
"Good health is integrally linked to the ability of children and adults to thrive in school and in the workplace, and it's vital for people to be informed about public health issues that impact the Indianapolis community," said Claire J. Fiddian-Green, President and CEO of the Richard M. Fairbanks Foundation. "The Foundation is pleased to support the work of WFYI and Side Effects Public Media to generate conversations about Indiana's health challenges and their potential solutions."
WFYI regularly broadcasts Side Effects stories on 90.1 FM and recently aired a documentary on WFYI 1 Public Television. Side Effects offers its stories to other media outlets, public and commercial, for republishing free of charge through Side Effects News Service.
For more information or to view the latest Side Effects stories, please visit sideeffectsnews.org.
About WFYI Public Media
As a PBS and NPR member station that also produces local and original content, WFYI Public Media serves the public through six 24/7 digital broadcast services. WFYI Public Radio operates on two distinct stations – 90.1 FM and 90.1 HD2 The Point, while WFYI Public Television operates three DTV services (20.1, 20.2 and 20.3). Through intentional community engagement, WFYI has a strong education component, particularly as a hub for the public media initiative American Graduate: Let's Make It Happen, and an ongoing public presence as an organization that amplifies the voices of our community. Additionally, WFYI runs the Indiana Reading and Information Service (IRIS), a reading service for visually - and literacy-impaired people. Learn more at www.wfyi.org.
About the Richard M. Fairbanks Foundation
Established in 1986 by Richard M. ("Dick") Fairbanks, the Richard M. Fairbanks Foundation is an independent, private foundation awarding grants to tax-exempt organizations serving greater Indianapolis, Indiana. The Foundation has three focus areas: Education, Health, and the Vitality of Indianapolis. In addition, several organizations receive grant support from the Foundation due to a historical connection with Dick Fairbanks and his family. The mission of the Foundation is to advance the vitality of Indianapolis and the well-being of its people.
###