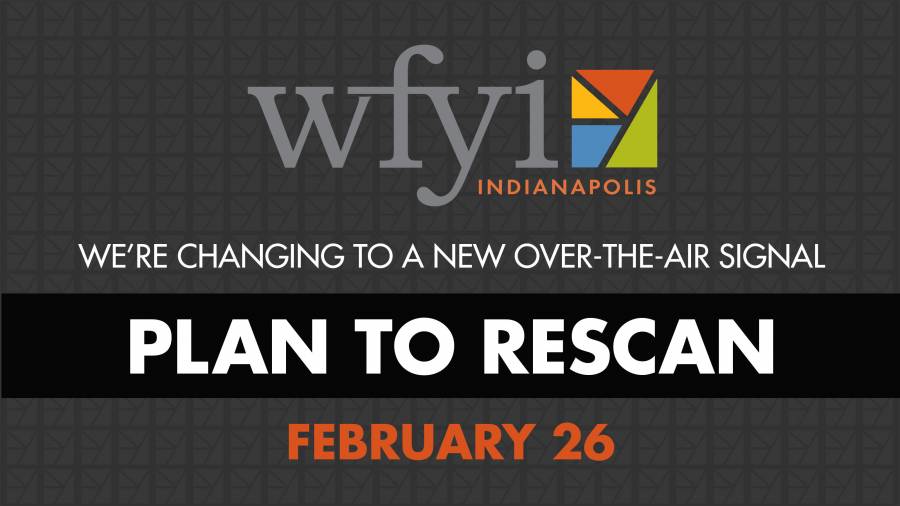 INDIANAPOLIS – Viewers of WFYI Public Television's over-the-air broadcast signal will need to take action one week from today if they don't want to miss any of their favorite programs from WFYI, PBS, PBS KIDS or Create.
At 10 a.m. on February 26, the station will activate newly installed broadcast equipment that will provide a more reliable signal, sharper picture and enhanced audio, particularly on WFYI 2 (20.2) which will start broadcasting in HD, to its over-the-air viewers. The equipment upgrade requires anyone receiving WFYI with a digital antenna to rescan their television channels any time after the activation.
Each brand of television is a little different, but rescanning the channels is a fairly simple process. The basic steps include:
1. Make sure you have a dual-band (UHF/VHF) digital antenna connected to your TV
2. Select the MENU button on your television's remote control
3. Select "Channel Setup" (or similar option)
4. Select "Antenna" and/or "Air"
5. Select "New Scan" (or similar option)
This process should take less than 10 minutes to complete and result in reception of all three of WFYI's channels: WFYI 1 (20.1), 2 (20.2) and 3 (20.3). Anyone viewing WFYI through a cable or satellite provider should not need to take any action.
Anyone having trouble receiving the station after 10 a.m. Feb. 26 is asked to call (317) 614-0504. For more information, please visit wfyi.org.
About WFYI Public Media
As a PBS and NPR member station that also produces local and original content, WFYI Public Media serves the public through six 24/7 digital broadcast services. WFYI Public Radio operates on two distinct stations – 90.1 FM and 90.1 HD2 The Point, while WFYI Public Television operates three DTV services (20.1, 20.2 and 20.3). Through intentional community engagement, WFYI has a strong education component, particularly as a hub for the public media initiative American Graduate: Let's Make It Happen, and an ongoing public presence as an organization that amplifies the voices of our community. Additionally, WFYI runs the Indiana Reading and Information Service (IRIS), a reading service for visually - and literacy-impaired people. Learn more at wfyi.org.
###