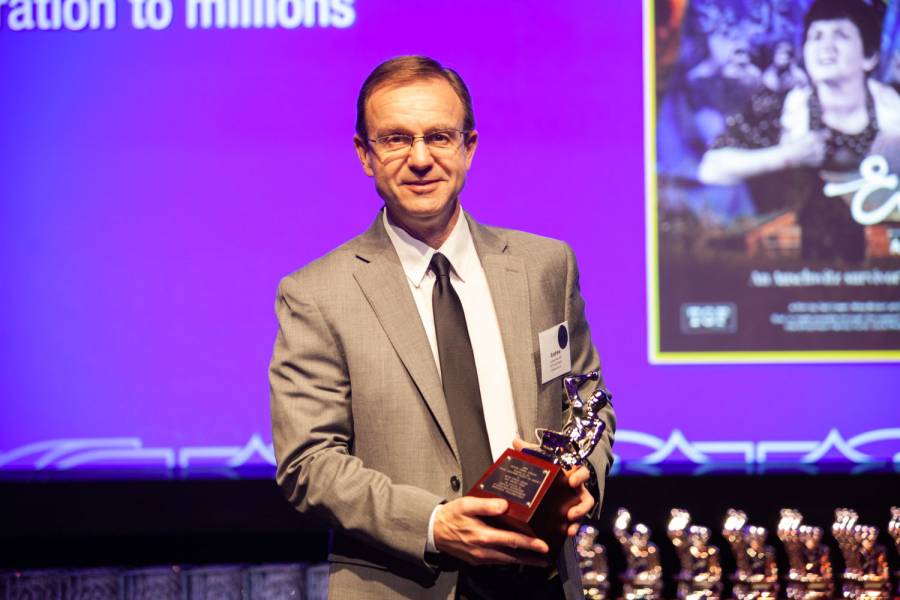 New York – The Public Relations Society of America (PRSA) awarded WFYI Public Media a prestigious Silver Anvil Award for its marketing and promotion of "Eva: A-7063," a documentary about Holocaust survivor Eva Mozes Kor produced in partnership with Ted Green Films. The film drew one of the largest overnight ratings in the station's 48-year-history when it debuted in October 2018, and has now been seen by more than 1 million people on public television stations across the country.
The campaign won in the category of Content Marketing for Associations, Governments and Nonprofits. One of the judges remarked, "Exceptional way to go beyond just creating a video and instead promote healing through specialized activities for kids." Another said, "Comprehensive. A great mix of traditional and untraditional tactics. Well done."
WFYI was one of 110 national finalists considered for a Silver Anvil in 18 categories. The awards were announced last night at Manhattan's Edison Ballroom. In addition to winning its category, the "Eva" campaign was named one of the four finalists for the Best of Silver Anvil Award, which went to Michelin and Ketchum Communications for its "Teens Prove Their #StreetTread" campaign.
PRSA is the largest organization of public relations and communications professionals in America with more than 30,000 members. For more information on the Silver Anvils and a complete list of winners, visit anvils.prsa.org.
About WFYI Public Media
As a PBS and NPR member station that also produces local and original content, WFYI Public Media serves the public through six 24/7 digital broadcast services. WFYI Public Radio operates on two distinct stations – 90.1 FM and 90.1 HD2 The Point, while WFYI Public Television operates three DTV services (20.1, 20.2 and 20.3). Through intentional community engagement, WFYI has a strong education component, particularly as a hub for the public media Ready To Learn initiative, and an ongoing public presence as an organization that amplifies the voices of our community. Additionally, WFYI runs the Indiana Reading and Information Service (IRIS), a reading service for visually - and literacy-impaired people. Learn more at www.wfyi.org.
###